October 17, 2015
10/17/15

By Subscription Box Mom

12 Comments
12
War Foodie November 2015 Review + Coupons + Giveaway
Disclosure: This post contains affiliate links.  I received this box for review.  War Foodie is responsible for prize distribution.
War Foodie has closed effective 2017
War Foodie is a subscription box especially for military and expat communities. Unlike traditional subscription services, War Foodie lets you build your box with the number of items you want (There is a min of 2).  There is a flat shipping charge of $15.00 and the box ships to APO/FPO/DPO addresses internationally.  Check out the coupons below to get FREE shipping on your 1st box.
To sign up, you fill out a customer profile and select the type of box you want.  For example, if you pick coffee, jerky and granola, those are the type of items you will get each month, although the brand and flavors will vary.   War Foodie also takes pride in the brands included in the box.  War Foodie only includes high quality American coffees & teas, sauces, and snacks.
War Foodie also has Starter Packs for $10.00.  You can choose between "Coffee and Sriracha" and "Tea and Sriracha".
The Details:
Cost: One month subscription is $29.00 with shipping (2 products plus $15.00 shipping).  You build your box with what products you want, they are $7.00 each.  Starter packs are also available for only $10.00.
Coupons:  Use one of the coupons below, PLUS get a free T-SHIRT with a 3 month subscription.
Shipping: War Foodie ships to all APO/FPO/DPO addresses.  Order by Nov 6th to get your package delivered by Thanksgiving.  Shipping to military addresses can take two weeks.
Whats in the box?  You customize your box to your liking.  You choose a min of two items that can be coffee, tea, sauces, and snacks
How do I cancel? You just log into your account to cancel.
Website: https://www.warfoodie.com
War Foodie ships in a Priority Mail box and delivers to all APO/FPO/DPO addresses.  Order by Nov 6th to get your package delivered by Thanksgiving.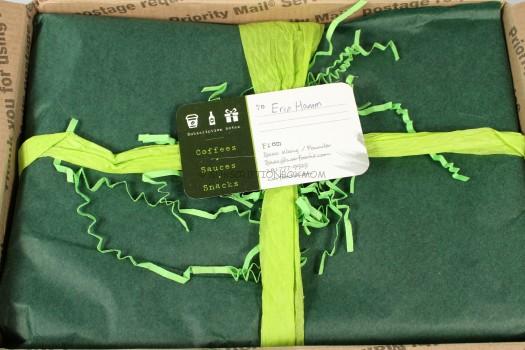 Everything was wrapped up nicely, perfect for a care package.
Ginger N Spice Tea:  War Foodie debuted their own packaging this month.  This tea is a combination of China Green Tea, ginger, rose hips, peppercorn, orange pee, licorice root and stevia leaf.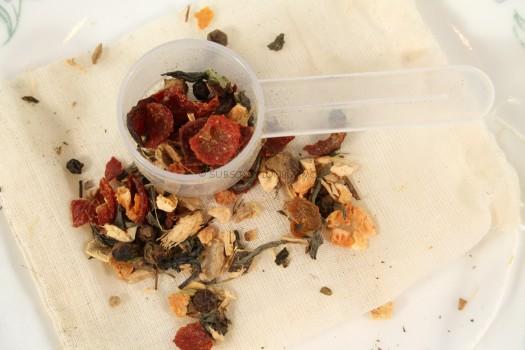 Here is a look at the tea.  The bag came with a measuring scoop and a reusable tea bag.
Taste Notes (From Subscription Box Dad):  The tea had a nice aroma with variety of interesting tid bits.  The taste is a little of a shocker. It has a nice ginger smell and taste and then wacks you aside the head. The smell would make any rucksack or footlocker smell nice.  I would highly suggest a plastic or other tea leaf ball so someone doesn't have to hang up a damp cloth bag to reuse.
Guatemala Santa Isabel Coffee:  This whole bean coffee comes from Santa Isabel, which is about 40 miles from Guatemala City.  60% of Santa Isabel is planted with coffee, so they know how to do it right.  There is 8 ozs of coffee in the bag, so it will last through several cups.
This is a look at the beans.
Taste Notes (From Subscription Box Dad): The coffee has a full body aroma with pleasant taste throughout. Adding cream and sugar made it taste even better.
Nutty November Granola: This granola contains rolled oats, bran flakes, sugar, almonds, macadamia nuts, coconut, cinnamon and more.
Given this had coconut, I was a bit skeptical to try it.  This granola is quite amazing.  The coconut is undetected and you get a nice combination of cinnamon and sugar crunch.  This was almost more like a dessert than a granola.  I am not a fan of granola in general, but this stuff is great.
Hot Sauce Scorpion:  Made with the Moruga Scorpian Chile, it's safe to say this sauce packs the heat.  It has a a mean heat of more than 1.2 million Scoville heat units (SHUs).  It has been described as one of the hottest chills in the world.  The sauce is made with vinegar and is very thin.  You really only need a tiny bit of this, in order to get some heat.
Valencia Peanut Butter:  This is made with Valencia Peanuts and salt.  This is very simple, but very tasty peanut butter.  This was a great snack after tasting that hot sauce.
Final Thought:  Since War Foodie has their own packaging, I couldn't get a retail value of the box.  The items are $7.00/piece and you can customize your own box any way you want (must have a min of 2 items).  The Starter Packs are also a great value at only $10.00.  I like how War Foodie will package, wrap and send your loved one a care package, with just a click of a button.
War Foodie is going to give this box (well, it will be new and unopened) to one of my readers.  Just enter below for a chance to win.  Since this is a care package for people in the military and their families, people with a APO/FPO/DPO address can also enter.  If you want to try War Foodie, check out these great coupons: (3 month subscriptions also come with a free t-shirt).
Holiday Note: Order by Nov 6th to get your package delivered by Thanksgiving.
Enter below for a chance to win.  You must be 18 years and older and live in the United States or have a APO/FPO/DPO address.