October 8, 2015
10/08/15

By Subscription Box Mom

2 Comments
2
POPSUGAR Must Have October 2015 Theme Spoiler + Coupon (Full Spoilers)
Disclosure: This post contains affiliate links.
Popsugar October 2015 Spoilers are being released.  POPSUGAR is $39.95/month and filled with all kinds of fun "must have" items.  You get items like makeup, snacks, items for your home, jewelry and more! If you want to see the hint for October, keep reading.
For October. boxes will be filled with items that fit in the following categories: Breast Cancer Awareness, Cozy, Autumn and Restful Nights.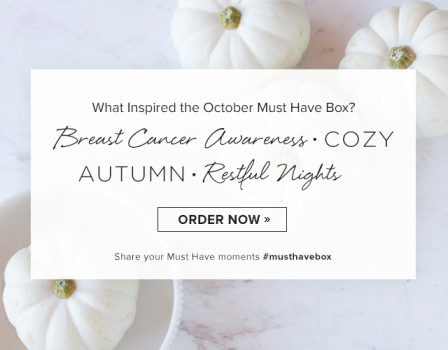 Coupon: If you want to get October's box click here and use the code MUSTHAVE5. You will save $5.00 on your first box.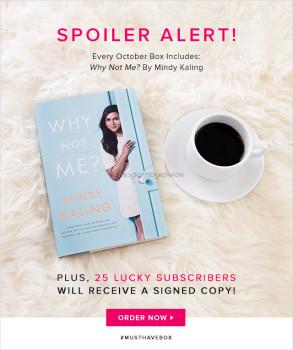 Every box will include Why Not Me? by Mindy Kaling ($15)!
In Why Not Me?, Kaling shares her ongoing journey to find contentment and excitement in her adult life, whether it's falling in love at work, seeking new friendships in lonely places, attempting to be the first person in history to lose weight without any behavior modification whatsoever, or most important, believing that you have a place in Hollywood when you're constantly reminded that no one looks like you.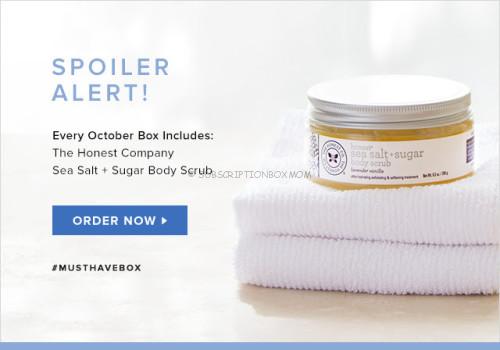 Honest Company Sea Salt + Sugar Body Scrub $16.95
Full Spoilers:
The Details
Cost: Month to Month $39.95
3 Months: $109.85
6 Months: $214.70
Coupon: Save $5.00 on your box when you use the code MUSTHAVE5.
Shipping: Popsugar only ships to the United States
What's in the box? Every month, Lisa Sugar and her editorial staff will curate an exciting monthly box full of fun, must-have picks across fashion, beauty, home decor, fitness, and more which we will deliver to your door. The monthly box targets women ages 18-40 and features full-size products and premium items including tried-and-true classics, celebrity favorites, and brands consumers have yet to discover. Your monthly subscription box will include products worth over $100. (Please note: The $100 value is based on the manufacturer's estimated MSRP at the time products are acquired by POPSUGAR. All prices are subject to change without notice.)
When do I get my box? Your POPSUGAR Must Have box will ship by the 15th of the month, or the following business day if the projected shipment date is a holiday, or as otherwise indicated in your account. Your account settings will initially display that your box is "processing" after you are billed. When your box ships out, the "processing" message on your account settings will update to reflect your tracking information.
When am I billed? You will be billed for your first month immediately upon placing your order for a monthly subscription. Please note that if your monthly subscription begins in a later month, you will still be billed at the time you place your first order. After the first month has completed, you will be billed when your next shipment is being processed (expected to occur in the beginning of each month, or as otherwise indicated in your account).
How do I cancel? In order to cancel your subscription, simply go to your Account Page, and under the "Subscriptions" tab, click "Manage Billing." On the "Billing" pop-up, please scroll to the bottom where you will find the text "You can cancel your subscription here." Please click the highlighted "here." You will be prompted to confirm whether or not you want to cancel. Please note, clicking "Cancel" will disable the auto-renewal feature on your account but will not affect your current order. For example, if you have a 3-month subscription, you will still receive all three boxes but no additional boxes. Also, any referral bonus boxes as noted on your account settings page will be placed on hold after you cancel your account, as you need to have an active subscription in order to receive any of your referral bonus boxes.
Do you like FREE SUBSCRIPTION BOXES?  Click HERE to see my free subscription box list.
You can see my FULL coupon list HERE.
Do you love Giveaways?  Click HERE to enter all my Giveaways.