October 19, 2015
10/19/15

By Subscription Box Mom

0 Comments
0
Nerd Block October 2015 Review – Full Spoilers + Coupons + New Spoilers
Disclosure: This post contains affiliate links.
Nerd Block is a monthly mystery package delivered right to your door filled with nerdy apparel, toys, and collectibles!  Every box comes with a shirt, which is something Nerd Block Arcade is $19.99 a month, and you can sign up to get Nerd Block HERE use the code CONTINUE for $4.50 off your first box or save 15% with the code SAVE15.
The Details

Cost: $19.95 a month plus $9.50 shipping for the U.S  They ship to other countries for an additional fee.
What is in the box? "Nerd Block is filled with toys and collectibles from your favorite brands including Star Wars, Adventure Time, Doctor Who, Marvel, and many more! Every box is loaded with various genres to appeal to everyone from video game and movie fanatics, to toy and comic collectors. Each item is Geek Tested, Nerd Approved!"
When am I charged? You are charged each month on the day you registered.  So if you ordered on the 10th, you will be charged on the 10th every month.
When does it ship? Boxes ship out around the 15th of the month
How do I cancel? "Just email cancel@nerdblock.com with your name and address, and we'll cancel your account. Please note that all orders must be cancelled 24-hours prior to that month's Block closing date. The closing date for every month can be found at http://www.nerdblock.com under the countdown timer."
I was surprised to see another Nerd Block box.  I think one of my emails has a subscription to the classic box, but I just haven't found it yet (too busy reviewing boxes).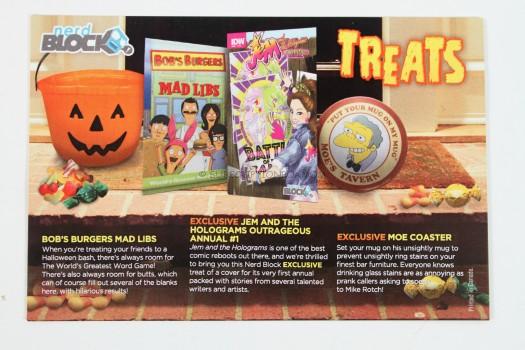 The information card is two-sided and had descriptions of everything in the box.
Shirtpunch T-Shirt Peltzer's Pets $10.00 This was one of the spoilers and I really love it.  It glows in the dark and the mogwai turns into a gremlin and the phrase " Do not feed after midnight", becomes "Feed after midnight".   I love the Gremlin movies, so I am glad this shirt is my size.
I couldn't take a picture of it glowing, so here is the spoiler picture, showing what it looks like.
Exclusive Jem and the Holograms Outrageous Annual #1 $7.99  This features an exclusive cover and features several stories.
Here is a look inside.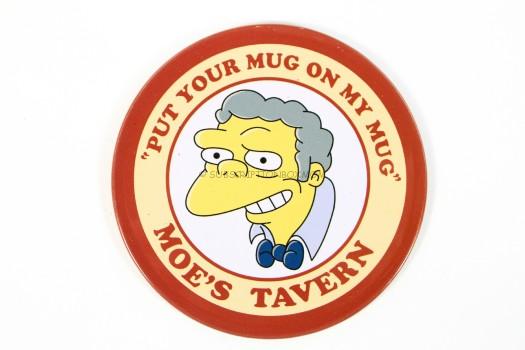 EXCLUSIVE Moe Coaster This coaster is made of plastic with cork on the bottom.  The phrase "Put your mug on my mug" is on the top.  My husband loves the Simpsons, so he will likely take this for his desk.
Bob's Burgers Mad Libs: Mad Libs are a great pastime for long car rides and these feature Bob's Burgers.
Zombie Hunter Dog Tags  These dog tags show the world you are fighting back!  One tag says Z.E.R.0 (Zombie Emergency, Response Operations and the other says "Shoot em in the head ..and they'll stay dead".

 Alien Titans  Ripley and Acid-Spatter Xenomorph2-Pack $19.99  I just got Big Chap and Parker in my September Horror Block, so I was surprised to see this in a October Box.  The Horror Block for October is going to have 2 vinyl figures, so I wonder if the will be the same.  I do love Ripley, so I like this pack more than the one I already have.
Final Thought: I couldn't get a full retail price for this box, because there were some exclusives.  The items I got a price for added up to more than the cost of the box, so I was happy.  While I don't love this box as much as another geek box I just received, I thought it was nice.  The shirt is my favorite item in the box!  If you want to subscribe to Nerd Block (or any of their other boxes), click HERE use the code CONTINUE for $4.50 off your first box or save 15% with the code SAVE15.
There are also NEW SPOILERS:
Nerd Block Classic
There will be an exclusive Firefly item.
As well as an item from Star Wars the Force Awakens and a Sherlock Exclusive.
Sci-Fi Block Spoilers
Sci-Fi Block will contain a Star Wars The Force Awakens Funko.
This is a look at other brands/franchises that will be in Sci-Fi Block.
Do you like FREE SUBSCRIPTION BOXES?  Click HERE to see my free subscription box list.
You can see my FULL coupon list HERE.
Do you love Giveaways?  Click HERE to enter all my Giveaways.