October 1, 2015
10/01/15

By Subscription Box Mom

0 Comments
0
Julep Vampy Welcome Box Review + New Free October Birthstone Welcome Box
Disclosure This post contains affiliate links.  I received this box for review.
Julep sent me their new Vampy Welcome Box for review, which was pretty exciting.  I love Julep and I have personally been a subscriber for over 2 years.  While they are known for their 5 free nail polish, they are become a fantastic beauty subscription too.   The Vampy Welcome Box is free (just pay $2.99 shipping) and comes with three fabulous nail colors, an eye glider and a set of nail decals.  Use this link with the code ENCHANT to grab this offer.  You will be signing up for a subscription.  Julep bills on the 27th of the month and you have to call to cancel.
After your free box, you will be charged the monthly rate of $24.95/month.  For even better savings, grab the 3 month deal.  You will lock in a $19.95/month deal and you won't pay shipping on your free box.  To get the three-month deal, use this link and scroll down to the bottom.
Julep ships their welcome boxes in these little purple boxes.
There was a letter from Jane Park, CEO of Julep, and informational booklet about Julep, and a unique coupon code for 50% off your 1st purchase.
I love the three colors in this set.  I really enjoy fall/winter, when its more acceptable to wear darker shades of polish.
Polish:
Missy (It Girl) Titanium metallic This polish really only needed one coat, but I did do two.  It has great coverage and I love the color.  I almost tried to do some nail art with this one.  I think some silver lines on one of the other two colors would look nice.
Cassandra (Bombshell) I don't know the official description of this color, so I am calling it blood red.  It applies fairly dark and is a great "vampy" shade. This needed two coats for an even look.
Logan (Classic with a Twist) Sultry aubergine shimmer  This is a very dark shimmery purple.  This applied evenly and one of my favorite polishes.
Here is a look at my mani.  Don't judge too harshly, My manicures are done pretty fast, in between chasing my little darlings.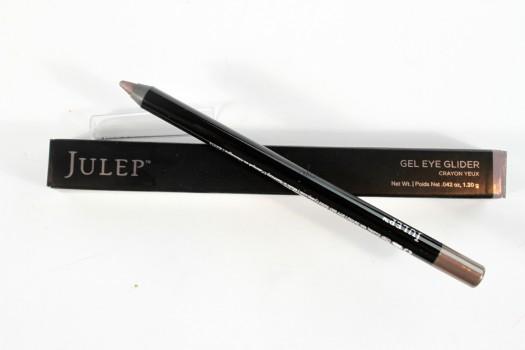 Julep Gel Eye Glider in Smoky Taupe Shimmer:  The gel eye gliders are my favorite Julep beauty product.  They are actually my favorite eye liners on the market.  They really glide over your eye for an even and full overage.
Here are some swatches.
Skull Nail Decals:  I didn't want to use these until closer to Halloween, but I am loving these nail decals.  The skull and crossbones are just awesome. Update:  These stickers don't show up on the graphic when you click to subscribe, but I was told by Julep they WILL  be in the box.
Final Thought:  I really loved the Vampy Welcome Box.  Packed with value and great products, this is a steal at $2.99.  Remember you will be signed up for a subscription, so you will have to cancel if you don't to be charged.  After getting two boxes, you can skip month to month, with is a great feature (although I can never make the decision to skip).  To try the Vampy Welcome Box, use this link with the code ENCHANT.  You will be signed up for a subscription, you must call to cancel.  Billing occurs on the 27th of the month
Julep has also released the October Birthstone Welcome Box.
The October Birthstone Welcome Box has the pink birthstone polish, two other nail colors and a gel eye glider.  This has over a $50.00 value!  Just use this link with the code SHIMMER to get this box for $2.99.
If you want to signup for Julep, check out the other offers below!
You will be signed up for a subscription, you must call to cancel.  Billing occurs on the 27th of the month
Do you like FREE SUBSCRIPTION BOXES?  Click HERE to see my free subscription box list.
You can see my FULL coupon list HERE.
Do you love Giveaways?  Click HERE to enter all my Giveaways