October 19, 2015
10/19/15

By Subscription Box Mom

1 Comment
1
Geek Fuel October 2015 Review – Full Spoilers + Coupon
Disclosure: This box was received free for review.  This post contains affiliate links.
I was thrilled to get my October Geek Fuel.  I was surprised to get my box today, since they just released a 4th spoiler today. Geek Fuel is a geek and gamer box that is always filled with awesome memorabilia and has a great value.  Each box is $17.90 plus shipping, and they ship worldwide.  Geek Fuel always includes a shirt with every box, and the value is always over $40.00.
The Details
Cost: Month to month $17.90, $16.90/month for a 3 month subscription, $15.90/month for a 6 month subscription and $13.90/month for a year subscription
Shipping: Geek Fuel ships to the US ($6.00 shipping fee), Canada, and many more countries!
What's in the box? Every box will pack a t-shirt, toys, collectibles and more in their monthly boxes.
Geek Fuel ships in a bright red box.
Geek Fuel partnered with Video Games Live for this month's shirt.
The back of the information card has the rest of the items.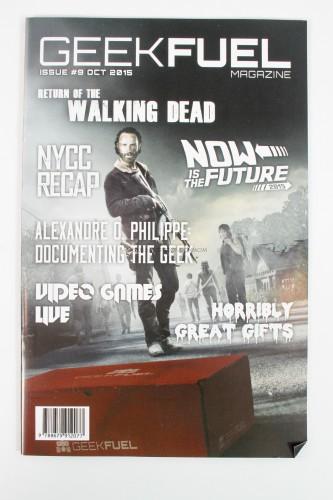 Geek Fuel magazine is filled with different geek/gamer articles.  There is a great article about some items that were in Back to the Future II, that are appearing this year.
Back to the Future "Save the Clock Tower":  There was a "Save the Clock Tower" Button, Flyer (more on that below) and a Delorean Time Travel Vinyl Sticker.  I will be displaying this sticker proudly on the 21st!  This is one of the first boxes that I can honestly say, I will wear this button and use the sticker.
The flyer is a replica of the real flyer from the movie, with one exception.  The back of the flyer says "We Love You" and has a phone number listed.  When you call, Emmett Brown tells you if you are one of the 88 winners (I wasn't).  In the movie, Jennifer writes "I Love You" and her phone number on the back of Marty's flyer.
Video Games Live T-Shirt: This little cyborg is jamming to music and is made from controls from all kinds of video game systems.
I am not a gamer, but I recognize controllers from Playstation, Nintendo and Wii.  Can you name them all?
9000 Zombies $10,00  This game code is for the game 9000 Zombies.  Inside the book, there are 10 tips to survive, along with the gaming code.
The Force Sleeps Pillowcase OMG, this is the best thing ever.  This pillow case features Admiral Ackbar from  Star Wars Episode VI: Return of the Jedi.  The actual phrase is  "It's a trap!", but this fun pillowcase has a nap theme.
If you have never seen Star Wars, my question is WHY??!!  Anyway, here is a clip if you haven't seen it.
Guardians of the Galaxy Yondu Funko $7.50  My husband has a few other Funkos from Guardians of the Galaxy, so this will go in his collection.  Any geek/gamer box with a Funko, is a good box in my book.
Guardianade Energy Drink:  This energy drink will get you through any late night gaming, or in my case, blogging.
Final Thought:  This was an awesome box, filled with items my husband and I love.  I couldn't get a retail price for everything, but this box was well worth the cost in my book.  My favorite item is the pillowcase and I want to get another one for my husband.  This is my favorite geek and gamer box this month.  If you want to try Geek Fuel, use this link and save $3.00 on your first box.
Do you like FREE SUBSCRIPTION BOXES?  Click HERE to see my free subscription box list.
You can see my FULL coupon list HERE.
Do you love Giveaways?  Click HERE to enter all my Giveaways