October 31, 2015
10/31/15

By Subscription Box Mom

0 Comments
0
Candy Box October 2015 Review
Disclosure: This box contains affiliate links.  I received this box for review.
Candy Box sends full size new and retro candy each month to the USA and Canada.  There are two different boxes, the Mini Box is $20.00 for 7-12 pieces of candy and the Big Box is $40.00 for 15-20 pieces of candy.  Each box will contain a range of hard, soft and chocolate candy.
The Details:
Cost: Mini Box $20.00, Big Box $40.00
What's in the box?  The Mini Box is $20.00 for 7-12 pieces of candy and the Big Box is $40.00 for 15-20 pieces of candy.
Shipping:  The box ships free to Canada and the USA.
I was sent the Mini Box for review (Confirmed by Candy Box).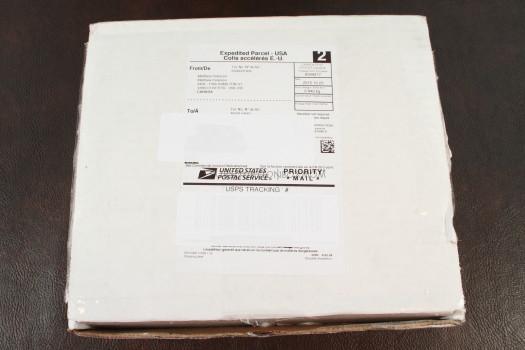 The box shipped from Canada via Priority Mail and arrived in a plan white box.  I didn't take a picture of the inside, but everything was wrapped in white tissue paper.
Note about prices:  Since Amazon sells in bulk, I used my local gas station to get my values.  Since most full size candy bars and treats sell around $1.30 locally, I used that price for most of the items.  I didn't write down all the prices at the gas station, since I didn't want to be the weirdo writing down candy prices at 11pm at night.  Okay, my husband didn't want to be the weirdo writing down prices at 11pm at night.
Whoppers $1.30  These chocolate covered malt balls are on of my favorite candies at Easter (I love the Easter Egg version).
Hershey's Cookies N'Cream: $1.30  This would be great as a S'more.  A cookies and cream bar with marshmallows?  Yum.
Butterfinger: $1.30 I have never been a huge fan of these, but my husband loves them.  Since my son is allergic to peanut butter, we don't keep these around much.
SweeTarts Soft & Chewy Ropes  $1.30 These are made of a Twizzlers like tube filled with a chewy sweetart flavor inside.
Tropical DOTS $1.00  I love regular DOTS, but I have never had the tropical DOTS.
Wild Berry Skittles $1.50  While I prefer the original version, these wild berry versions are very tasty.
Sour Jelly Belly $1.50  These are my favorite type of Jelly Belly candy!
Nerds Peach and Wild Berry $1.30  These are a new flavor that I couldn't find locally.  I loved the peach!
efrutti Fried Eggs and Pizza $1.00 My kids love gummies, so these will go to them.
Large Smarties 50 cents:  These are just the like regular size Smarties, only bigger.
Candy Necklace:  50 cents:  I loved these as a child, but they always would turn your neck colors if you didn't eat them just right.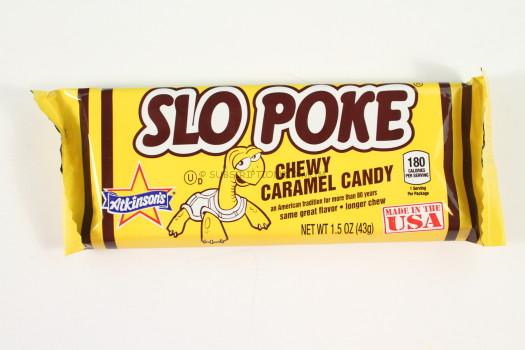 Slo Poke $1.50  This is a retro candy and it's one I haven't had much.  This has a nice caramel flavor and it a bit like taffy.
Wild Berry Charms Blow Pop 50 cents  I generally don't eat blue candy (I'm weird), so this will also go to one of my kids.   One note, while my kids will get several treats from this box, they don't get candy regularly.
Chewy Lemonheads 25 cents  These are similar to the regular Lemonheads only with fruity flavors.
Bubble Yum $1.00  I loved Bubble Yum as a child and this is the flavored with cotton candy.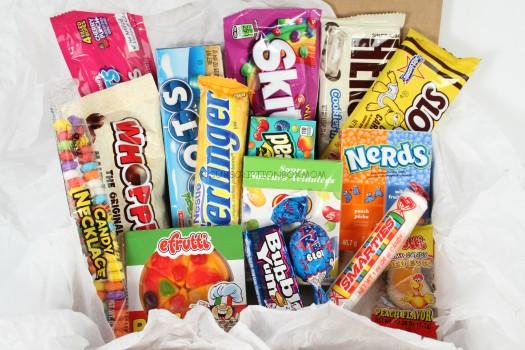 Final Thought: The total value of this box was $15.75, which I think is pretty accurate.  On a positive note, the candy we have tried was fresh and tasty.  On the value front, I was disappointed.  I thought this was the BIg box at first, given it had 16 pieces in it, but I feel better knowing that it is the Mini box.  While I still would like this box to meet the $20.00 price, I think this is a decent value when you consider it ships free to Canada.   If you want to check out Candy Box, use this link.
Do you like FREE SUBSCRIPTION BOXES?  Click HERE to see my free subscription box list.
You can see my FULL Subscription Box Coupon list HERE.
Do you love Giveaways?  Click HERE to enter all my Giveaways.