October 27, 2015
10/27/15

By Subscription Box Mom

1 Comment
1
Box of Crafts September/October 2015 Reviews + Free Box
Disclosure: This post contains affiliate links.  I received the October box for review.  I paid for the September box myself.
Box of Crafts is a craft subscription box for 4-8 year olds and is $20.00/month.  Each box contains three crafts and step by step instructions.  I saw an offer to get the first box free, so I signed up under my personal email.  Box of Crafts also sent me the October box for review, so I thought I would combine them both for this review.
The Details:
Cost: $20.00/month
Coupon:  Get your 1st box free (no shipping) with this link and the code OCT15.
What's in the box? Box of Crafts contains 3 crafts along with step by step instructions.
September 2015
Box of Crafts ships by USPS in a white box.  Inside, there was a bag for each craft in the box.
Pom Pom Bumble Bees:  This craft makes three bee magnets.
Each packet comes with a full page of instructions and all the materials needed for the crafts.  I do wish there was a few more tiny black balls, as I could see a 4 year old letting one roll away.
This is the finished set of bees.  While my kids like crafts, we get so many craft boxes, I decided to do the September box myself.
Pom Pom Ladybug   This craft makes a little ladybug on a leaf.
Instead of including the leaf, they sent a pattern to cut out your own leaf.
This is the finished ladybug.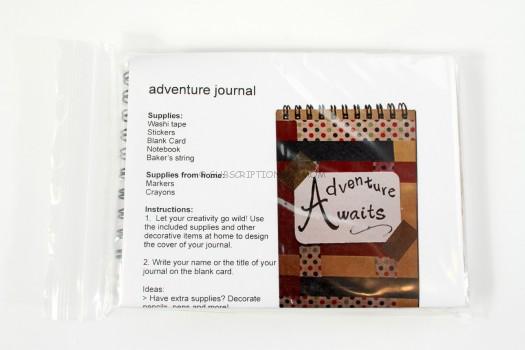 Adventure Journal This craft decorates a little journal.  This will be great as a grocery list book.
This was my favorite craft in the box.  There was a notebook with pen, washi tape, and stickers to personalize your journal.
This is my finished journal.  I am not sure what I am going to put in the white label yet, so I have left it blank.
Origami Bookmark Using the materials provided, you can create a bird or fish bookmark
There were several sheets of paper included in the package.  We tried to complete this activity, but we couldn't get it to work, I think there may be some steps missing.
September 2015 Thought:  This was a fun box to try, but I was left feeling a bit disappointed.  We couldn't get the origami to work (which could be our fault), but I didn't think the projects lived up to the $20.00 cost.   I did really like the journal and bee magnets.
October 2015
I was really excited to check out the October box.  Box of Crafts said they made some improvements and this box was even better!
First Look.  October was a Halloween theme, which was really cool.
Tea Light Pumpkins Like last month's box, each craft and directions were in its own bag.  The first project was to make light up Halloween balls.
There were three ping pong balls, three lights, and construction paper in the bag.  There was also a pattern to make a witch hat.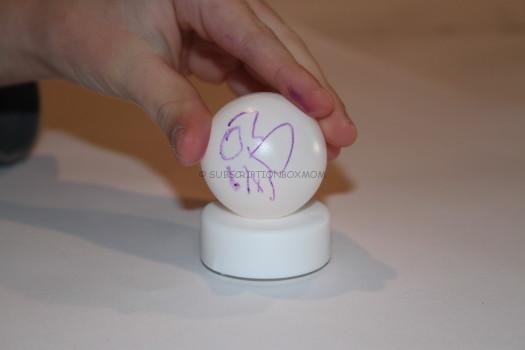 You can use markers to decorate the ping bong balls, then you place them on the light (they have a hole in the bottom).  L (my 6 year old) made this one.
I drew faces on the other two balls.  I would have takes a picture of them lit up, but I couldn't get the right light.
Bat Clothespin Clip:  Using the materials included, your child can make little bat clothespins.
There was enough materials to make three clothespin bats, although L only made two.  There was even a bottle of pant.
First step was to paint the clothespins black.
Using the pattern, your child cuts out two wings from the glitter foam.  After the wings are cut out, your child glues them to the clothespin.
Here is the finished two bat clothespins.
Sparkling Spider Web: This project makes a spider on a glitter web.
There was a huge bag of glitter, along with pipe cleaners, pom pom, google eyes, wax paper, and a pattern.  There was also a bag of Tacky Glue.
You put the wax paper on the pattern, then apply the glue on top.
Then you cover with glitter.  After it dries, you are supposed to be able to peel it off from the wax paper.   We couldn't do that, but L may not have used enough glue.
The finished project is still pretty cute.
Halloween Paper Card:  This project makes a cute Halloween pocket page.  This is great for scrapbooking or card-making.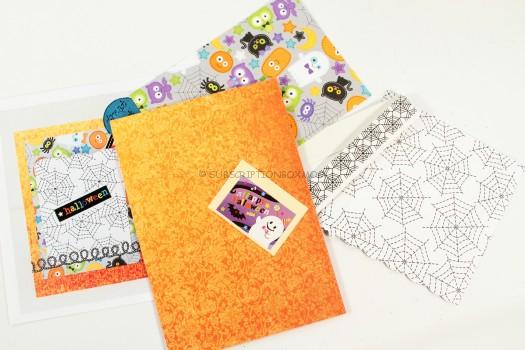 There were several sheets of Halloween patterned paper and a strip of spider web sticker paper.
I made a simple paper pocket page.  L wasn't really into this craft, but I had fun.
There was a full bottle of tacky glue and a full bottle of black paint.
October 2015 Thought: I really liked this box and I liked the changes from box one.  Included a bottle of glue and paint was a wise move, and I liked the four products this month.  The lights have a cool light up features, so they are not just something to sit around.  The clothespins would be great decorations and the spider web is cute too.  I am not sure what I am doing with the pocket card, but it is cute.

Final Thought:  While I didn't love the September 2015 box, I really enjoyed the October 2015 box.  At $20.00 month, this averages out to $5.00/project.  I think the box is a bit high, but my son had fun with the box.  Right now, Box of Crafts is offering your first box free (no shipping), just use this link and the code OCT15.
Do you like FREE SUBSCRIPTION BOXES?  Click HERE to see my free subscription box list.
You can see my FULL coupon list HERE.
Do you love Giveaways?  Click HERE to enter all my Giveaways