October 8, 2015
10/08/15

By Subscription Box Mom

0 Comments
0
Arcade Block October 2015 Spoilers + Coupon
Disclosure: This post contains affiliate links.
Arcade Block  includes a t-shirt every month, along with collectible toys and more!  Nerd Block Arcade includes collectibles like Mario and Sonic.  There will be Funko Pop toys, Titan Merchandise, stationary, candies and more. Nerd Block Arcade is $19.99 a month, and you can sign up to get the July box when you use this link with the code SAVE15 for 15% off your first box.  Note, you will put the coupon code in on the screen after your payment information, you will be able to see the reflected savings before you confirm your subscription.
Here are the October 2015 Spoilers
"Subscribers will score big with October's Arcade Block, with an officially licensed treat for Fallout fans! There's plenty of great surprises in October, along with plenty of retro love this month too as Retro City Rampage steals a ride to doors around the world!"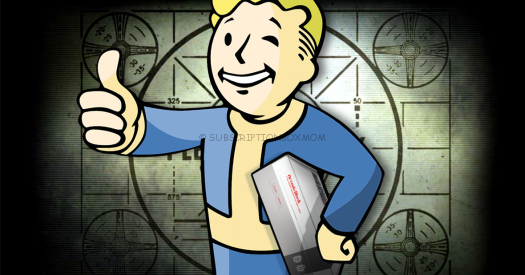 "Arcade Block subscribers will have something sweet to take through the wasteland in October, with an official Fallout collectible going to doors around the world this month!
Even if the world ends, subscribers will have plenty of surprises to help you remember better days as we celebrate gaming industry icon ATARI with an official collectible that'll make you stand out in a crowd.
We're also hopping into our time machines and going back to the 80s with one heck of a throwback: RETRO CITY RAMPAGE DX. We've partnered with VBlank Entertainment to bring you an exclusive video game collectible unlike anything we've ever done. You'll get to run missions, Outrun the law, Rampage the city, and MORE!
We're also including some mech combat fun and something to get you hyped for the release of Call of Duty Black Ops III, but we've been sworn to secrecy on that one.
And remember, all subscribers to Arcade Block are eligible to win October's Big Boss Block!"
"Hey there, game fans!
The team at Arcade Block is pleased to reveal that October's Arcade Block includes an exclusive, limited-edition, physical release of the hit indie game Retro City Rampage DX! Open-world carjacking goes back to the '80s in this 8-BIT throwback. You're about to run missions, outrun the law, and rampage the city with weapons, power-ups, and vehicles!
This send-up to '80s and '90s video games and pop-culture includes both a full Story Mode of open-world adventure as well as an Arcade Mode for quick pick-up-and-play action. If that's not enough, it also packs an interactive city full of shops, minigames, customizations, collectibles, special guest stars, and more.
The Arcade Block exclusive release of the PC, Mac, Linux, and MS-DOS versions of the game (all on the same disc!) will be shipping to subscribers this month! Since the limited releases of the PS4 and PS Vita versions of the game are now hot commodities on the secondary game collector's market, odds are great that this is one video game you won't want to trade in.
We've worked closely with the game's creator, Brian Provinciano, to bring you something truly special, with packaging design that's a perfect homage to Super Nintendo box art while also including a nod to those who remember installing games from floppy disks. As if this presentation wasn't enough, we're also including Steam downloads for those who do not have optical drives.
And remember, this is just ONE of the items we're packing into October's Arcade Block. We've also got an exclusive collectible from Fallout, a fun classic ATARI item, something to get you hyped for Call of Duty: Black Ops III, and more!
We know you're a bad enough dude to rescue the president from a bunch of ninjas. But are you bad enough to subscribe to Arcade Block?
And remember, every Arcade Block subscriber is eligible to win October's Big Boss Block!
Coupons: Nerd Block Arcade is $19.99 a month, and you can sign up to get the October box HERE and use the code SAVE15 to save 15%.
Do you like FREE SUBSCRIPTION BOXES?  Click HERE to see my free subscription box list.
Do you love giveaways?  Click HERE and see all my current giveaways.
Disclosure: This post contains affiliate links