September 7, 2015
09/07/15

By Subscription Box Mom

0 Comments
0
My Pretend Place August 2015 Bonus Projects Review + Coupon
Disclosure: I received these packages for review.  This post contains affiliate links.
My children love My Pretend Place, especially their dress up box.  My Pretend Place is a subscription box for children 3-8, that encourages pretend, dress-up, learning and imagination. My Pretend Place's mission is to get children crafting, dressing up, pretending and using their imaginations!  There are two boxes, a dress up box and a DIY Projects Subscription box.  The Dress Up box is $50.00 every 3 month (quarterly) and comes in boy, girl or gender neutral.  Each box will contain dress-up costumes, activities or crafts, and other pretend play inspiration.  Every three months, you get a big box of goodies and the two off months, you get free bonus materials.
I reviewed the Firefighter (Boy Box) in July, as well as the Veterinarian (Gender Neutral Box) in July.  This month (August), My Pretend place sent the first of two months of bonus materials.  Since the dress up box is worth the $50.00 cost, consider these projects free extras.

Here are the two dress up boxes from July: Firefighter and Veterinarian.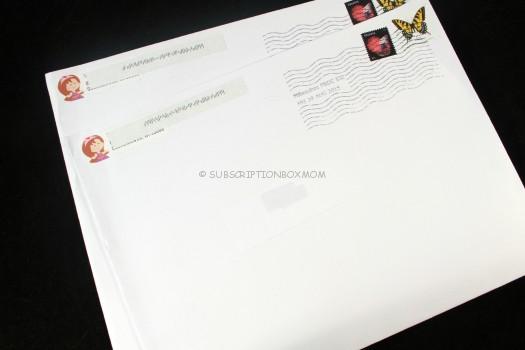 There was an envelope for each dress up box.  I will review the firefighter package first.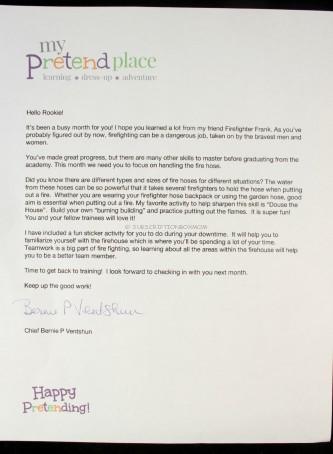 Firefighter Bonus Month 2: Chef Bernie P Ventshun sent a letter, explaining the next step to being a firefighter is learning how to handle a hose.  There an included activity called Souse the House.  There is also a sticker sheet to do during "downtime".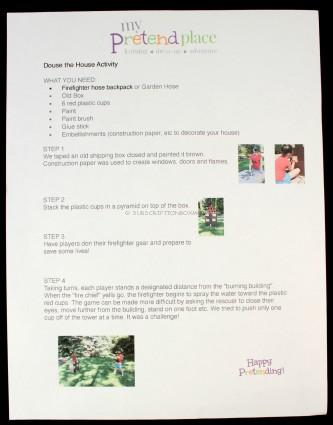 Douse the House: You can make a house out of an old box, then stack cups on top for flames.  Using the hose/backack from the box, spray the cups down to put out the flames.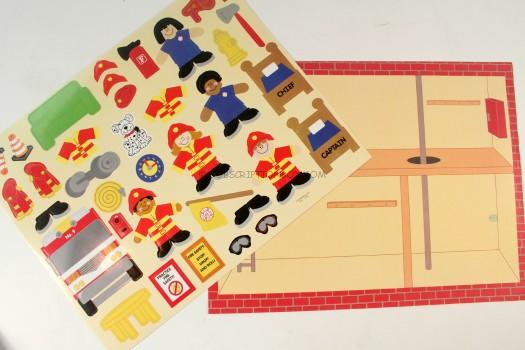 Sticker Sheet:  We have received this sticker sheet a few times, but it's a nice activity to occupy the boys for a few minutes.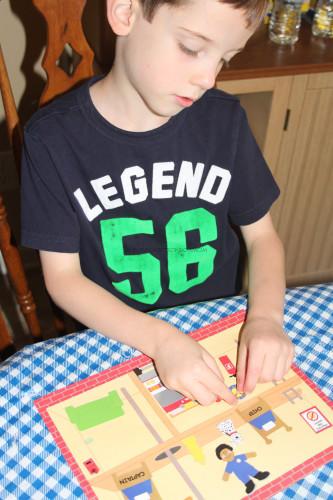 L didn't need any help completing his sheet.  The man is upside down because he has special shoes that allow him to walk on the ceiling.  If Lionel Richie can do it, the firefighter can too.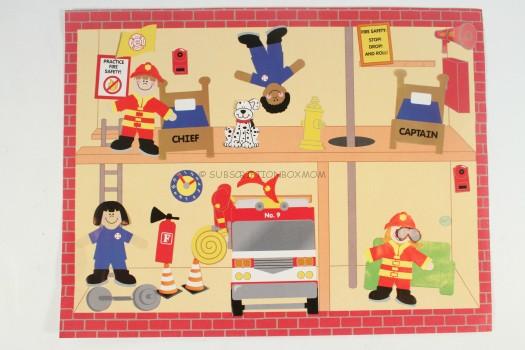 this is the completed sheet.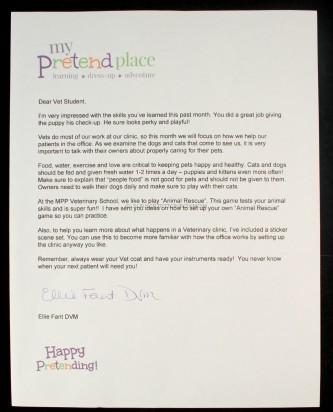 Veterinarian Bonus Month 2: Dr Ellie Fant sent a letter letting young veterinarians know what they need to do for their training.  There is an Animal Rescue" game and a sticker scene set to complete.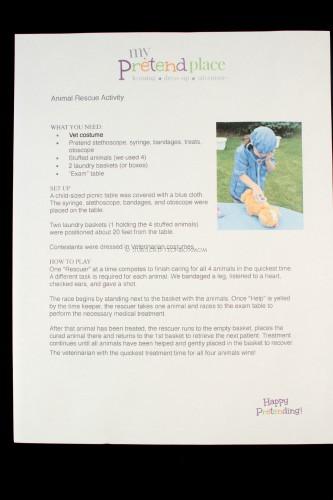 Animal Rescue: For this game, you need two people.  Each person has a basket of animals and certain things they must do to each patient check ears, eye, bandage leg etc.  The person who does everything in the fastest time wins.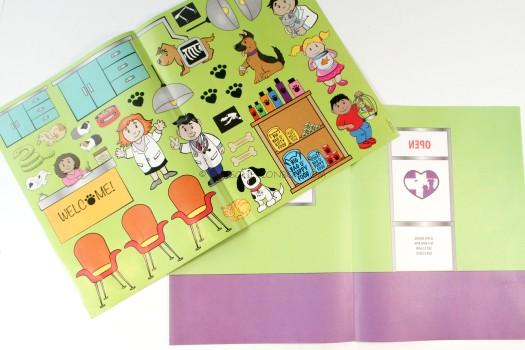 Vet Sticker Scene: The scene in this kit was pretty large, which worked out for T and his small hands.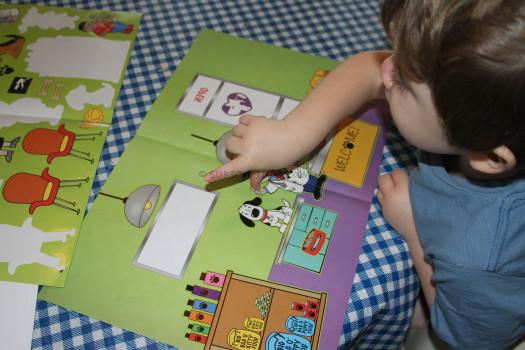 I helped peel off the stickers, so they wouldn't rip, but T did the rest.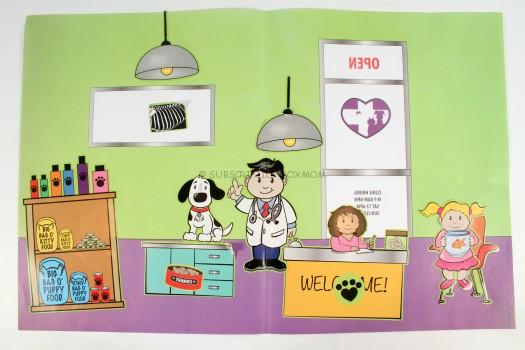 This is his completed scene.  I was really impressed with where he placed each sticker.
Final Thought:  These were two great bonus projects.  We haven't completed the activity for each packet, but the boys enjoyed the sticker sheets.  I love the bonus projects on months where the boys don't get a box.  If you want to My Pretend Place, use this link with the code pretend to save 30% on your first box of the dress up box or the craft subscription.
Do you like FREE SUBSCRIPTION BOXES?  Click HERE to see my free subscription box list.
Check out my Full List of Subscription Box Coupons
Check out my current giveaways 
HERE