September 27, 2015
09/27/15

By Kristi Klemish

0 Comments
0
M is for Monster September 2015 Review + Half Off Coupon
Disclosure: This post contains affiliate links.  I received this box for review.
Guest review alert!  Hi!  My name is Kristi, and my almost four year old son T and I have the pleasure of reviewing this month's M is for Monster preschool box (T is thisclose to being four, so I thought it would be a good fit

)
M is for Monster was founded by a mom that got tired of pinning, prepping and shopping for supplies so she could do fun and educational activities with her children.  She found it difficult to complete all the prep work, and still have time to do the projects.  She thought there might be other moms like her out there, and started M is for Monster.
M is for Monster is a box of weekly educational activities for your child.  One of the things I love about M is for Monster, is the box is designed to last a month.  There are 4 weeks of activities, with different themes for each week.  There are toddler boxes for children 2-3, preschool boxes for ages 4-5, and Kindergarten boxes for children entering or in Kindergarten.
The Details
Cost: $38.95 Month to Month.  $42.95 for a Single Box.
What's in the box? Each month will be different. You will get four weekly themes with 2 to 3 projects for each theme. You will also get the glue, crayons, markers, paint and all the other supplies needed for that month.  (Scissors are not included, as they may be scary for children)
Toddler Boxes:  focuses on uppercase letters, numbers 1-10 and basic shapes. Other skills will be introduced from time to time, but this is a basic layout.
Preschool Boxes: focuses on lowercase, numbers 1-20 and basic shapes. More complex activities for children with longer attention spans are introduced here. Again, other skills will be introduced from time to time as this is only a basic layout.
Kindergarten Boxes: Focuses on sight words, spelling, count by ones and tens, determining more or less when counting, and Identifying shapes,
Discounts: Use the code "50off" to save 50% on your first box.
When does my box ship?  Boxes ship the 20th of the month.
This is the Preschool Box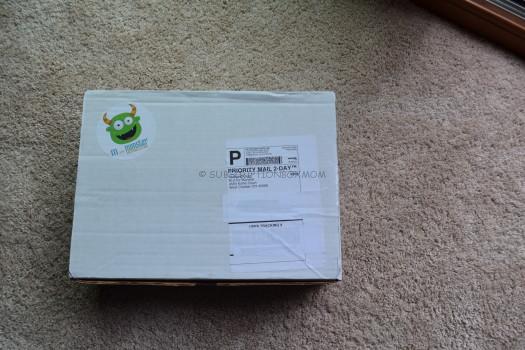 M is for Monster comes in a huge white box and ships by Priority Mail.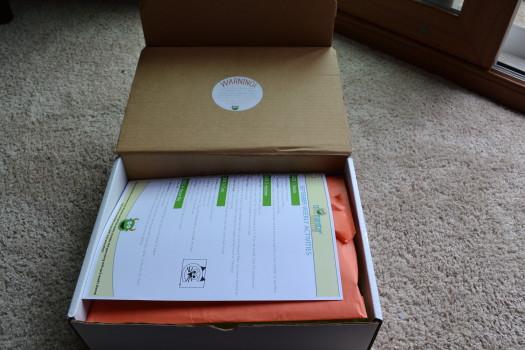 Everything is neatly packaged in paper packet by week (I loved this!).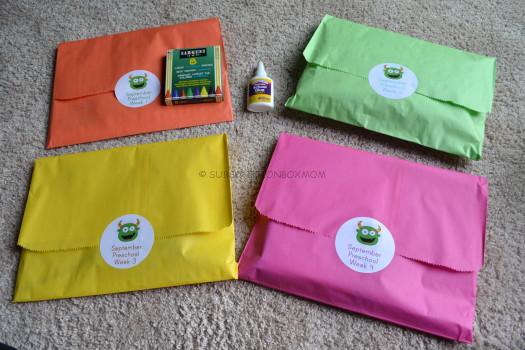 Glue and crayons were included for some projects.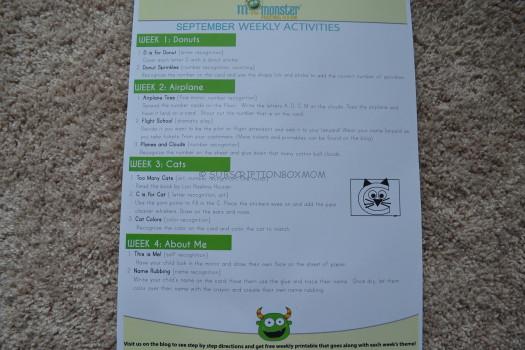 A weekly activity sheet is included.  This month was Donuts, Airplanes, Cats, and About Me.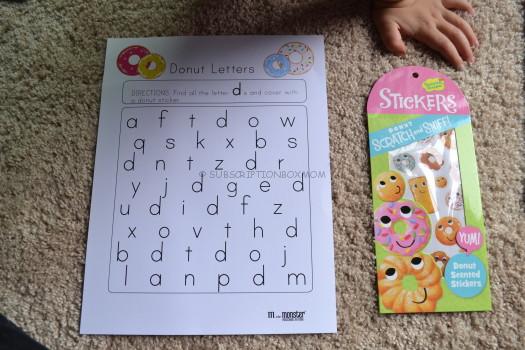 Week 1:  Donuts  This week's focus is the letter D.  The first project above is D is for Donut (letter recognition).  Cover each letter D with a donut sticker.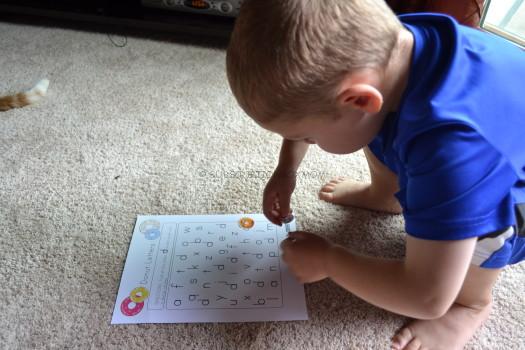 T is dilligently searching.  He is still learning his letters, so this was a good exercise for him!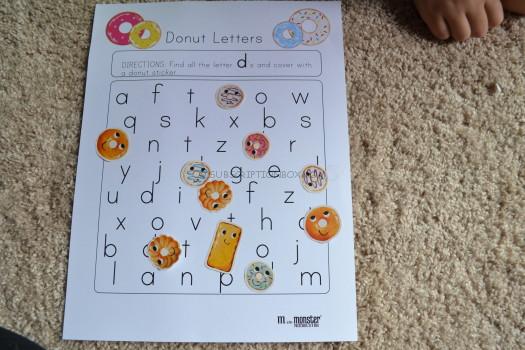 The finished product!  (Did I mention the stickers were scratch and sniff and smelled like donuts:!)
Project two was Donut Sprinkles (number recognition, counting).  Recognize the number on the card and use the shape lick and sticks to add the correct number of sprinkles.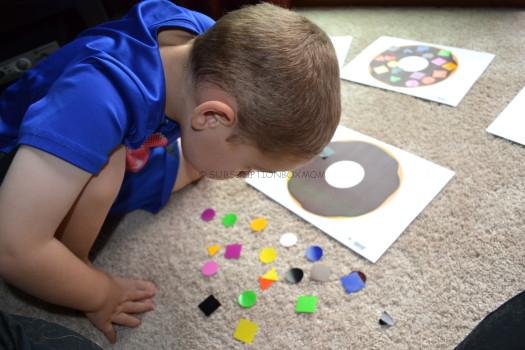 T is counting his sprinkles

 This week's numbers were 17, 18, 19 and 20.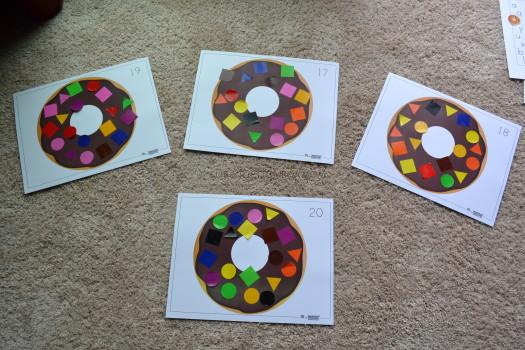 The finished products.  My only dislike of this was the licking part.  T wanted nothing to do with licking the shapes, and to be honest, I was done with the taste about halfway through.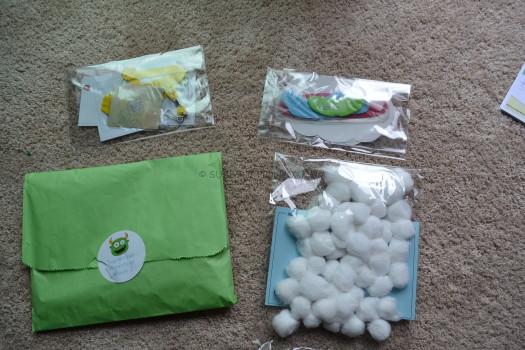 Week 2: Airplane  This week's focus is on airplanes, one of our favorite things!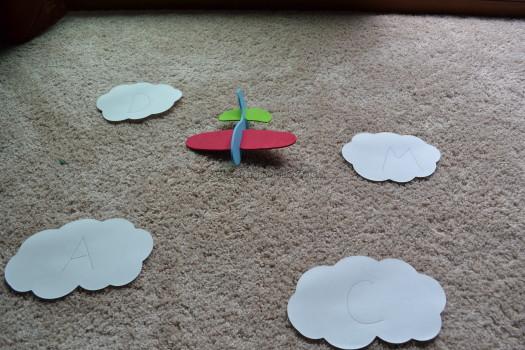 Activity one was Airplane Toss (fine motor, number recognition).  I wrote the letters A, C, D and M on the clouds and T tossed the airplane to land on a cloud and identify the letter.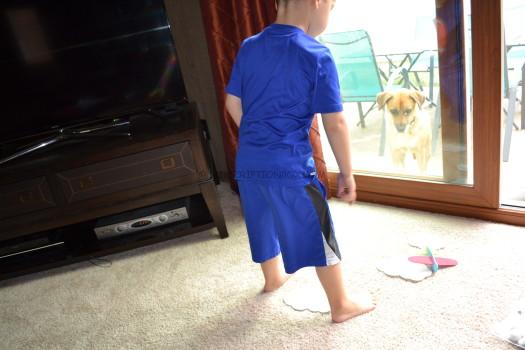 Sammie the dog intently watching the game!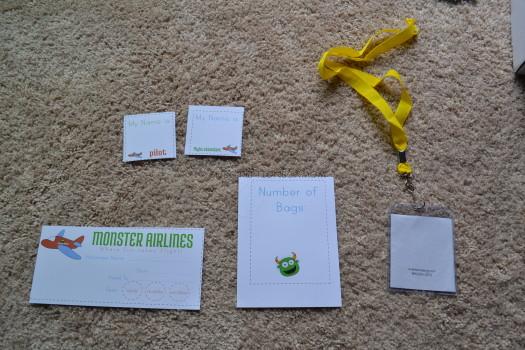 Activity two was Flight School (dramatic play).  T made his nametag and chose to be a pilot.  I made my ticket and we were off!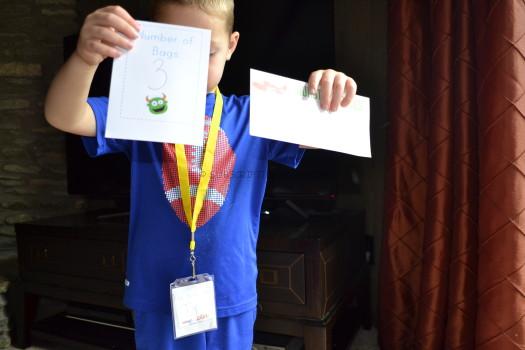 Pilot T is ready for takeoff!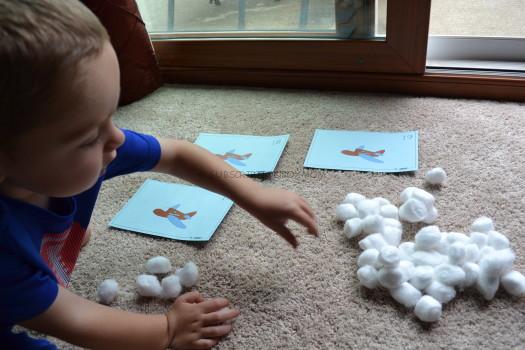 Activity three was Planes and Clouds (number recognition).  T had to recognize the number and glue down that many cotton balls.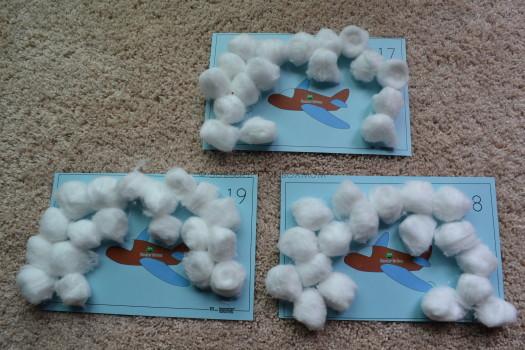 The finished products!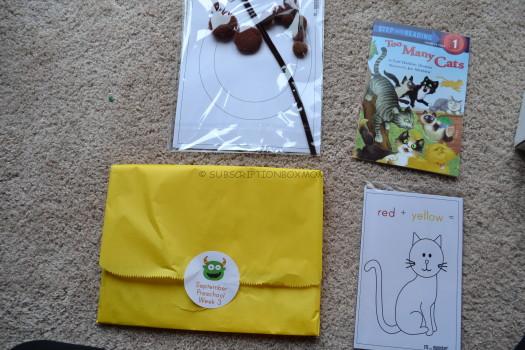 Week 3:  Cats  This week's focus is all about cats, our favorite animal!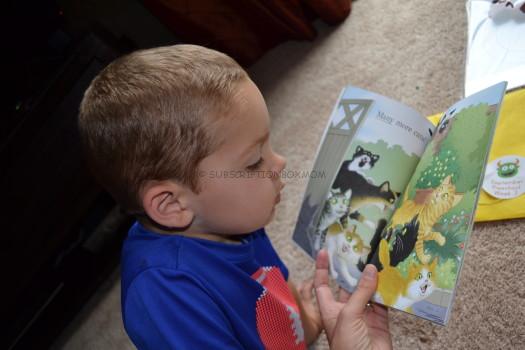 Activity one was Too Many Cats (art, number recognition, fine motor), a super cute preschool book.  T is listening intently as we read it.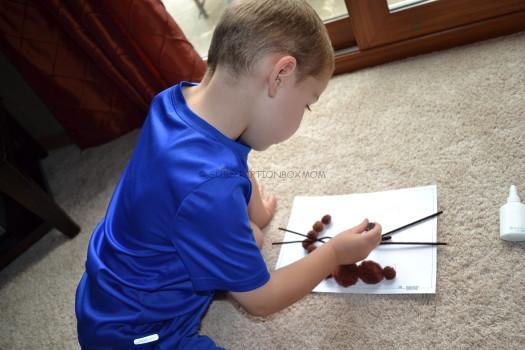 Activity two was C is for Cat (letter recognition, art).  T had to use the pom poms provided to fill in the letter C, then add pipe cleaner whiskers, eyes, and ears.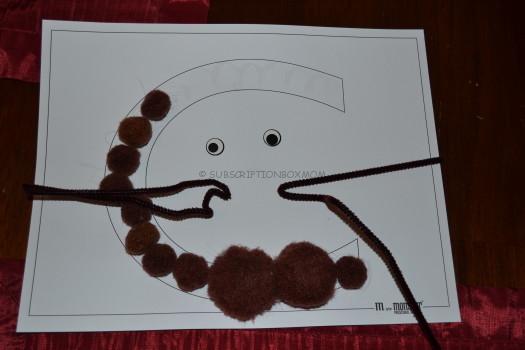 This one was a little of a bust unfortunately….there were not nearly enough pom poms to fill the C.  Maybe if they had all been the big ones.  T wanted a noseless and earless cat too LOL!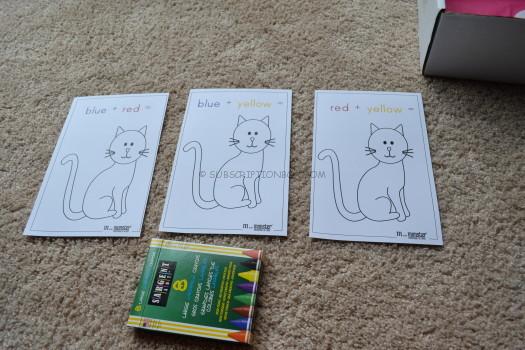 Activity three this week was Cat Colors (color recognition).  This was great for T to learn about mixing colors to make other colors!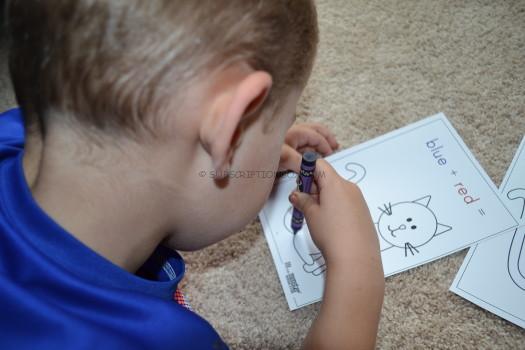 Working on blue and red making purple!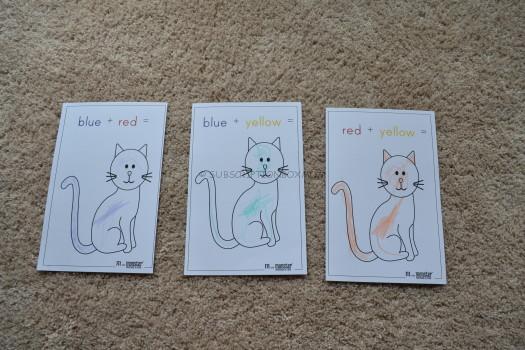 The finished product!  This one had a small hiccup too, as the crayon box had two browns, and no orange, which was a color needed, but luckily we had an orange crayon!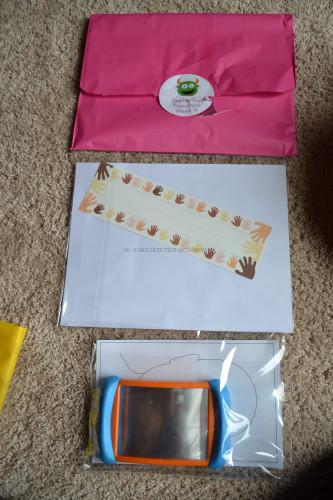 Week 4:  About Me  This week is all about me!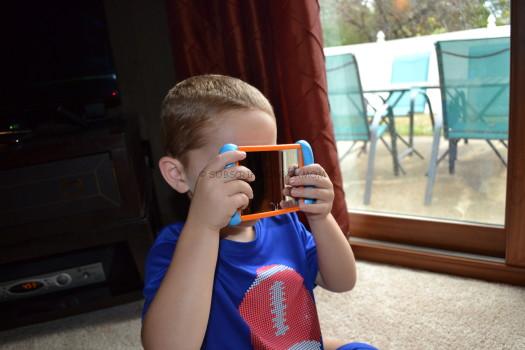 Activity one was This is Me! (self recognition)  This cute mirror came with it and T is staring at himself in preparation for drawing himself.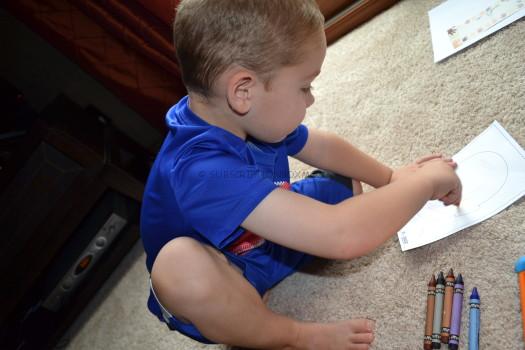 Working, working on the masterpiece!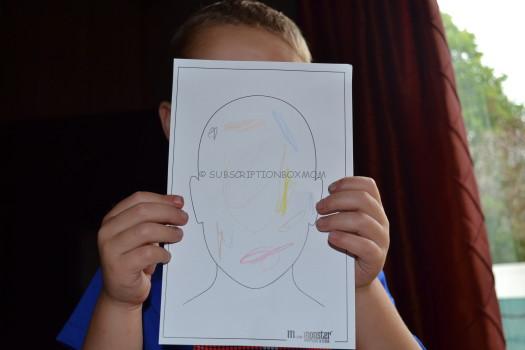 Quite the interpretation!  LOL!  T was maybe a bit too young to grasp this one!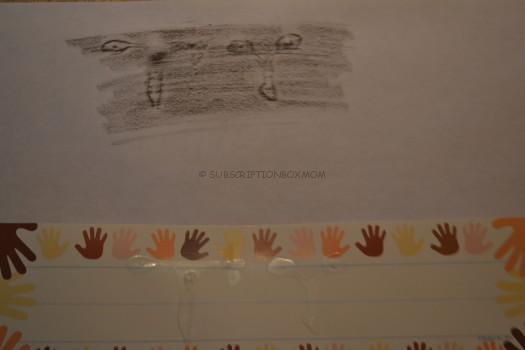 The final activity was Name Rubbing (name recognition).  I drew T's name in glue and let it dry.  He followed by coloring over it like a leaf rubbing.  The glue was really liquidy so the T didn't turn out as good as I thought it would, but still cute!
Final thought:  This box was fun!  Most of the activities really made T think and he enjoyed them.  I would say it would have been easier if he was maybe six months older, but I enjoyed helping him

 Was I disciplined and did one a week….no….but we had a lot of fun doing a crafting block

  You can use this link to try M is for Monster and you can use the code 50off to save 50% on your first box.  
Do you like FREE SUBSCRIPTION BOXES?  Click HERE to see my free subscription box list.
You can see my FULL coupon list HERE.