September 2, 2015
09/02/15

By Subscription Box Mom

0 Comments
0
M is for Monster August 2015 Review + Half Off Coupon
Disclosure: This post contains affiliate links.  I received this box for review.
 M is for Monster sent us the toddler boxes the last two months, so I was excited to try out the preschool box this month. M is for Monster was founded by a mom, that got tired of pinning, prepping and shopping for supplies, so she could do fun and educational activities with her children.  She found it difficult, to complete all the prep work, and still have time to do the projects.  She thought there might be other moms like her out there, and started M is for Monster.
M is for Monster is a box of weekly educational activities for your child.  One of the things I love about M is for Monster, is the box is designed to last a month.  There are 4 weeks of activities, with different themes for each week.  There are toddler boxes for children 2-3, preschool boxes for ages 4-5, and Kindergarten boxes for children entering or in Kindergarten.
The Details
Cost: $38.95 Month to Month.  $42.95 for a Single Box.
What's in the box? Each month will be different. You will get four weekly themes with 2 to 3 projects for each theme. You will also get the glue, crayons, markers, paint and all the other supplies needed for that month.  (Scissors are not included, as they may be scary for children)
Toddler Boxes:  focuses on uppercase letters, numbers 1-10 and basic shapes. Other skills will be introduced from time to time, but this is a basic layout.
Preschool Boxes: focuses on lowercase, numbers 1-20 and basic shapes. More complex activities for children with longer attention spans are introduced here. Again, other skills will be introduced from time to time as this is only a basic layout.
Kindergarden Boxes: Focuses on sight words, spelling, count by ones and tens, determining more or less when counting, and Identifying shapes,
Discounts: Use the code "50off" to save 50% on your first box.
When does my box ship?  Boxes ship the 20th of the month.
This is the Preschool Box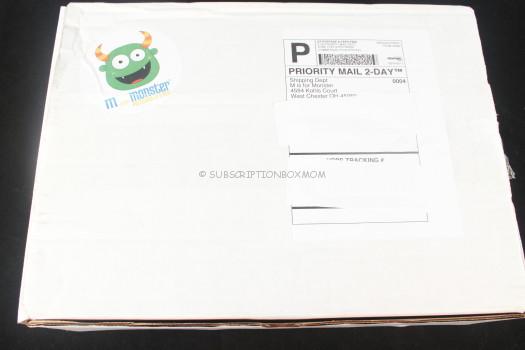 M is for Monster comes in a huge white box and ships by Priority Mail.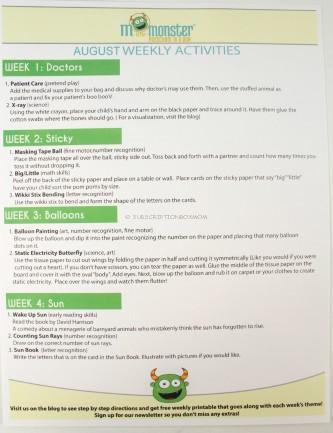 There is an information card that explains all the projects in the box.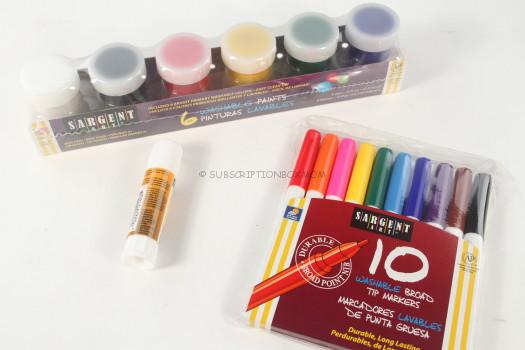 A glue stick, pack of markers, and paint were included to complete some of the projects.  Each week has its own envelope with supplies inside.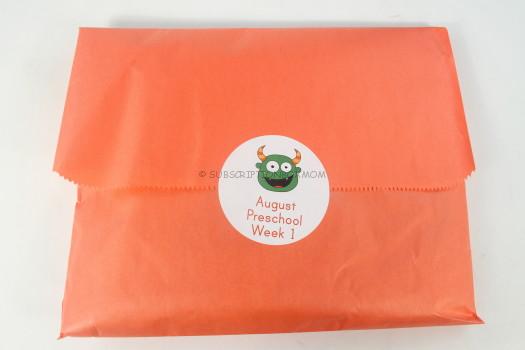 Week 1: Doctors These projects were focused on the human body and animals.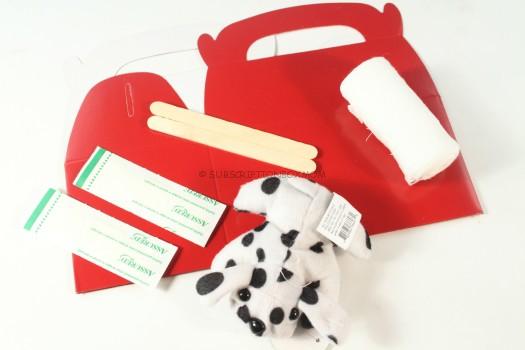 Patient Care (Pretend Play) The medical supplies go in the provided bag and your child can help fix the dog's boo boos.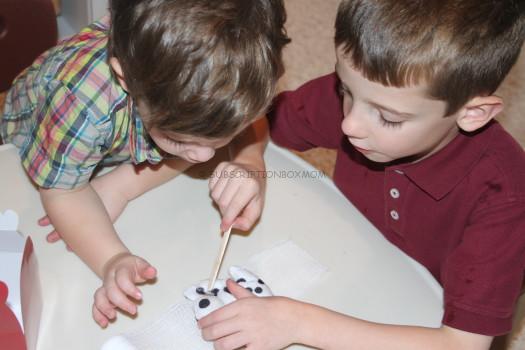 Both boys worked together to fix the poor door.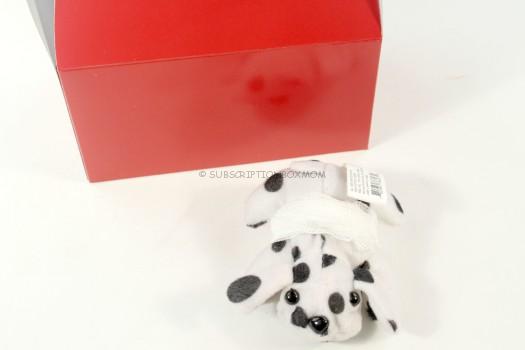 Sparky got bandaged up and is feeling much better.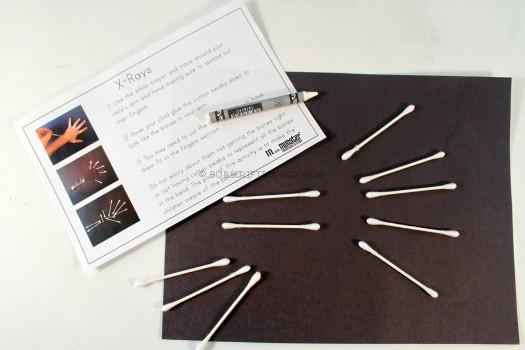 X-ray (science) Trace your child's hand with the white crayon, then your child glues the bones (q-tips) on the picture.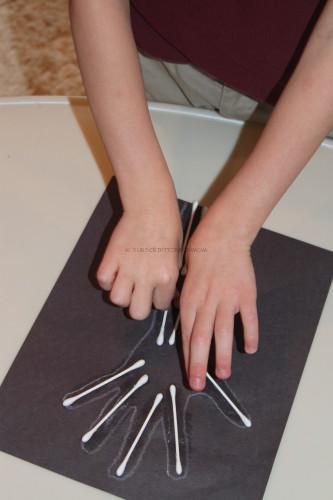 L gluing on his "bones".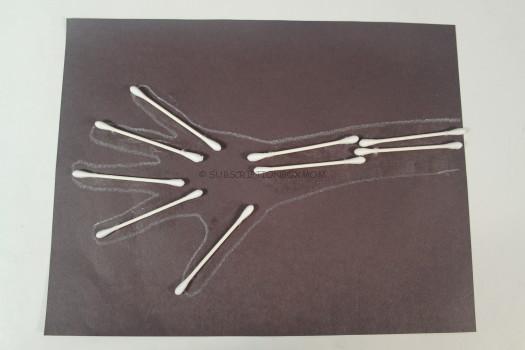 The finished arm.
Week 2: Sticky All the crafts this week involve something sticky.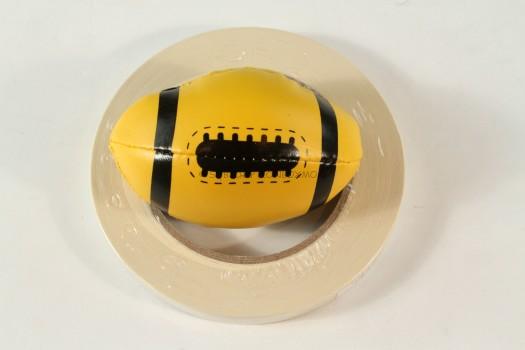 Masking Tape Ball (fine motor, number recognition): Your child tapes the ball with the sticky side out and then throws the ball back and forth to see who drops the ball first.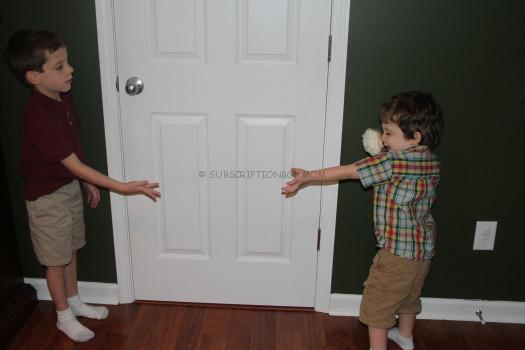 The boys through it back and forth.  The photo is deceiving, T is not actually being hit by the ball, it went right by his head.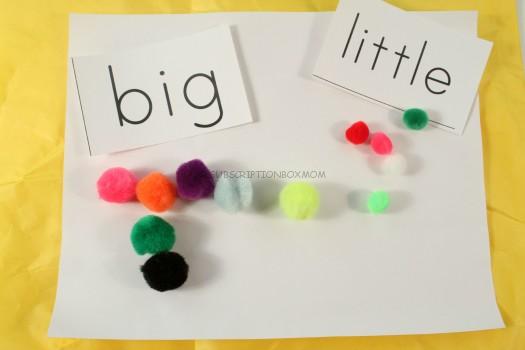 Big/Little (Math skills):  The paper is actually sticky and your child sorts the pom poms in the right section.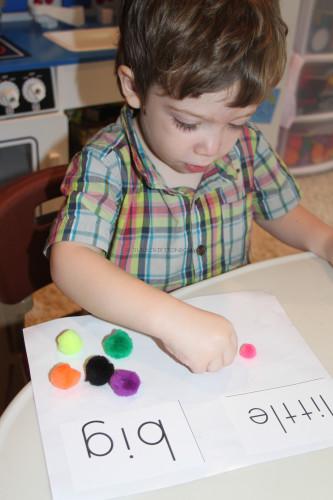 Sorting in action.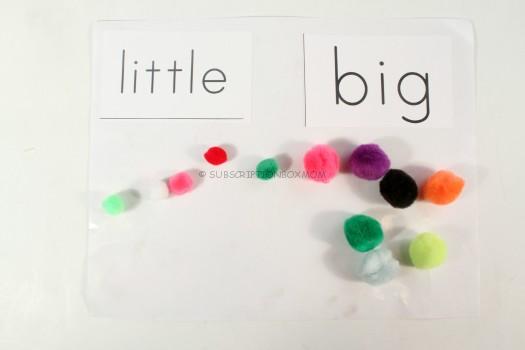 The finished project.  That little green ball is a bit in the middle, but T knew what he was doing.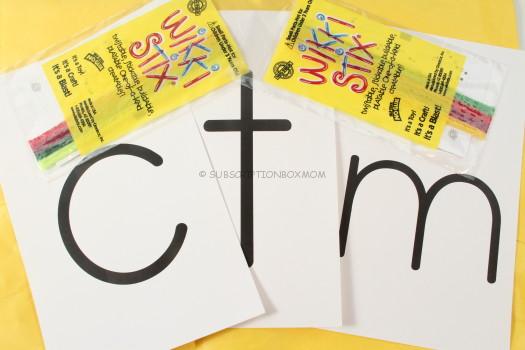 Wikki Stix Bending (letter recognition):  Use the wikki stix to bend them in the shape of the letters.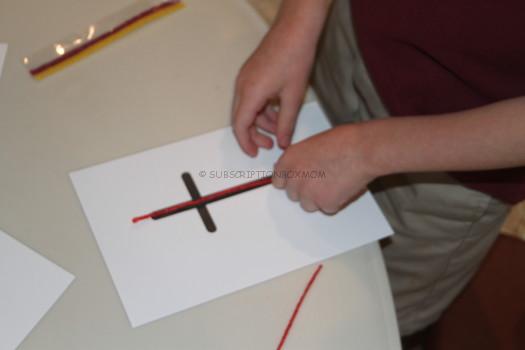 I used to play with wikki stix when I was a kid.  L really loved playing with them, and this project was pretty easy for him.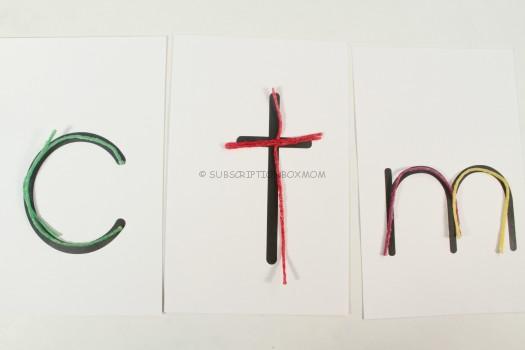 The finished letters.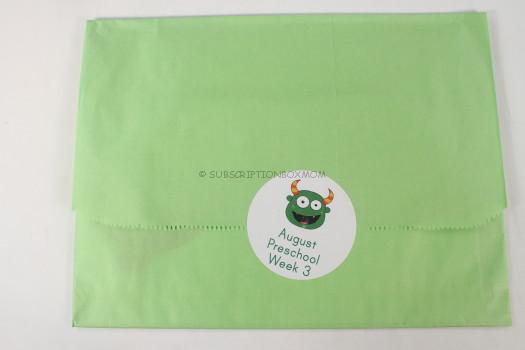 Week 3: Balloons  Both projects use balloons to complete the activity/project.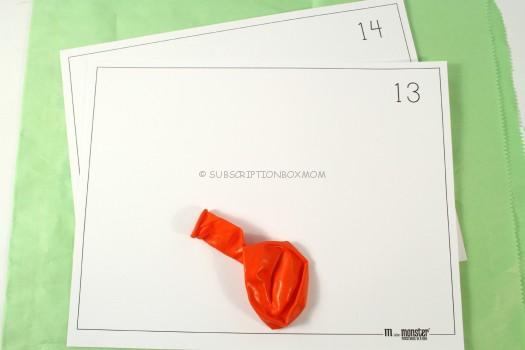 Balloon Painting (art, number recognition, fine motor) You blow up the balloon and use it to make the right number of dots on the paper.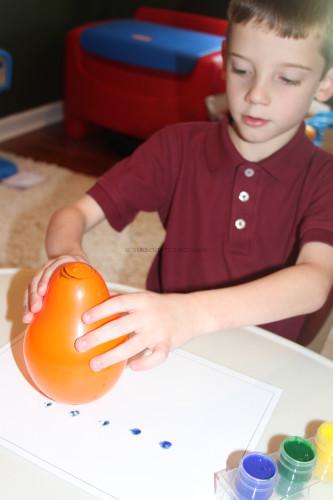 My kids love balloons so while, L doesn't love numbers, this activity was fun.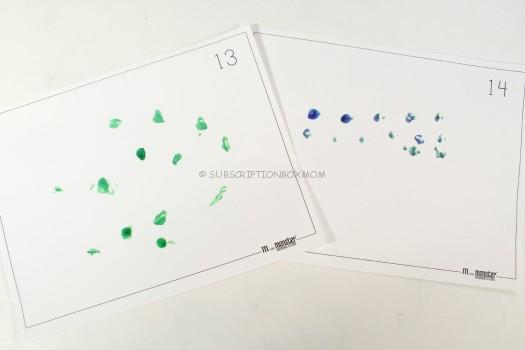 The finished pieces.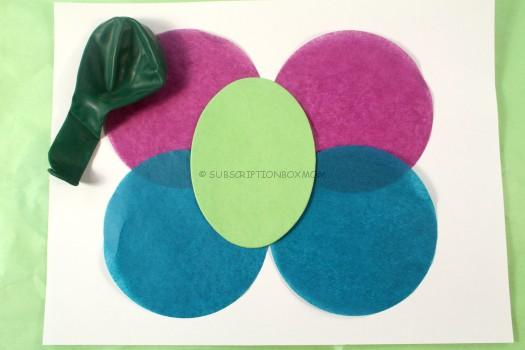 Static Electricity Butterfly (science, art) Your child cuts out wings from the tissue paper, then glues them down halfway and then uses static electricity to make the wings flap.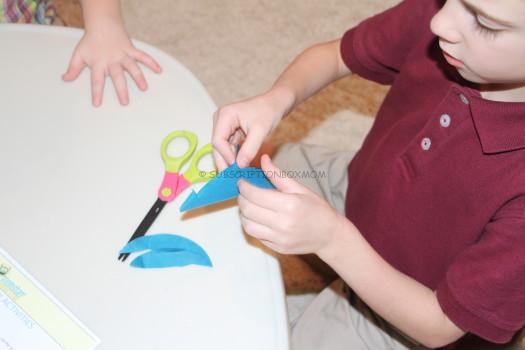 L cut out the wings and glued them down.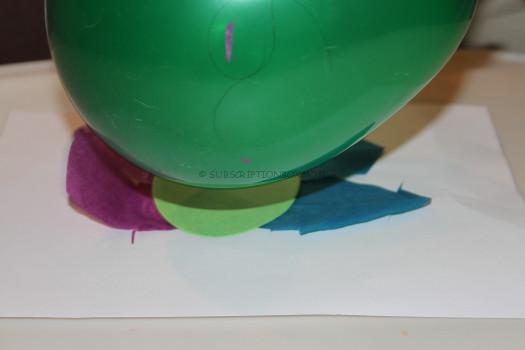 It's hard to tell by the picture, but the static electricity made the wings move.  L loves science, so he was able to tell me how it worked.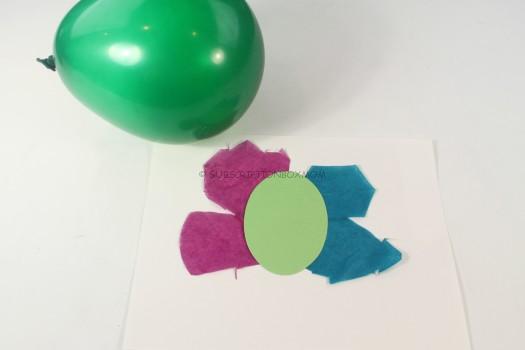 The finished butterfly.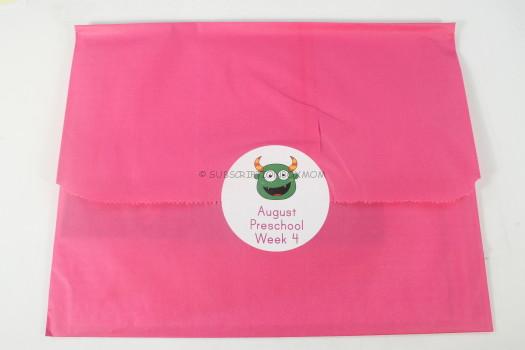 Week 4: Sun  The last package was all about the sun.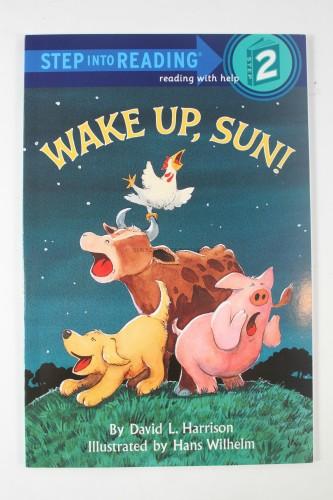 Wake Up Sun (Early Reading Skills)  Dog, pig, cow and chicken can't find the sun.  This is a funny story of how they found it.
Counting Sun Rays (number recognition) Your child draws the correct number rays on each sun.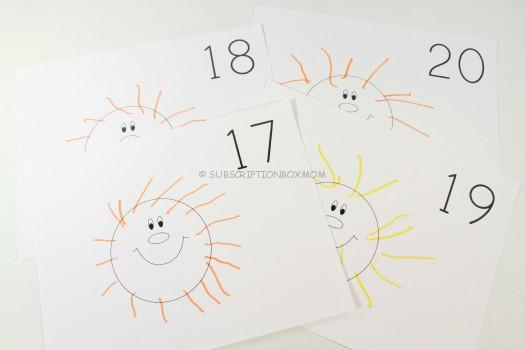 These are the finished suns, T did number 19.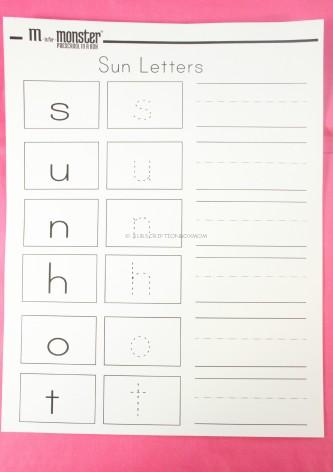 Sun Book:  You child works on the letters to write "Sun hot".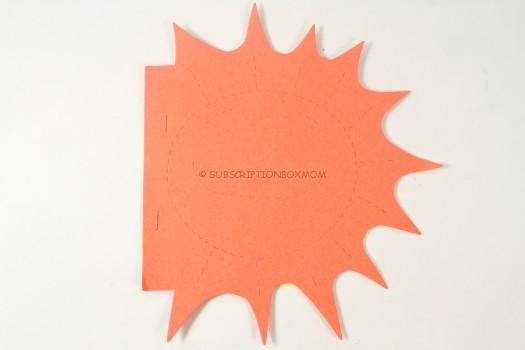 There was a book shaped like a sun and is filled with lined paper to write the words sun and hot.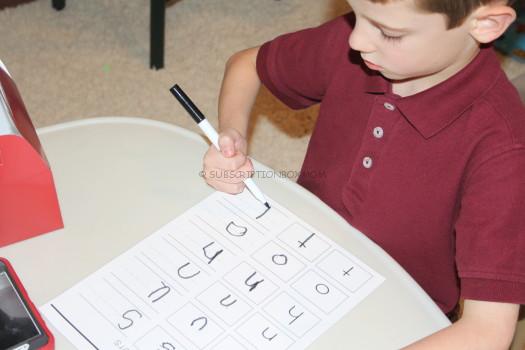 This was the hardest activity for L.  He can write his letters, but we are working on his penmanship.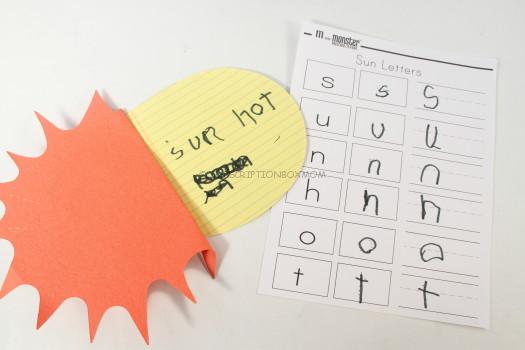 Finished paper and book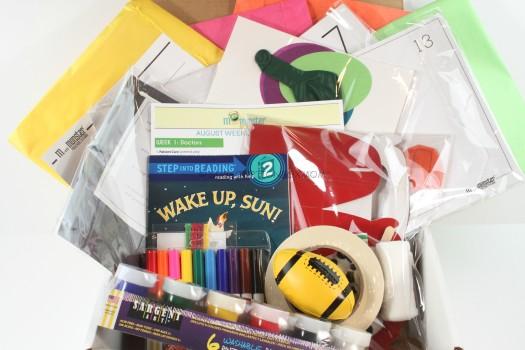 Final Thought; This was a really fun box and while my 6 year old did most of the projects, my 3 year old was still able to participate.  M is for Monster is filled with four packets of themed activities.  There is enough materials to last a full month and they have plans for kids as young as two.   You can use this link to try M is for Monster and you can use the code 50off to save 50% on your first box.  
Do you like FREE SUBSCRIPTION BOXES?  Click HERE to see my free subscription box list.
You can see my FULL coupon list HERE.