September 1, 2015
09/01/15

By Subscription Box Mom

0 Comments
0
GlobeIn Artisan September 2015 Box Spoilers + Coupon
Disclosure: This post contains affiliate links.
GlobeIn has released the theme for the September 2015 boxes. Boxes are $35.00 month to month and filled with handmade items from all over the world.  I love the quality of the items in my GlobeIn boxes.  You also find out about where each items comes from and who made it.  Continue reading for the spoilers for September.
The theme of the September 2015 box is…Wellness!
"So much more than good health alone, wellness is a state of physical, mental, and social harmony. It is a brightness of energy coursing through all levels of our being. It is a whole that is greater than the sum of its parts, cultivated by infusing daily activities with a spark of intention and care.
When we tend to our own wellness, we bring our best selves to the world and become able to influence the wellness of others. In this spirit, we'll be donating 50% of profits from the Wellness Box to Watsi, an organization that connects donors to medical patients who can't afford the procedures they need."
Each Wellness Box will come with a Blessing Bag handmade by women artisans in Ghana!
($12 retail, colors will vary).
"This multi-purpose zip case allows you to keep your essentials together without losing them in the depths of your purse or tote. Use it for makeup, first-aid essentials, or as a wallet! The Blessing Bag will hold it all. The inside of the bag is lined with recycled water sachets that protect it from spills and stains.
The organization behind the product might be familiar to some of our customers: A Ban Against Neglect (ABAN)."
"Every night, scores of homeless sleep on the streets of Accra, Ghana, most of them young mothers under the age of 20. ABAN's Women's Empowerment Program trains women in skills such as sewing and fashion design, while preparing them to nurture their children, care for their environment, and launch their own businesses."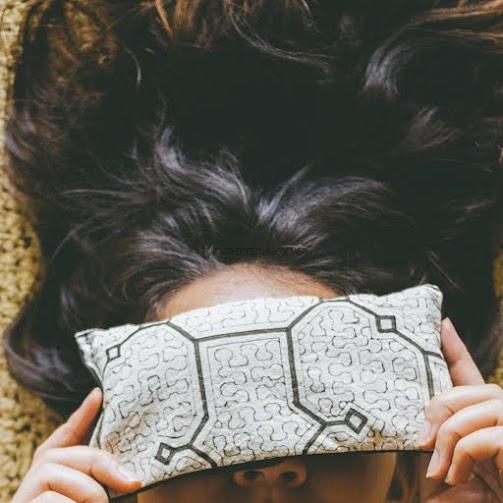 Spoiler #2 : Each Wellness Box will come with a handmade herbal eye pillow (Peru).
Price: $13
"Ease your runway into deeper sleep with an air of lavender from your herbal eye pillow.
Your eye pillow comes from deep inside the Amazon jungle and resonates with the cosmic awareness of its makers, a people known as the Shipibo. Despite increasing contact with the developed world, the Shipibo remain steeped in the spiritual environment of their ancestors, whose ancient geometric designs function as channels connecting the physical and spirit worlds.
Meandering rivers, star paths, the very veins of the universe repeat for all eternity across the facets of our being and the patterns of your hand-woven cotton pillow. The cotton has been dyed in mahogany bark and painted using a piece of bamboo dipped in the juice of the huito berry, a jungle fruit."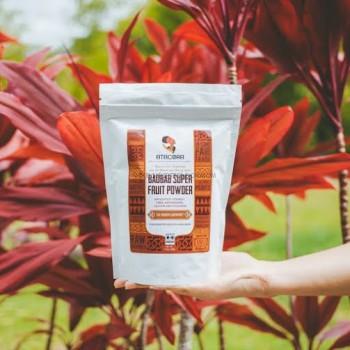 Spoiler #3 Each Wellness Box will come with Fair Trade Baobab Powder (Benin).  11.5 ounce resealable pouch.  Price: $10
"There are many reasons why the baobab tree is known in Africa as the tree of life. Its fruit is a superfruit—delicious and nutrient-dense, packed with antioxidants, vitamin C, probiotics, and calcium, just to name a few. Increase your nutrient intake (and your food's flavor) by adding the powder to smoothies, fruit, cereal, sauces, soups, and baking.
For the women of the Atacora Fair Partnership Co-op, who produced your baobab powder, the baobab also provides financial sustenance. Dominated by subsistence agriculture, the Atacora region has a weak cash economy. The supplemental income women earn through the co-op grants them access to vital services that require cash, such as quality healthcare and clothing."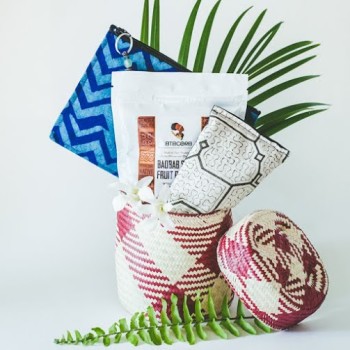 Each Wellness Box will include:
1) Blessing Bag (Ghana) by ABAN – $12 retail.
2) Eye Pillow (Peru)  – $13.
3) Baobab Powder (Benin) – $10
4) Palm Leaf Basket (Mexico) – $12
5) Watsi Gift Card – $5
Watsi enables anyone to fund life-changing healthcare for people around the world. 100% of donations directly fund care.
Coupon: Save 25% on your first box of a three month subscription, just use the coupon SUBMOM.
Do you like FREE SUBSCRIPTION BOXES?  Click HERE to see my free subscription box list.
You can see my FULL coupon list HERE.
Do you love Giveaways?  Click HERE to enter all my Giveaways