August 23, 2015
08/23/15

By Gigi C

0 Comments
0
TrueDrool August 2015 Review – Exclusively for Big Dogs (40 lbs +) – Pet Box + $15.00 Coupon
Disclosure: This package was received free for review.  This post contains affiliate links.  
Guest Review Alert – Maggie the golden retriever!  Maggie is back and this time she was really excited to review another pet box – especially for her (Big Dogs over 40lbs).  We'll just leave it at that – she's a big girl.. You should never ask a lady her weight, afterall

True Drool is the ONLY pet subscription box exclusively for BIG Dogs (40lbs +).  Prices start at $38/month for a one-time box.  You can also get a 3-month subscription for $96.00.  In addition, their "Paw-It-Forward" program allows you to buy a box for $20 and they will send it to a recently rescued dog (how cool is that?)  All treats are made in the USA or North America.  Also, they give 10% back to rescues and non-profits (in addition to the Paw-It-Forward program).
The Details:
Cost: $38.00/month or $96 for 3 months.
What's in the box? Each month you receive 4-7 "boxer-tested" and "boxer-approved" toys and treats.  True Drool's experienced testers (Oliver and Oslo) bring 18 years of experience to the table.  Oliver is an older gentleman, so he prefers treats that are softer and toys that are great for chewing.  Oslo is high energy and loves high action toys. And they both enjoy toys that keep their minds active. Your monthly Big Dog Box will contain 4-7 items they have approved.  Rest assured you will get toys that have been played with, tugged on, flipped and flopped and have held up to these two boys. (Yours will be new, of course!) You will get treats that have been tasted, tested and drooled over.  True Drool will also introduce you to other products useful to you as a pet parent.
Shipping: True Drool ships to the US and shipping is included in the price of the box.
When does the box ship?  Subscriptions ship the 15th of each month – order by the 5th to get that month's box.
First Look: For August, there were tons of goodies inside.  As soon as I opened the box, Maggie was ready to check it out, get her nose in there and see what it was all about!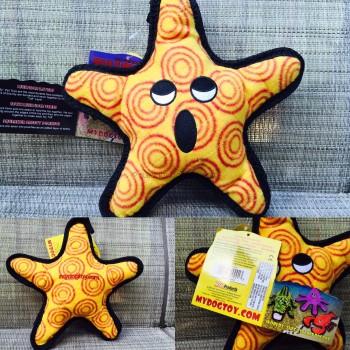 Starfish – TUFFY Pet Toys:  $17.00 Retail Value.  FEATURED product for August.  This toy is DURABLE and TOUGH for your big dog's enjoyment.  The tag also says it floats – so perfect for tossing at the beach or at the lake.  This starfish had 2 squeakers.  Maggie will make it her life's mission to get to both squeakers and remove them from the starfish, so we will see how long this one lasts – but so far so good.  She was very excited to give this one a try.  She grabbed it right away and ran off into the yard to enjoy it..  Later this evening, she had it inside on her dog bed – and was still playing with it.  And I'm happy to report both squeakers are still *with* the starfish and intact at this point.

Groomie – Fou Fou Dog: $10 retail value.  Can be used wet while giving a bath or afterwards to remove loose hair.  Drool tip:  Use the Groomie daily to find that sweet spot that makes your dog lean into you.  It promotes blood flow and stimulates the HAPPY in your Big Dog.
Clean Pet Wipes – Fou Fou Dog: $5.00 retail value.  Great for in between baths to keep that fresh feeling or use after a hard day of play in the park!  There were two scents included – Strawberry Daiquiri and Appletini (both smell great!)  I did notice they are also good on cats.. Will have to try these with Roscoe (the chicken enthusiast) as well..
Fou-Stick – Soothe, Protect – Fou Fou Dog:  $10 retail value.  There were TWO of these in the package.  Both are .5 oz (about the size of an elementary-school glue stick – remember those?)  The "soothe" stick helps relieve dry itchy skin and minor skin irritations.  The "protect" stick protects and moisturizes dry, cracked, or chapped paws, toes and noses against winter salt and hot pavement.  We'll definitely be trying these with Maggie – especially in the summer when she tends to get itchy on her belly.  Both are made with natural ingredients including beeswax, aloe vera, coconut oil, mango seed butter and shea butter.
Shampoo – Ear/eye wipes – John Paul Pet: $6.00 retail value.  There were 4 samples of each one.  The ear/eye wipes will be great for removing those eye boogies and any ear dirt and wax.  The shampoo is made with all natural Australian Tea Tree Oil.  Touted as an effective way to soothe hot spots and moisturize skin.  Will definitely be trying the shampoo to try and relieve the summer scratchies.
Backcountry Natural Treat – Merrick: $10 retail value.  Maggie was MOST excited about this one – probably because she smelled it in the box.  This is part of a new line of all natural treats by Merrick.  The flavor was "Great Plains – Real Steak Patties" – made in the USA and grain free.  Protein rich beef plus sweet potato.  Maggie loved this one!
Final Thought:  Total retail value of all the items included was $58.00 – not bad for only $38 (shipping included).  The items seem to be very high-quality and made of all-natural ingredients.  I always try to find things for Maggie that are made of natural, simple ingredients.  I also appreciate that True Drool gives back to animals in need.
Time will tell if the Starfish holds up to rigorous chewing and attempts at de-squeaking.  It does seem very well-made and pretty tough, so I think it has a fighting chance!
If you'd like to try True Drool for your big dog, use this link to try this subscription.
Coupon: Use this link and code bigdog for $15 OFF your first month of the 1 month, 3 month plans or gift boxes!  Good for the first 30 subscribers only!
I hope you enjoyed Maggie's guest review (well, Maggie was the tester, and her mommy Gigi reviewed it)..
Do you like FREE SUBSCRIPTION BOXES?  Click HERE to see my free subscription box list.
You can see my full coupon list HERE.