August 15, 2015
08/15/15

By Subscription Box Mom

2 Comments
2
Treat Chest August 2015 Review – Candy Subscription Box
Disclosure: This box was received for review purposes.  This post contains affiliate links.
Treat Chest is a candy subscription box filled with five or more different kinds of treats from all over the globe.  Subscriptions are $26.99/month and there are discounts for longer subscription plans.  Treat Chest promises a $54.00 value in each box.  As a fellow candy lover, I was more than happy to review this box.
The Details:
Cost; $26.99/month, $23.99/month for a 3 month plan, $21.99/ month for a 6 month plan.
What's in the box?  "Each box will be a surprise assortment of five or more varieties of treats, ranging from gummy bears to rock candy to licorice, plus anything and everything in between. Our expert candy purveyors scour the globe to bring you a fun and exciting variety of treats each and every month."
Shipping: $6.00/month
How do I cancel? You can cancel from your account.
Website: http://www.treatchest.com/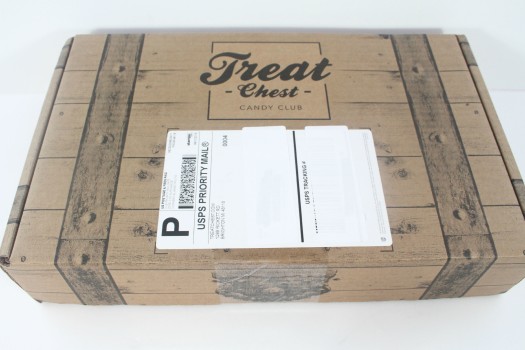 Treat Chest comes in a cute box that looks like a wooden chest.
First Look.  I looked for an information card, but there was not one included in the box.
Rock Candy est .65 cents $5.30 total A multipack of 8 Rock Candy sticks were included.  There were no flavors marked on the package, so I am not sure what all the flavors.  My boys tried the blue, which were blueberry and my boys said they were fantastic.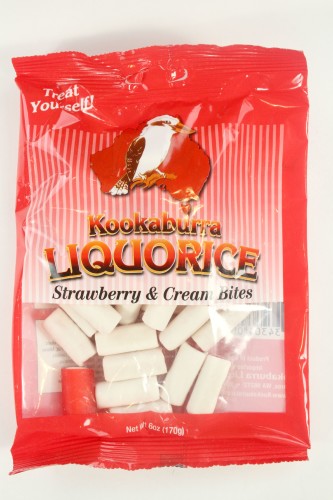 Kookaburra Liquorice Strawberry & Cream Bites $2.59  These licorice bites are soft and chewy, and have a nice strawberry cream flavor.
Albanese 12 Flavor Gummies $2.19 These are fatter than other gummy bears and contain flavors like Wild Cherry, Strawberry, Pink Grapefruit, Orange, Mango, Lemon, and Green Apple.  They are gluten free, fat free, and have low sodium.  These soft bears had a great (almost natural) flavor and were total hit with my family.
Jelly Belly 30 Assorted Jelly Bean Flavors $5.50  The classic Jelly Belly in a 7 oz bag.  With over 30 flavors per bag, there is something for everyone.  I personally love the juicy pear and buttered popcorn.  What are your favorite flavors?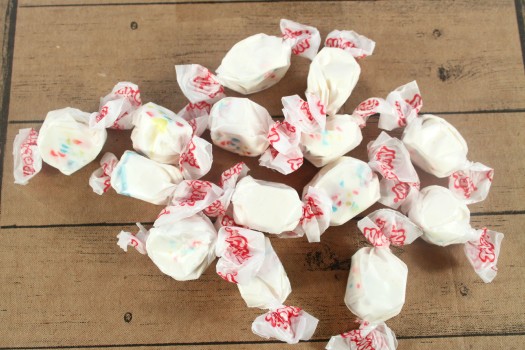 Taffy Town Frosted Cupcake Taffy $1.93  Soft and super fresh, this taffy is frosted cupcake flavored and was my husband's favorite treat in the box.
Giant Smarties  .18 cents bulk price, roughly  .40 cents retail  It's hard to tell by the picture, but these Smarties are twice the diameter as regular Smarties.  My boys gobbled these right up!
Final Thought: The total value of this box was $17.91.  The Rock Candy may sell for a bit more, but most of my prices came from the manufactures' online store.  While the candy was really tasty, I was really disappointed in the retail value.  This box cost $32.99 including shipping and $17.91 doesn't come close.  I am not sure what happened to the promised $54.00 value.  While this box provided a really fun movie night treat, the value needs to improve.  If you are interested in checking out Treat Chest, use this link.
There are also some coupons to use:
Get 1 month free when you purchase a 3 month subscription with code 1for3,
Get 2 months free when you purchase a 6 month subscription with code 2for6
Do you like FREE SUBSCRIPTION BOXES?  Click HERE to see my free subscription box list.
Do you love Giveaways?  Check out all my Giveaways HERE
Disclaimer: This box contains affiliate links