August 19, 2015
08/19/15

By Gigi C

0 Comments
0
RawSpiceBar July 2015 Review + Coupon – Spice Subscription Box
Disclosure: This package was received free for review.  This post contains affiliate links.  
Guest Review Alert- Gigi!  I'm back again in the guest review chair with a July review!  I like to cook homemade, fresh dinners at least a few times a week and I was excited to see this month's selection!  July's RawSpiceBar takes us to Memphis for an awesome BBQ meal.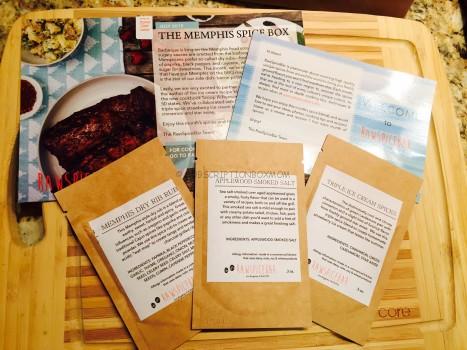 RawSpiceBar is a spice subscription box and costs $6.00/month.  They source high-quality, whole spices.  Every month you get 3-4 premium blended spices and coordinating recipes, enough to make 3 separate dishes serving 8-12 people.  Each month spotlights a different region of the world.
The Details:
Cost: $6.00/month
What's in the box? Each month you receive 3-4 spice blends which are enough to create 3 separate dishes serving 8-12 people. Each spice blend weighs between 2-3 ounces.
Shipping: RawSpiceBar ships to the US and Canada.  Free shipping for both countries.
When does the box ship?  Subscriptions ship the first week of the month
RawSpiceBar comes in a little flat envelope and ships via USPS. I noticed one big difference this month- instead of the individual recipe cards like before, there was one large, folded glossy paper with an introduction to the spices and the individual recipes printed on the other 3 sides.  I like this better – you can actually *see* what the finished product should look like on the pictures (hey, sometimes it helps – especially if you're following a recipe for the first time!)
First Look: For July, RawSpiceBar featured the town of Memphis, TN where BBQ (not just Elvis) is king!  Memphians do barbeque a bit differently than other places – instead of sugary sauces, they prefer so called "dry rubs" – freshly ground spice blends of paprika, black pepper, and cayenne with just a touch of brown sugar for sweetness.   July was a perfect choice for a BBQ menu – what better way to celebrate the 4th than to have friends and family over for an awesome grilled meal!?
The menu features Memphis Dry Ribs, Bacon Potato Salad with Smoked Salt, and for dessert – a new twist!  RawSpiceBar partnered with Lindsay Clendaniel, author of the ice cream recipe blog Scoop Adventures and the new cookbook Scoop Adventures: The Best Ice Cream of the 50 States.  This month's dessert recipe is a collaboration with her for a triple spice strawberry ice cream.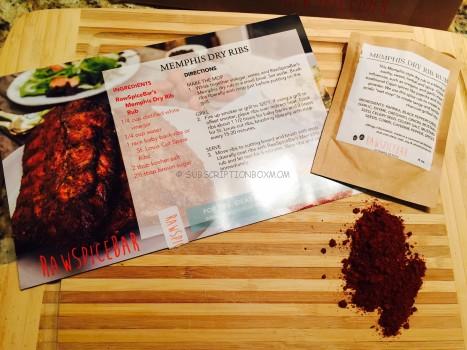 Memphis Dry Ribs:  This recipe called for just a few additional ingredients, most of which you would likely have on hand (distilled white vinegar, water, kosher salt, brown sugar, and either baby back ribs or St. Louis Cut Spare Ribs).  Now – I have no idea what "St. Louis Cut Spare Ribs" are – but thanks to Joshua Bosel over at Serious Eats – I now have better idea.  Seems easy enough to DIY – or, just ask your butcher.  This recipe is pretty straight forward – just make the BBQ mop (BBQ speak for the mix you rub all over the ribs – which involves mixing all the ingredients and the spices together) and grill over indirect heat for 1 1/2 to 2 hours (depending on the cut of ribs).  You do have to reapply the mop every 15-20 mins, and again once you remove from the grill.  Here's a closeup look at those beautiful spices:
Bacon Potato Salad with Smoked Salt: What goes GREAT with BBQ? Potato salad, of course!  This potato salad is a bit different than others I've seen – as it calls for *both* mayonnaise and mustard (most are either one or the other).  Ingredients are again simple – gold potatoes (although you could probably sub red potatoes – which are great in a potato salad), bacon, cider vinegar, chopped green onions and parsley.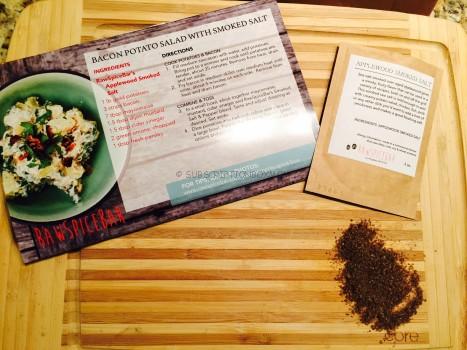 The recipe is very simple – boil the potatoes for 25 mins, then drain and cube.  Meanwhile, fry up the bacon, drain and pat dry.  Mix your ingredients with the spice mix, crumble the bacon and fold this dressing into the potatoes.  Cover – then chill before serving.  Here's a closeup of the spices:
Triple Spice Ice Cream:  July – ice cream – YES, Please!!  Who doesn't like a nice creamy, cold ice cream on a hot July night?  No one – that's who.  This recipe is a little more involved, as the recipe calls for using an ice cream maker..  The ingredients are pretty straightforward – whole milk, cornstarch, heavy cream, sugar and salt.
I'll have to try this one when I'm feeling a bit more adventurous – as there are a lot of steps and it involves ice water, and boiling and mixing.. and, well, I just need more time for this one!  Here's a closeup of the spices:
Final Thought: July's visit to Memphis doesn't disappoint.  I can't wait to try everything – especially the ribs and potato salad. I tend to prefer a bit of spice over sugary sauces (BBQ-wise) so I think these will be perfect! I will update with my finished meal photos as soon as I am able to fire up the grill!
As with previous months, it's great that RawSpiceBar gives you recipes that don't call for a lot of crazy stuff you wouldn't have on hand.  With the exception of the ice cream – everything is pretty simple to make.  What a fun way to introduce new meals to your menus!  For $6.00/month it's definitely worth trying – you might find a new food you can't live without!  I also love the fact that RawSpiceBar introduces things that I wouldn't normally try (in this case, homemade ice cream!)  If you want to try RawSpiceBar, use this link to try this subscription. Coupon: Get a bonus month when you subscribe for 6 or 12 months.  Just use this link with the code MOM2015.  You will get a total of 7 or 14 months.
I hope you enjoyed my guest review – stay tuned and hopefully Erin will let me review another one soon!

Do you like FREE SUBSCRIPTION BOXES?  Click HERE to see my free subscription box list.
You can see my full coupon list HERE.