August 25, 2015
08/25/15

By Gigi C

0 Comments
0
PupJoy August 2015 Review + Coupon – Dog Subscription Box
Disclosure: This package was received free for review.  This post contains affiliate links.  
Guest Review Alert – Maggie is doing another review!  Maggie just turned the big 1-0 (TEN!) today, so she got a very special treat in reviewing PupJoy!  She was super excited, as usual.
PupJoy was conceived with a pretty simple premise — to create joy — so they built the business around the Golden Rule – you should treat everyone, from customers, partners, employees and those in need, in the way that you would want to be treated yourself.  "Treat Better" is their principle for doing better business, and it is the catalyst for the charitable programs that they collectively support through the PupJoy Care Pack community.
Up to 50% of the profits of PupJoy subscription orders go to support their multiple Care Pack programs. They also partner with outstanding small manufacturers, many of whom have their own charitable programs, to help foster a thriving marketplace for high quality, artisan dog products.
Subscriptions are customized to your dog's preferences.  Start by choosing the box size ("Uno" for one dog or "Grande" for a multi-dog box) and number of boxes you wish to receive (1, 3, 6 or 12 month subscriptions), then customize further by choosing:
toys, treats or mixed boxes
grain free or training specific only treats
tailored toy preferences
personalized for your dog's size
Prices start at $29 for the "Uno" box and $39 for the "Grande" box (for month-to-month delivery).  The "Uno" box drops to $23/month when you choose a 12-month subscription ($276 total) and the "Grande" is $30/month when you choose a 12-month subscription ($360 total).  There is no risk – you can cancel anytime by logging into your account on PupJoy's website and clicking on "Manage Subscription" – you only pay for what you've received.  They also have a great point system!
The Details:
Cost: Prices start at $29 for the "Uno" (one-dog) box, or $39 for the "Grande" (multi-dog) box for month-to-month delivery.  Box prices drop to $23/box when you choose a 12-month subscription.
What's in the box? Each month you receive 3-4 items (in the Uno Box) or 4-6 items (in the Grande Box).  Each box contains a curated selection of high quality treats and/or toys and accessories, based on your customized selections.  There is a short questionnaire to determine your dog's preferences when you sign up.
Shipping: PupJoy ships to the US and shipping is included in the price of the box.
First Look: For August, there were tons of goodies inside.  As soon as I opened the box, Maggie got her snoot in there and was rooting around – there was definitely something in there she was really into!
FabDog Floppy Plush:  $12.00 Retail Value.  This toy is adorable – it's a dark brown plush bloodhound (think McGruff, the Crime Dog) with FIVE squeakers – that's right 5 (one in each paw and one in the belly!).  It looks great for playing fetch, too since the arms and legs are long and you can get a good grip.  Maggie was excited to try this one – but I'm not sure it will hold up to the rigorous desqueaking process she usually puts her chew toys through.  Time will tell!
Hip Doggie The Claw – Plush Toy:  $12 retail value.  Another great plush for playing fetch.  You can really get a good grip on this one.  it's about 9.5″ long and Maggie LOVED this.  So much that she took it out into the yard and proceeded to slobber all over and roll around with her belly in the air.  And now, we have no idea where she "hid" it – I'm sure she's just saving it for later.  I asked her, but she's not giving up her hiding place.
Good Dog Bakery And More – Original Bones Treats: $4.00 retail value.  These USA sourced and baked treats are made with no chemicals or artificial preservatives and slow baked.  They have the consistency of gingerbread and they smell pretty good!  Maggie ate two of these in no time!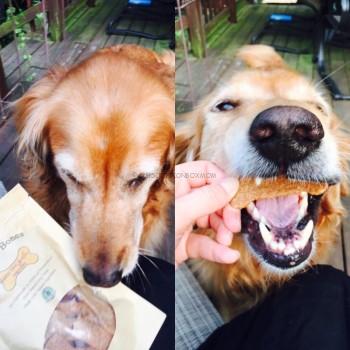 Smart Cookee – PB'N Jelly Time Treats:  $9 retail value.  These treats are made with peanut butter, blueberries and chia seed.  These are also slow baked and are corn, wheat, and soy free.  In addition, they have no chemicals or preservatives.  Maggie really liked these as well.
Dog for Dog – Dogsbutter: $9.99 retail value.  This specially-formulated peanut butter is made just for dogs!  What makes it perfect for your best furry friend?  Here's the scoop:
All natural ingredients like peanuts and flaxseed
Great for disguising yucky medicine, filling hollow toys, making pupsicles!
Full of omega-3 antioxidants and vitamin E
No sugar, no salt, no hydrogenated oils
Made in the USA
One of Maggie's favorite things is peanut butter.  Every morning, as part of our routine, she brings me her Kong and I fill it with peanut butter.  She went crazy for this stuff!  I actually tasted a bit and it reminded me of natural peanut butter (but you don't have to mix it).  It's not as sweet as regular PB you buy in the store, which is perfect.  As a bonus – whenever you buy Dogsbutter, Dog for Dog donates an equal amount of food to dogs in need – and it's written right on the label

Final Thought:  Total retail value of all the items included was $46.99.  I liked that there were full-sized, quality treats and toys and Maggie really seemed to like all of them – ESPECIALLY the Dogsbutter!  The items seem to be very high-quality and made of all-natural ingredients.  I always try to find things for Maggie that are made of natural, simple ingredients.  I also appreciate that PupJoy gives back to animals in need.
If you'd like to try a personalized PupJoy box for your best furry friend, use this link and code BONUSPOINTSCRATEJOY for $5.00 in bonus points
I hope you enjoyed Maggie's guest review (well, Maggie was the tester, and her mommy Gigi reviewed it)..
Do you like FREE SUBSCRIPTION BOXES?  Click HERE to see my free subscription box list.
You can see my full coupon list HERE.