August 27, 2015
08/27/15

By Subscription Box Mom

0 Comments
0
MovieBlox Review September 2015 + Exclusive Coupon – Movie Subscription Box
Disclosure: This box was received for review.  This post contains affiliate links.
Earlier this month, MovieBlox gave us a great family friendly movie night (Review).,  I was really excited to check out another box!  Movie Blox is a new subscription box that sends you movie night in a box.  Every month, you will get a featured DVD or Blu-ray (depending on what plan you choose), along with popcorn, candy and special bonuses.  When you sign up, you can choose between Classicz and Kidz (both girl and boy plans).  DVD plans are $20.00/month and Blu-ray plans are $23.00/month.
When you sign up, you fill out a short profile, to find out more about the genres and movies you like or don't like.  This helps MovieBlox pick out the best movies for you and your family.
The Details:
Cost: DVD: $20.00/month, Blu-ray: $23.00/month
What's in the box? Each month, you will get a DVD or Blu-Ray depending on your plan, popcorn of all flavors, and candy for everyone to share
What kinds of movies will I get: From MovieBlox "You'll get everything from Fight Club to Beerfest, Halloween to Teenage Mutant Ninja Turtles. Watch Prometheus with some friends or Poltergeist in a dark room alone. We'll only send you movies from the Genres you pick. MovieBlox Kidz brings you movies selected by our 8 year old daughter and her friends and family. We also pick classic 80's and 90's movies from our childhood like Gremlins and Ghostbusters, show your kids the movies you grew up with and let them show you some of their favorites like Despicable Me and Toy Story."
Cancel or Skip:  You can skip any month you want through your subscription.
I was sent the Kidz Blueray subscription.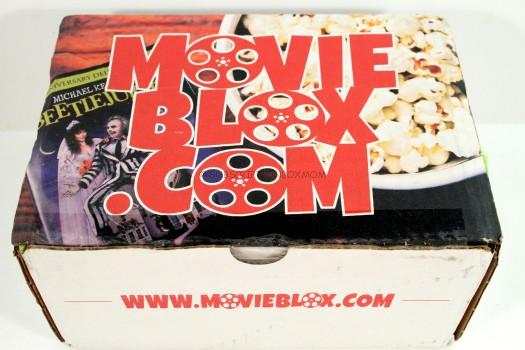 MovieBlox ships in a fun movie-themed box.
First Look.  I don't think they could've fit anything else in the box, it was packed.
Boom Chicka Pop Sweet & Salty Kettle Corn $1.00  My whole family loves popcorn.  This is organic and has only 80 calories, but it tastes like real kettle corn.  This is my movie night treat.
Goonies: Data Action Figure $9.00  Made by FUNKO, this is the techie, Data from the Goonies.  He even has a "pinchers of peril" chattering teeth accessory.  I really have to collect the rest of the collection now. Very fun!
M & M's $1.00  This movie-theater sized box is great for family's to share.  Bonus that there are no peanuts!
Darth Vader Bubbles $5.28 My kids love bubbles and this is great outdoor fun.  The boys can run around outside, wear out their energy, then chill on the couch for a movie.  The bubble container is just awesome.
Popcorn: Orville Redenbacher $1.00 This is a full bag of popcorn, which is just enough for our family of four.
The Goonies [Blu-ray] $6.91  One of the best movies of my childhood.  I have a pretty extensive movie collection, but I don't have this movie!  I can't wait to watch this with my family and introduce my kids to the Goonies.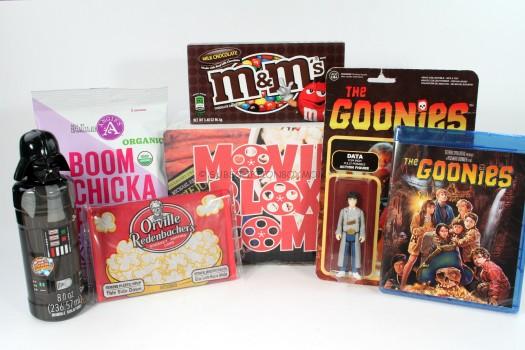 Final Thought: This box had a total value of $24.19, which was an improved value from last month and the box was packed.  I loved the Goonies movie inclusion and the FUNKO figure.  The candy and popcorn filled out this box nicely.  All in all, a great box and ready for family fun.  I love boxes like this, where the whole family can get together and enjoy it.  This would be a nice monthly surprise to get each month.  You can subscribe to Movie Blox and save 15% on your 1st box with the code MOM15, you will save $3.45 on your first box.  Remember, they have a Classic box, for those who don't want kid-friendly movies.
Do you like FREE SUBSCRIPTION BOXES?  Click HERE to see my free subscription box list.
You can see my FULL coupon list HERE.
Do you love Giveaways?  Click HERE to enter all my Giveaways