August 16, 2015
08/16/15

By Subscription Box Mom

0 Comments
0
Love with Food August 2015 Tasting Box Review – "Road Trip" + Coupon Codes
 Disclosure: This post contains affiliate links.
Love with Food's theme for the August 2015 box is  "Road Trip".  Love with Food is a snack subscription box that sends snacks that are organic or all-natural, GMO-free, gluten-free or free of artificial junk.
 The Tasting Box is $9.99/month with free shipping and contains eight or more snacks.  The Deluxe version that features 16-20 snacks and is $19.95/month (free shipping).  For those on a gluten-free diet, the gluten-free box contains 8-12 snacks for $24.50/month.  Keep reading to the end of the review for coupons to save on a Love with Food subscription.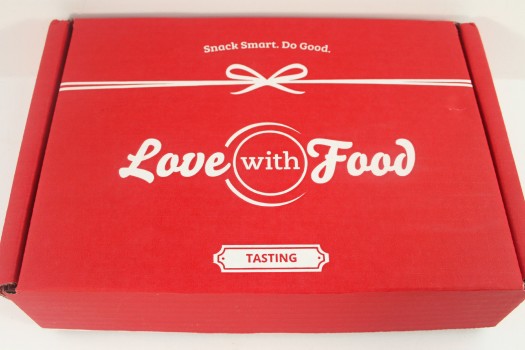 Love with Food ships in a red by by USPS.
I love bringing snacks on the road, so I was hoping to find some new favorite's this month.
Each information guide is filled with all the details about each snack.  There are color coded icons that let you know if something was non-gmo, vegan and organic or gluten free.
Enlightened Roasted Broad Beans These beans are packed with protein, fiber and low in calories.  I didn't pay attention that these were wasabi flavored, so I was quite surprised with how spicy they tasted.  I really don't care for wasabi, so this snack wasn't for me.  I think I would have liked the sea salt or BBQ flavor.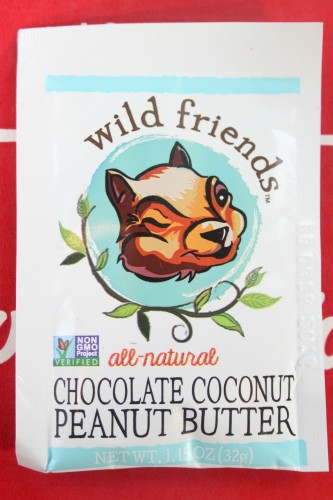 Wild Friends Chocolate Coconut Peanut Butter:  There were two flavors that Love with Food sent out this month, but I knew I would end up with the coconut one, being that I hate it.  If you are a fan of coconut, this peanut butter is all natural and is great on fruit.
Stash Lemon Rooibos Iced Herbal Tea To make this tea, drop this packet in a bottle of water.  My husband will try this, as he loves tea.
Fruit Pie:  This is literally dried figs and walnuts.  There are no added colors, sugars and it's gluten free.  While I enjoyed this, I perfect eating this with crackers or toast.
GoOrganic Apple Hard Candy While I knew this candy was in this month's Love with Food box, I didn't expect to get a whole bag.  These hard candies taste just like juicy apples, and they are organic, non-gmo and gluten-free.
La Panzanella Rosemary Croccantini  These crackers have a light crunchy texture with a hint of rosemary.  I have had these in another box, and loved them.  Thankfully, they are in the Love with Food store, so I have already ordered more.
Kind Healthy Grain Popped Salted Caramel Bar  I really don't care for Kind bars or other similar granola bars, too grainy for my taste.  Despite not loving bars, this one wasn't half bad.  It has a hint of popcorn, mixed with grains and caramel.  If I were to pick a bar to eat, I would select this one.
479 Popcorn Asiago, Parmesan + Cheddar Love with Food sent a variety of flavors, and I was pleased to get this one.  With only 70 calories per bag, this is a healthy snack and it has a great artisan cheese flavor to it.  I would have bought more in the Love with Food store, but they only have the sea salt variety.
There as a coupon for Hello Fresh, and one for an ice cream treat.  If you want to try Hello Fresh get $40.00 off your first order.  That's three meals for two people for $29.00 total!  Just use the code RW7DMF.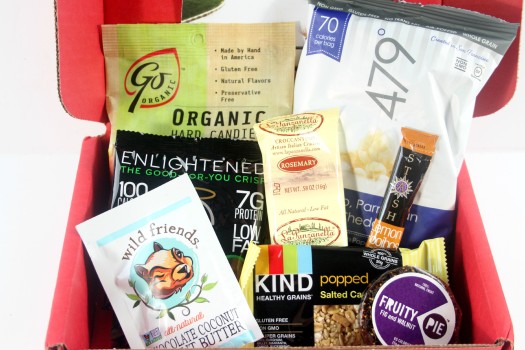 Final Thought: Love with Food was a mixed bag for me this month.  I loved the popcorn, rosemary crackers and the candy. While I didn't love everything in the box, I found some new favorites, so it was well worth my money.    If you want to try the Tasting Box, use this link to get it for $5.99.  You can save $20.00 on a 12 month subscription plan for any subscription, when you use this link with the code SBMOM20.  Finally, you can save 50% on your Gluten Free box,  just click HERE.
Do you like FREE SUBSCRIPTION BOXES?  Click HERE to see my free subscription box list.
Do you love Giveaways?  Check out all my Giveaways HERE
Disclaimer: This box contains affiliate links