Loot Crate August 2015 Review – "Villains 2" + Coupon
Disclosure: I received this box for review.  This post contains affiliate links.
The theme for August 2015 Loot Crate's Box is "Villians 2", a sequel of last year's "Villians" Box.Loot Crate is a geek and gamer subscription that is only $13.97/month (plus shipping).  Each box is filled with memorabilia, exclusive items, FUNKO Pop and more
The Details
Cost: 1 month plan: $13.96/mo + $6 S&H. Discounts for longer subscriptions
Coupon:  If you want to try Loot Crate click HERE and use the coupon subscriptionboxmom to save 10%.  OR Use the code NEWS3 to save $3.00 on your subscription.
What's in the box?  Each month you get over $40.00 worth of loot curated around a geeky theme, for less than $20.00 a month.
Shipping:  Loot Crate ships to the US, Canada, Australia, and England.
When does Loot Crate ship? Loot Crates are sent out once each month, scheduled to begin shipping on the 20th unless otherwise specified. Signups are taken until 9pm PT on the 19th. If you signup after 9PM PT on the 19th, your first crate will come in the following month.
When am I charged? For one month subscriptions: You are charged at the time of signup and then the same date each month based on that signup date.* For example, if you signed up on the 28th then your renewal would be the 28th of each month.
I was thrilled to see Loot Crate on my doorstep.
First Look
The cover of the Loot Crate magazine had the same Joker picture as the spoilers!
Los Pollos Hermanos Apron $29,99:  This is the famous fictional restaurant in Breaking Bad.  If you watch the show, you know chicken is not the only thing sold here.
EXCLUSIVE The Joker Wooden Figure (DC Collectibles) $12.99  I couldn't find the Joker on Amazon, so I linked to Batman.  I am not sure what makes this exclusive, maybe the hehehe/haha mouth?  Loot Crate comes with one figure with two interchangeable heads.
Venom and Carnage 3D Mugs (Surreal Entertainment) $12.44  While normally I am not thrilled with mugs in subscription boxes, this is an exception.  This is Venom, aka Eddie Brock (thank you reader) from Spiderman.  Super cool.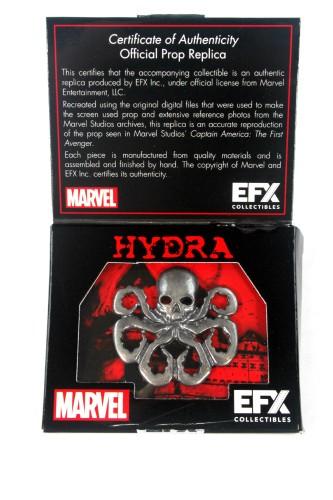 Captain America Hydra Pin (eFX Collectibles) $19.99:  This is an exact replica of the pins worn by the followers of the Red Skull in Captain America: The First Avenger.  My husband loves this, it also comes with a Certificate of Authenticity.
Villians 2 Button: A Venom pin presents this month's Loot Crate.
Like last month, the box turns into a building, this time VILLIANS.
Final Thought: This month Loot Crate had a total value of $75.41.  While there wasn't as many items as last month's box, there was no fluff, which is a huge plus.  It's hard to pick our favorite item this month, I like the Joker and my husband loves the Hydra pin.  If you want to try Loot Crate click HERE and use the coupon subscriptionboxmom to save 10%.  OR Use the code NEWS3 to save $3.00 on your subscription.
Do you like FREE SUBSCRIPTION BOXES?  Click HERE to see my free subscription box list.
Do you love Giveaways?  Check out all my Giveaways HERE
Disclaimer: This box contains affiliate links