August 24, 2015
08/24/15

By Subscription Box Mom

0 Comments
0
Koala Crate August 2015 Review + 50% Coupon Code
Disclosure: This post contains affiliate links.  I received this box for review.
Koala Crate is a subscription for 3-4 year olds.  Boxes are $19.95 and filled with a fun magazine and crafts.  Koala Crate has a partnership with Highlights magazine, so there are fun articles and activities included in the box from Highlights.  My 3 year old gets Koala Crate and he loves that he can do crafts just like his older brother.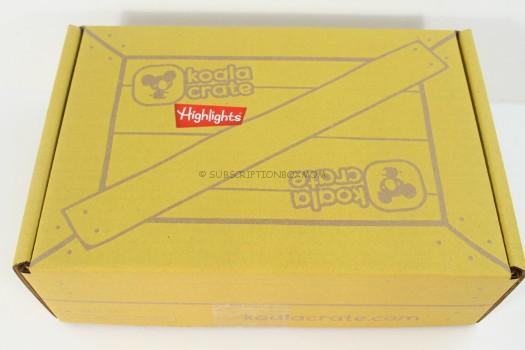 Koala Crate ships in a little yellow box crate.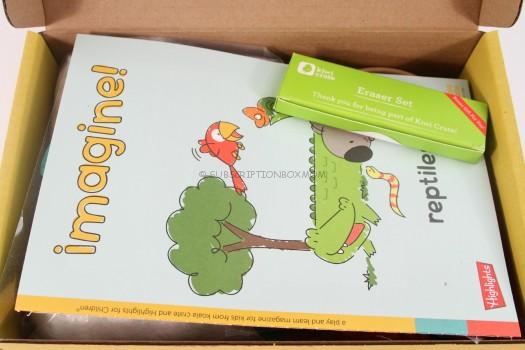 First Look
Kiwi Crate enclosed a set of Kiwi erasers that was part of their recent promotion.  I love the fall themes and my boys love them.
The theme for August is "Reptiles".  I personally love reptiles and I am waiting for my boys to ask for a lizard, snake or chameleon.  Bugs don't get in my house, but reptiles,,,yes!
There is a sheet that tells you what skills your child will learn with each activity, how messy it is and how much parent involvement is needed.
Stuffed Snake Friend:  Your child stuffs this fleece snake and decorates it with felt stickers.  This activity rated low on the messiness scale and medium on parental involvement.
A stuffed snake, eyes, spots, fluff, and party horn were needed for this project.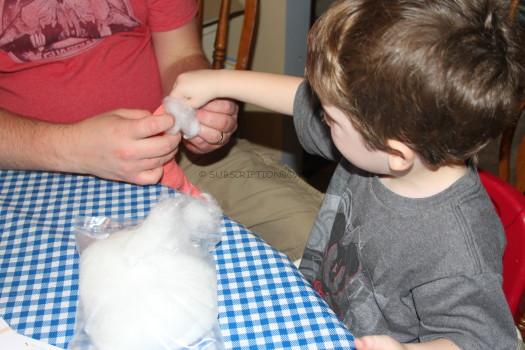 T had a great time stuffing the snake.  We had to help straighten out the stuffing, but otherwise, T did it himself.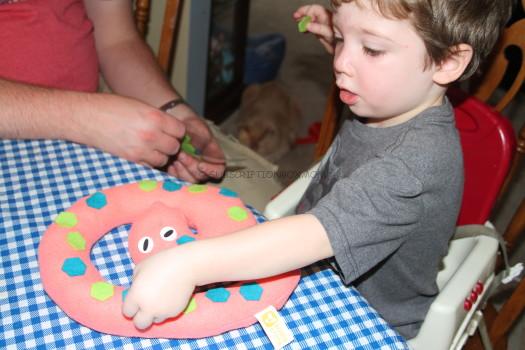 He loved adding on the dots.
The finished snake!  It turned out great.
Color-Changing Chameleon:  Your child gives the chameleon a tongue and eyes, then uses it to knock down bugs.  This activity rated low on the messiness scale and medium on parental involvement.
There wasn't much to do for this project, but it was really fun.
T added the tongue and eyes and it was ready to play.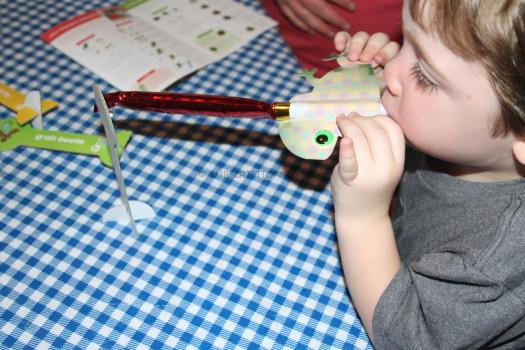 This was T"s favorite project in the box.  He did a great job knocking down each bug.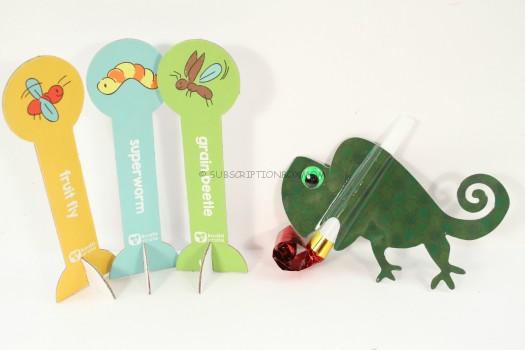 This is the finished project!
Turtle Box: The last activity was to create a little turtle box. This activity rated low on the messiness scale and medium on parental involvement.
There was only a few pieces needed for this craft.  This is why Koala Crate is great for little ones, each activity only needs a few items.
T needed very little help with this project.
The turtle can hold little trinkets, I think T will put his shopkins in it.
You can turn over the box and the turtle can fold his legs, head and tail in.
Koala Crate included everything we needed to complete three projects.
Final Thought: This was a really cute month, and my son had a fantastic time.  The chameleon was the favorite item in the box and the only reason he put it down, is he had to go to bed.  Koala Crate is great for preschoolers.  If you want to try Koala Crate, click here and use the code SHARE10 or GOODSHOPGIFT to save $10.00 on your first month.  This will work on Tinker Crate, Kiwi Crate and Doodle Crate too.
Do you like FREE SUBSCRIPTION BOXES?  Click HERE to see my free subscription box list.
You can see my FULL coupon list HERE.
Do you love Giveaways?  Click HERE to enter all my Giveaways