August 3, 2015
08/03/15

By Subscription Box Mom

0 Comments
0
Junior Explorers Mission Virunga Review + Half Off Coupon
Disclosure: This post contains affiliate links.  I received this box for review.
My son loves Junior Explorers, so he has to go to the new mission the day the box arrives.  
 When you sign up with Junior Explorers, you will receive a Welcome Kit.  Once you have your welcome kit, you will go on various missions.  I have reviewed Mission Arctic, Mission Serengeti, Mission Amazon and Mission Earth Day,
Junior Explorers is a subscription service for children 6-11.  Boxes are $19.00/month (plus $2.00 shipping) and each month, your child gets a new online mission, along with a packet of goodies.  The goal of Junior Explorers, is to teach kids about the environment and animals, all while keeping things fun.  My 5-year-old has been having fun with Junior Explorers and was excited to check out Mission Everglades.
Junior Explorers ships in a little brown cardboard box and ships by USPS.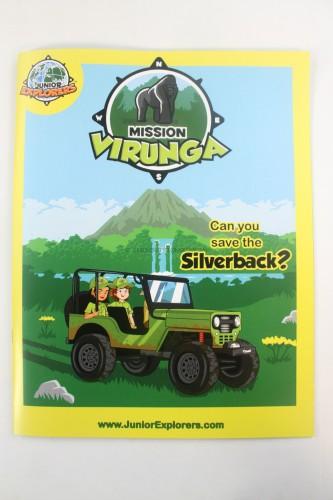 This month, your Junior Explorer will travel to the Virunga National Park in central Africa.
Inside the book, there is a checklist of all the goodies included in the box and all the activities your child can do, in preparation of this mission.
A wristband, gorilla, hippopotamus, and button were among the goodies sent this month.  My son was in his pjs when he opened the box, but he quickly put on his button and wristband.
Stickers and Tattoos: A sheet of sticker and tattoos were included in the box.  L uses the stickers to decorate his Junior Explorers box.
Mission Cartoon:  A little cartoon explain the mission this month.  Dr Noheri from the Virunga Rescue and Research Station has reached out to the Junior Explorers for help.  A ranger has spotted a silverback gorilla who was acting weird.  He isn't interacting with others and has been sleeping alot.  Junior Explorers have been asked to find out why!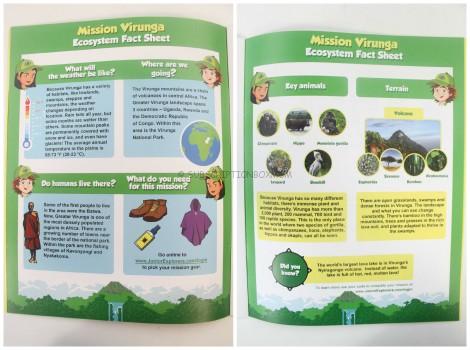 Before traveling to Virunga, your child can learn more about the environment, animals and climate.  L loves weather, so we spent more time talking about the climate.
There were 6 animal trading cards your child can punch out: chimpanzee, hippopotamus, leopard, mountain gorilla, okapi and Ross's Turaco.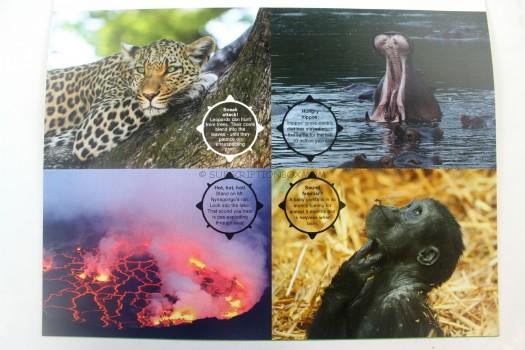 Four colorful postcards were included to sends to friends and family, or post in your child's room.
The last part of the book is three activity pages.
Once your child is done researching and reading, your child can go to the online portion.
When you log into the online portion, you get an introduction, pack your supplies, then fly to the next location.  There is a tablet that is part of the online game, which adds a fun interactive element.  I didn't do as many screen shots this month, because my son was seriously loving the game, and really didn't want to share the laptop.  I did  do screen shots of all the games, so you will get an idea of all the activities.
While traveling to the reserve, your child drives a jeep, but beware of the rocks!
The Junior Explorers spotted an animal that looks like a Zebra, and this game helps show the differences between Okapi and Zebras.  I had to help L with this game, as he doesn't know how to spell words yet.
To learn about the food chains, there were a series of puzzles to complete.
This game, your child grabs the fruits like the Ross's Turaco.  You have to use the spacebar for this game, and it's tricky.
For the last game, you have to reunited the baby gorilla with its mama.
L finally found the Silverback gorilla and figured out what was wrong.  So I don't spoil the fun, I won't state what was wrong with the gorilla.
After helping the gorilla, your child can give back to two organizations: International Gorilla Conservation Porgramme and Wildlife Conservation Society.
When your child is done, they get a completion certificate to fill out and print.
This is a sneak peek for next month, any guesses?
When you child is done with the mission, he/she can go back and play the mission games again.
Final Thought: My 6-year-old really loved this month.  Junior Explorers is on of my 6 year old's favorite boxes.  I love seeing how every month, he is able to do more and more himself.  When I started reviewing this subscription, L would need me to click on things.  Now he can use the mouse pad on my laptop himself.  In addition to learning about the environment and animals, he is also learning valuable computer skills.  There is a coupon to save 50% on your first box and at only $19.00/month, you can try Junior Explorers for only $9.50!  Just Use this link with the code VOICE50 to save 50% on your first box.
Do you like FREE SUBSCRIPTION BOXES?  Click HERE to see my free subscription box list.
You can see my FULL coupon list HERE.
Do you love Giveaways?  Click HERE to enter all my Giveaways