August 13, 2015
08/13/15

By Subscription Box Mom

0 Comments
0
Ivy Kids August 2015 Review + Coupon
Disclosure: This box was received for review purposes.
The August 2015 Ivy Kids arrived and I was thrilled to see it was a music theme, as both of my boys love music.  Ivy Kids is a craft and activity box for 3-8 years olds.  Each box is  $39.95/month and is packed with fun learning activities, all made a featured book. There are usually more than 10 activities in each box, each in their own little bag.  If you have more than one child, you can add-on a sibling pack for only $5.00.  Since I have two children, I was sent the regular box with the sibling pack for review.
Since a 3 and 8-year-old have different learning needs, Ivy Kids sends instructions for "Little Ivys" (3-5) and some for "Junior Ivys" (5-8).   There are also tips for parents to help facilitate more learning.  As a bonus, Ivy Kids includes a personalized item in every box.  The July 2015 Ivy Kids was made around the book "A House for Hermit Crab" by Eric Carle.  I was sent the sibling pack, since I have two little boys that fall under Ivy Kid's age bracket.
Ivy Kids comes in a giant box, this is the biggest activity box for kids that I know of.
First Look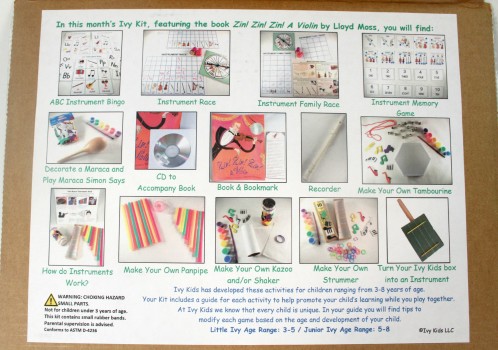 Since the box is packed with activities, Ivy Kids makes it easy to know what's in the box.  A run down of every activity is printing on a sticker on the inside of the box.
I don't think Ivy Kids could have fit anything else in the box.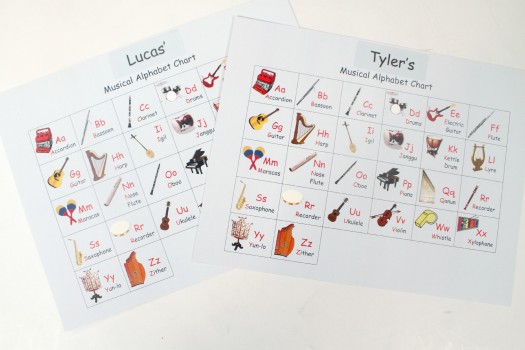 Every box comes with a personalized item.  Since I received the added sibling pack for review, both of my children received a personalized music alphabet.  This card show the alphabet, along with the matching instruments that begin with that letter.  There was a printing error on our charts, so Ivy Kids emailed a correct chart (the "t" is missing).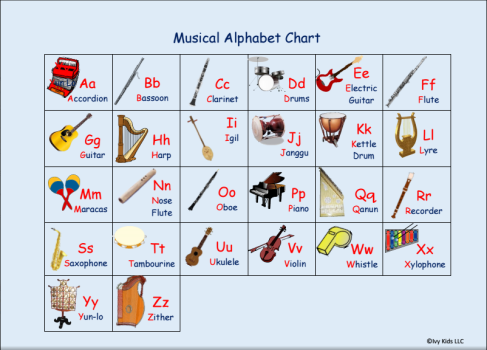 The correct chart.
Each box is based around a different book.  This month, the featured selection was  "Zin! Zin! Zin! a Violin". We already own this book and it's one of T's favorites.  A bookmark with questions was included with the book, which help facilitate reading comprehension.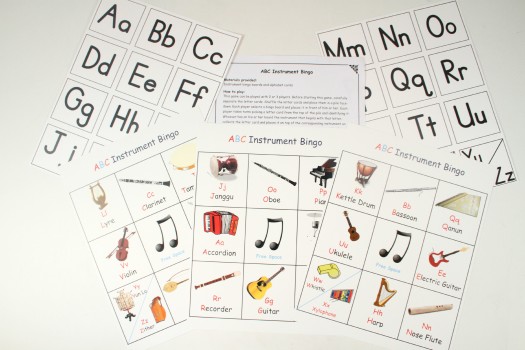 ABC Instrument Bingo: Each person selects a bingo sheet, then people take turns drawing letters, and matching them to the card.
I swear this photo wasn't staged and it was so cute, I had to include it.  L (age 6) knows all his letters, but T is still learning.  T was still able to play this game, because he was able to match the letter with the bingo card.
Instrument Race: This game is a race to see which instrument will be selected the most.  Players spin the spinner then stamp the instrument the arrow lands on.
My boys enjoyed playing the game, although I had to help T resist the urge to stamp every square on his turn.
Instrument Family Game: This game is similar to instrument race.  You spin the spinner (I forgot to include it in the picture), then stamp the appropriate instrument family.  A Musical Instrument Families guide was included to teach your child about the different musical families.
Instrument Memory Game:  This game teaches your child about the different musical ensembles.  You place the numbers on one side, and the musical ensembles on the other.  Using traditional memory game rules, your child has to match the number with the ensemble.  For little Ivies, the ensembles were numbered, so children can count if they forget which ensemble is which.
This game was fun and challenging for my boys.  We are still working on getting T to sit and play a game patiently, but he was able to count the instruments and play with L.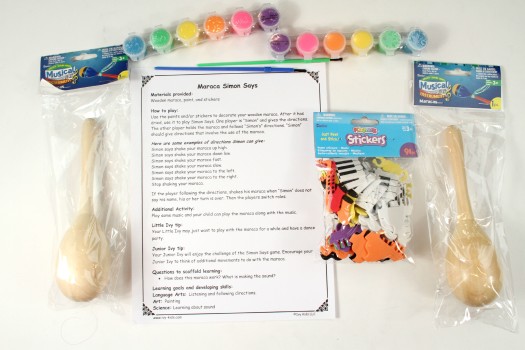 Maraca Simon Says: Using the paint and stickers, your child decorates their maraca.  Once completed, you can play Maraca Simon Says.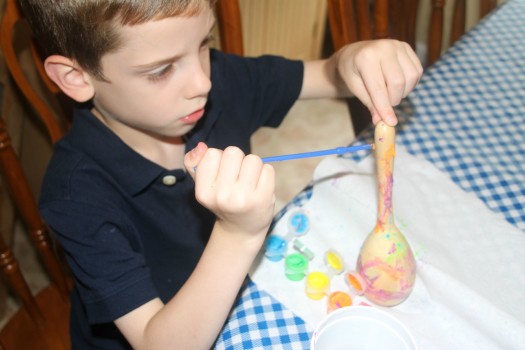 T and L both enjoyed painting their maracas.  The paint was a bit clumpy, so I had to stir and add a bit of water to each pot.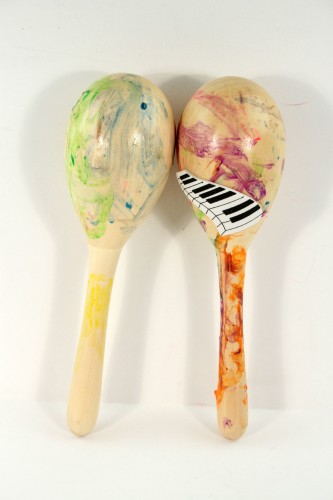 These are the finished maracas: T on he left, L on the right.
CD for Zin! Zin! Zin! A Violin by Lloyd Moss: A CD was included with all the instruments mentioned in the book, in order of their appearance.  We used the Little Ivy tip to read the book and play the CD when each instrument was introduced in the book.

Recorder: I play the flute so I am trying to teach L to play the recorder.  T loved making loud sounds with this and L tried to learn some notes.  The recorder is made of durable plastic, so this will last through play.
Make Your Own Tambourine: This toy ended up being the most used toy in the box.  Your child sews/threads bells around the side of the tambourine, them uses the paint to decorate them.
T loves to paint and chose his favorite colors: green and yellow for his tambourine.
L normally doesn't like to spent too much time painting or coloring, but he took his time with this project.
We let the project dry and then laced up the bells.  T put the bells on the lace and my husband helped him lace around the tambourine.
L was able to complete the entire project without help.
These are the finished tambourines: T on the left, L on the right.
How Instruments Work: This card teaches children all about how instruments work.  My oldest loves knowing how everything works, so we spent a good amount of time on this.
Make Your Own Panpipe: With just two materials, straws and tap, Ivies can make their own panpipe.  I helped each boy with this craft by holding the straws while they cut.  For T's panpipe, I did all the cutting.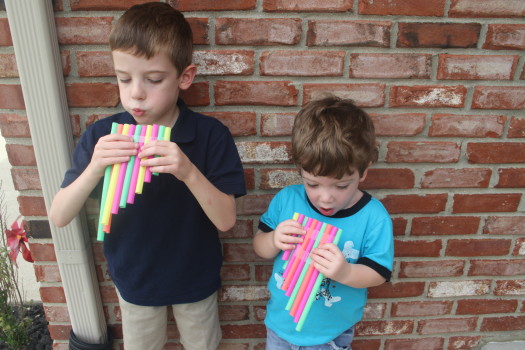 They turned out great and my boys liked that they looked like Peter Pan's panpipe.  Our family really loves Disney……
This is a look at the finished panpipes.
Make Your Own Kazoo and Make Your Own Shaker :  To make a kazoo, your child can decorate a tube, then add wax paper to one end.  For the shaker, you can fill the tube with sand, rice or other small items, then seal that end, to make a shaker.
T chose to paint his kazoo, he really loves art, while L choose stickers.
The finished kazoo was both cute and LOUD!
T spent half the time making kazoo noises and the other half yelling into it, ah boys.
Make Your Little Strummer: Using the paint and stickers, your child can decorate a box and turn it into a strummer.  There were a bag of tiny rubber band, so close supervision is recommended for the Little Ivys.
While T doesn't have the most patience for sit down games, he spent about 20 minutes coloring his box.
L on the other hand took about four minutes to stick on the stickers.
I put the rubber bands on T's and he loved playing it.
L was able to complete the entire project himself, without snapping himself with rubber band, I wasn't so lucky.
Guess the Instrument: Using all the instruments your child has completed, one person closes their eyes and tries to guess what each instrument as it's being played.
Ivy Kids Box String Instrument:  Ivy Kids got really creative this month and made a project to turn the box into an instrument.  I managed to rescue a paper towel roll, before it was taken as a sword or light saber, and we are planning to do this project soon.   I just need to find a place for the last remaining supplies first.
My kids each made 5 instruments from the supplies in the box, and this doesn't count the box instrument we haven't made.
Final Thought:  The August music themed box was a big hit at our house.  The instruments my boys made are sturdy and are being kept with our other musical instruments.  Ivy Kids includes enough materials to last a full month.  Ivy Kids finds creative way of introducing new educational concepts, while still being a fun box for kids.  If you want to try Ivy Kids, click HERE and use the code IVY20 to get 20% off your subscription.  
Do you like FREE SUBSCRIPTION BOXES?  Click HERE to see my free subscription box list.
You can see my FULL Subscription Box Coupon list HERE.
Do you love Giveaways?  Click HERE to enter all my Giveaways.