August 12, 2015
08/12/15

By Subscription Box Mom

4 Comments
4
Handpick Smart Groceries Meal Subscription Box Review + 50% off 1st Order
Disclosure: This box was received for review purposes.
Handpick is a new meal subscription service that sends 3 recipes, along with all the fresh ingredients needed to make the meals.  To subscribe, you need to download the iPhone app, Android and web ordering are coming soon.  Handpick sources all their ingredients right from grocery stores, instead of packing ingredients themselves.  My husband is always skeptical about the packaging of ingredients in meal subscription boxes, so he was happy to know all the food came from a grocery store.
When you sign up you choose the type of subscription: Flavors of Asia, Meat Lovers, Gluten-free, Vegetarian and Seafood.  Boxes start at $32.00/box for 3 meals for 2 people, but can also choose 4, 6, 8 or 10 servings.  This is a very affordable subscription, the price per meal starts at $5.33 and only goes up to $8.67 per meal.  As the most affordable meal subscription box, I was excited to check out the box.  Right now, this subscription is only available in California, but they are working on expanding.
The Details:
Cost:
Flavors of Asia – $32.00/box
Meat Lovers $38.00/box
Gluten Free $44.00/box
Vegetarian $46.00/box
Seafood $52.00/box
Coupon:  You can get 50% off your first box, the discount will be taken off when you purchase from the app.
What's in the box?  Each box will contain three recipes and all three ingredients to make the meals.
Handpick shipped overnight in a big box.
First Look.  This box was well packed.  The ice packs were well frozen, and all the ingredients were fresh.  I received the Meat Lovers Bundle for two people.
The Ingredients:  This is an overview of all the ingredients.
3 fresh Fuji Apples
Red onion, garlic and Ginger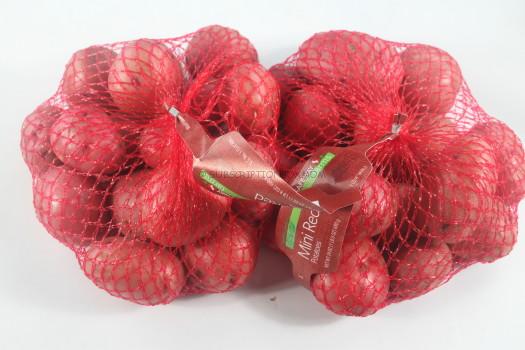 There were two bags of red potatoes.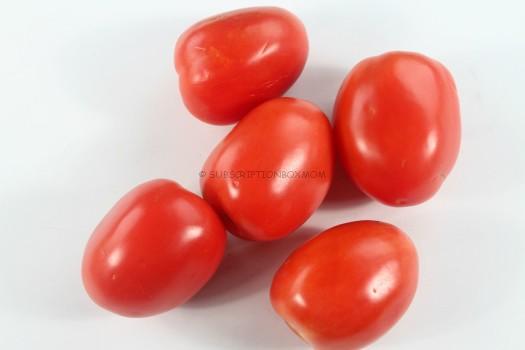 The tomatoes were firm and fresh, with no bruises.
There were two packages of chicken thighs, to use for two meals.
The flank steak was USDA Choice, pink and fresh.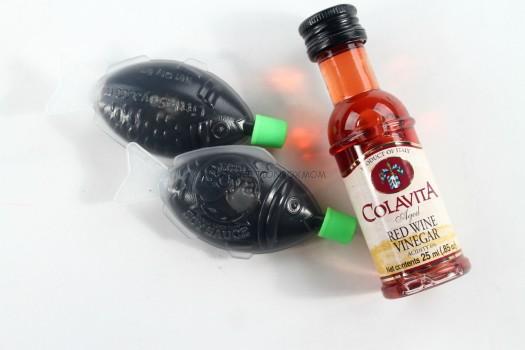 Soy sauce and red wine vinegar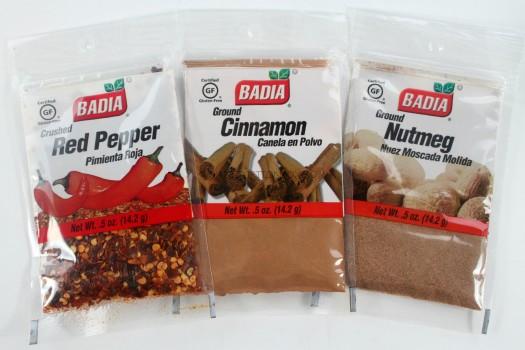 There were three resealable bags of spices: red pepper, ground cinnamon and ground nutmeg.
I was really excited to see the recipes.  I am really picky when it comes to food, so it's hard for me to pick meals from meal subscription boxes.  Spoiler, I loved everything!
There was a general information card that explained basic measurements.  While many cooks won't need this, it's easy to make an error while cooking.  There is a big difference between a tablespoon of garlic and a teaspoon.
Meal 1: Chicken with Roasted Apples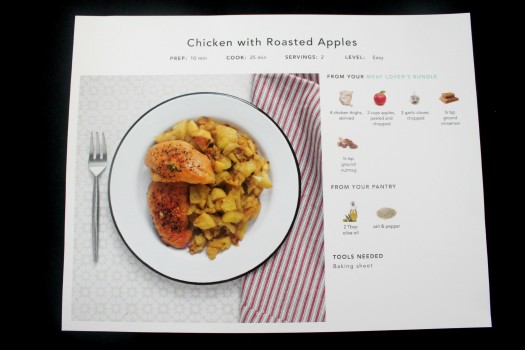 The instruction cards are two-sided.  I love that they not only listed the ingredients, but showed pictures of each item.  As a novice cook, I appreciated that they covered everything.
The instructions were very easy to follow, even I didn't make a mistake.
The chicken and apples were wonderful.  There was so much food, we were able to feed our 6 year old and 3 year old too, granted they don't eat much.
Meal 2: Beef Saltado with Roasted Potaoes
I couldn't wait to try this meal.  The steak, garlic, onions, and soy sauce sounded wonderful.
This had a medium difficulty level, but I didn't think it was hard at all.

This meal was fantastic and my favorite.  I am saving the recipe to make it again.  I hate tomatoes, but I ate them with this meal!
Meal 3: Chicken with Tomatoes and Garlic Mashed Potatoes
Even though this was ranked as easy, I was a bit nervous about the mashed potatoes.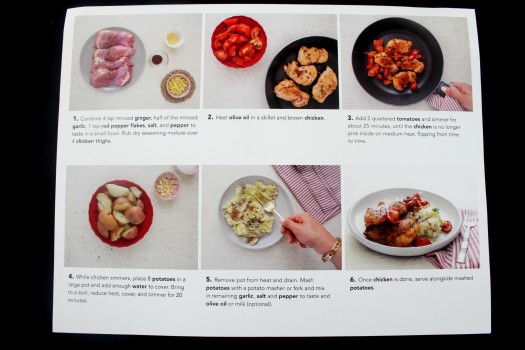 The directions were good, but my potatoes needed a bit more time to cook than the instructions indicated.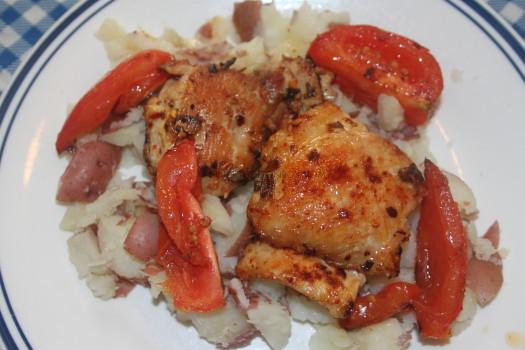 Ta Da!  The finished meal.  So I showed this to a certain friend (I am sure she is reading this), and she asked me who made it.  I don't cook, or at least anything this "fancy", but this was pretty easy.  I love how it turned out.  My husband and I enjoyed this.  In the future, we will probably use less red pepper flakes, as the dish was pretty spicy.
Final Thought: My family really enjoyed this subscription and I think this was my favorite meal subscription box that I have received.  All the recipes were tasty and pretty "normal".  I am not a fan of salads or weird sauces, so these dishes really were perfect for my family.  I would personally sign up for this subscription, if it was available in my area.  The food was incredibly fresh, the directions were easy to follow and the meals were wonderful.  This is a fantastic subscription.  If you are lucky enough to live in California, you can check out the website here and get 50% off your first box, when you purchase the subscription..
Do you like FREE SUBSCRIPTION BOXES?  Click HERE to see my free subscription box list.
You can see my FULL coupon list HERE.
Do you love Giveaways?  Click HERE to enter all my Giveaways.