August 22, 2015
08/22/15

By Subscription Box Mom

0 Comments
0
Dollar Diabetic Supply Review + Free Meter + First Month Free
Disclosure: This post contains affiliate links.  I received this box for review.
Dollar Diabetic Supply is a subscription box that delivers a diabetic testing supplies to your door, at affordable, low-cost rates.  Plans start at $6.99/month for 3 months, for 100 testing strips, which is 21 cents a test.  When you sign up, your first box will come with a free testing meter (by using the coupon at the end of this review), lancets, carrying case, test strips, control solution, and a lancing device.  I personally have several friends and family members with diabetes, and I know testing supplies can be very expensive.

The Details:
Cost: The monthly cost depends on how often you need to test.
1 Time Per Day Testing:  You will get supplies for 100 tests – $6.99/month (21 cents per test)
2 Times Per Day Testing: You will get supplies for 200 tests – $11.9/month (18 cents per test)
3 Times Per Day Testing: You will get supplies for 300 test – $16.99/month (17 cents per test)
They have plans for up to 6 times per fay testing,
Dollar Diabetic Supply also has a comparison chart on how their prices compare with leading name brands.
What's in the box:  
First Order:  In your first box, you will get lancets, a glucose meter, carrying case, test strips, control solution, and a lancing device.
Following orders:  All months after, you will get test strips, lancets, and control solution.
I received the 1 test/day box, which is $6.99 monthly for 3 months.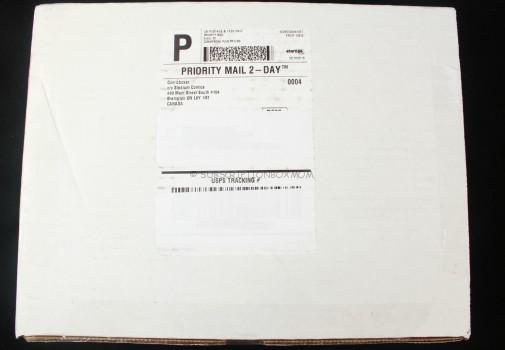 Everything came in a little white box.
First Look
Dollar Diabetic Supply sent a little guide to their subscription.
Some FAQs:
You get a FREE meter when you sign up ($60.00 value).
You get up to 75% off retail.
Free Shipping
Cancel Anytime
You can change how often you get your box.
You can change plans anytime
On Call Plus Glucose Meter:  Your first box will come with this FREE meter, log book, along with your lancing device, and control solution.  The lancing device is what is used to prick your finger.  The control solution is used to test your strips, to make sure they are still working correctly.  If at any time, your meter stops working, they will send you a new one free.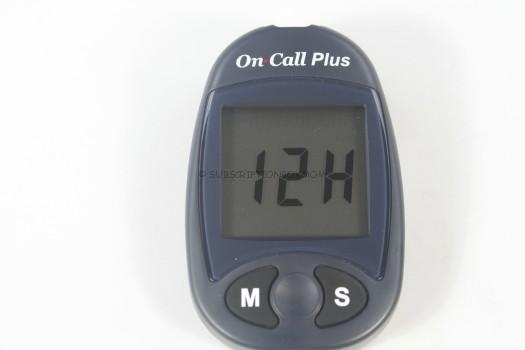 Testing Meter:  ($9.97 on Amazon) The meter works on a disc battery, and tells you the date time and you blood glucose level.
There is also a full user manual on how to use the glucose meter.
Easy Comfort Lancets: ($4.74 on Amazon)  These twist top 30 gauge lancets are what is used to prick your finger.
On Call Plus Blood Glucose Test strips 100 ct ($16.68 on Amazon).  These are on Amazon but you have to pay a shipping fee.  These test strips go in the glucose meter, to test your blood glucose.
Final Thought: It was hard to get a retail value on the box.  I couldn't find a price for the control solution, but the other items can be bought on Amazon for $31.39.  The $6.99/month package works out to $13.98 with your free month, so you are getting a great deal with this subscription. Even after your first three months, you will still save money.  The lancets, control solution and testing strips cost $20.97 with Dollar Diabetic Supply, while you will pay $21.42 for just the strips and lancets on Amazon.  I also like they will replace the meter free, if yours ever breaks.
I know how hard it can be to afford diabetic testing supplies, and Dollar Diabetic Supply offers an affordable solution for those with high deductibles, or no insurance.  Check out Dollar Diabetic Supply and use the coupon CJFREEMONTH to get your first month free.  Remember, you subscribe in 3 month increments, so you will pay for 2 other months at the time of payment.
Do you like FREE SUBSCRIPTION BOXES?  Click HERE to see my free subscription box list.
Do you love Giveaways?  Check out all my Giveaways HERE