August 28, 2015
08/28/15

By Subscription Box Mom

1 Comment
1
Coffee Crate Review August 2015 + Exclusive Coupon
Disclosure: This post contains affiliate links.  I received this box for review.
Coffee Crate is a coffee subscription service that sends three artisan bags of coffee from North Carolina each month.  Boxes are $29.00/month and contain three, 4oz bags of coffee from various roasters.
The Details:
Cost: $29.00/month, $27.00/month for 3 months, $25.00/month for 6 months, $23.00/month for 1 year.
Coupon: Use the coupon BOXMOM to get $5.00 off your purchase.
What's in the box? Boxes contain three, 4oz bags of coffee from various roasters.
Coffee Crate shipped in a little brown box, with the coffee crate logo on top.
First Look
There was an information sheet about Coffee Crate.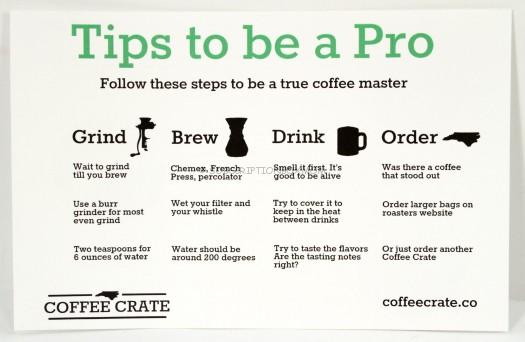 To ensure everyone knows the proper way to brew coffee, a sheet of coffee tips was included.
The information card gave details about where each coffee was from and taste notes.
For the review, all taste impressions are from my husband.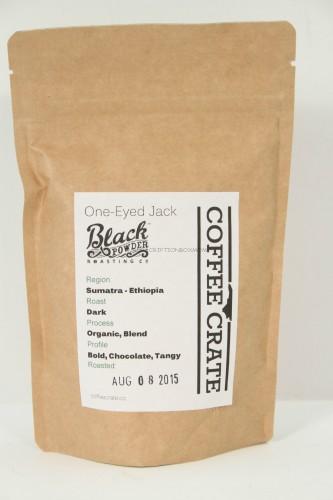 One-Eyed Jack (Black Powder Roasting Co)
Region: Sumatra, Ethiopia
Roast: Dark
Process: Organic, Blend
Profile: Bold, Chocolate, Tangy
Taste Impressions: This coffee starts out with an aroma that is definitely bold as it says on the label. Tasting this coffee, you can see that it tastes almost like it smells. The coffee had some chocolateness but it gets overpowered by the tangy taste at the end. This is one of those that smells fantastic but is something I could casually drink, because it has flavors I don't care for.
One-Eyed Jack Beans
 Guatemala Brazil Roast (Boquette Mountain Coffee)
Region: Huehuetenango, Guatemala
Roast: Brazil
Profile: Pleasing, Easy, Chocolate
Taste Impressions:  The aroma was a pleasant chocolate sent. The brew itself was of course a darker color with a full body taste that seemed to be low in acidity. The after taste wasn't bad. I think this might be my favorite.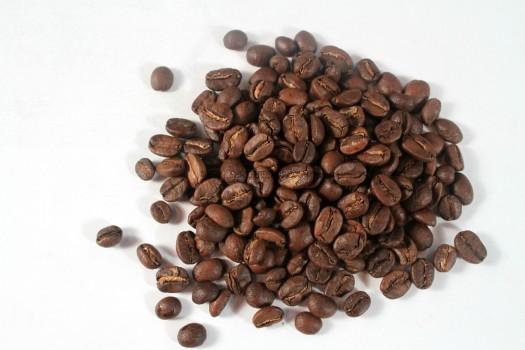 Guatemala Brazil Roast Beans
Yirgacheffe FTO (PennyCup Coffee Co)
Region: Yirgacheffe, Ethiopia
Roast: Light
Process: Fully washed and sun-dried.
Profile: Floral, lemon, bergamot
Taste Impressions: The aroma is somewhat flowery. And it taste is seems light in a way along with the light taste there's a little bit of a byte perhaps from the lemon part of the taste. The after taste makes me think got the acidity level is a little bit higher on this coffee.
Yirgacheffe FTO Beans
Final Thought: Overall the quality of these coffees are fantastic. If i had to choose my favorite it would be the Guatemala Brazil roast. I am not a bold coffee taste kind of drinker but I look for an "easy" tasting one. and it fits the bill. I think this would be a great subscription for the coffee lover in your house.  To try Coffee Crate, use this link with the code BOXMOM to save $5.00 on your purchase.
Do you like FREE SUBSCRIPTION BOXES?  Click HERE to see my free subscription box list.
You can see my FULL coupon list HERE.
Do you love Giveaways?  Click HERE to enter all my Giveaways.