August 4, 2015
08/04/15

By Subscription Box Mom

1 Comment
1
CMYfabriK Box Review + 20% Coupon #TriedItNailedIt – July 2015
Disclosure: This post contains affiliate links.  I received this box for review.
CMYfabriK Box is a brand new craft subscription that sends all the needed materials to sew or "no sew" a project.  Boxes are $25.00/month and there are discounts for long longer subscriptions.
Your first box comes with the following:
1/2 yard of custom fabric
Washi tape
Baker's twine
Pin cushion
A sewing kit pouch that includes: measuring tape, scissors, seam ripper, a spool of thread, needles. and pins.
Every month after includes the following:
1/2 yard of custom fabric
Washi tape
Baker's twine
Any other items you need for the craft.
The Details:
Cost: $25.00/month
Coupon: Use SUBBOXCRAFT to get 20% off your subscription.
What's in the box?  Your first box will included the featured fabric, along with all the supplies you will need for future projects.
I love crafting, so I was sent the "no sew" box for review.
The box shipped by Priority Mail and comes in cute box, complete with stitching details.
First Look:  There wasn't an information card in the box.  The card on the inside of the lid said to follow the instructions to complete your project or create your own, then share your project, and enjoy.  All the instructions are given by their YouTube video, which is sent to subscribers.  I wish there was an information card with where the video could be found.
The featured project for July was a lunch bag.
There was a sticker to display in your craft area.
Universal Supplies: I divded all the supplies into three categories: universal supplies, sewing supplies and no sew supplies.  Regardless of what box you pick sew or no sew, you will need twine, a button and a measuring tape.  I didn't use the washi tape in my project, but I am sure there are creative ways in
Sewing Supplies: Even though I chose the no sew option, some sewing tools were sent so I could practice my sewing skills.  I actually can sew, but I haven't done it in forever.  There was a little pouch to hold a seem ripper, needle, thread and cutting shears.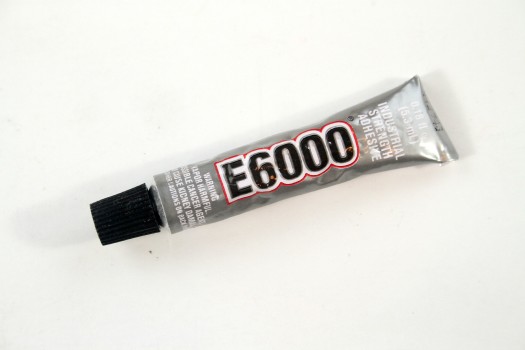 No Sew Supplies: To make the project no sew, you only need glue and scissors!
Featured Fabric:  I love the fabric this month, the hot pink, teal and black are some of my favorite color combinations!
YouTube Video:  When I first watched the video, there were no written instructions on the video.  I talked with CMYfabriK Box and they added more instructions, so it was easier to follow.  If you are watching the video on a mobile device, the written instructions on the video won't show up.  For best results, watch it on your desktop.  The video goes a bit too fast for my taste and I wish the no sew and sew instructions were totally separate.  When I first watched the video, I was a bit overwhelmed, but I was able to complete the project.  You can see the video here.
The measuring tape came in handy!  You had to measure and cut all the pieces for the lunch bag.  It's wasn't too hard, but I can't say my lines were super straight.
I ended up using my hot glue gun instead of the E6000.  I get glue happy and the hot glue seemed to hold the fabric better.  I did mess up at one part and ended up having the pattern not lined up right.  I wasn't sure what side to put the fabric.
After gluing all the sides together, it looked like a bag.
I had to finish the top of the bag, add a button and loop and then I was done!  I did end up sewing the button on, because I wasn't clear how to do the no sew option.  I think the bag turned out rather well!
Final Thought: I love crafting, so this was pretty fun to do.  I love the project this month and the material was super cute.  I do wish there were written instructions in the box, as that would have helped me with each step.  On a side note, in the video, there was an off-color word mentioned, that I didn't think was necessary.  Overall, this was a fun project and I love the finished project.  This is new subscription, so I look forward to seeing how they grow and what projects they will do in the future.  If you want to sign up, use the code SUBBOXCRAFT to get 20% off your subscription.
Do you like FREE SUBSCRIPTION BOXES?  Click HERE to see my free subscription box list.
You can see my FULL coupon list HERE.
Do you love Giveaways?  Click HERE to enter all my Giveaways