August 19, 2015
08/19/15

By Subscription Box Mom

0 Comments
0
Art & Soul Box August 2015 Review + Coupon – Art Therapy Subscription
Disclosure: This post contains affiliate links.  I received this box for review.
Art & Soul Box is a new subscription service designed to help you relax and de-stress, with the use of art.  For only $35.00/month, you will get an art project, a fresh writing journal, and inspiration to help fuel your creativity.
I have always been intimidated with art, mainly because I am not good at it.  The great thing about Art & Soul Box is there is no "project" to complete.  Instead of focusing on making a certain project, Art & Soul Box focuses on enjoying the process of creating.
Josey is the founder and curator behind Art & Soul Box.  She founded the company with a goal of helping people feel better.  She knows first hand how art can transform and help with mental illness and other medical issues, and she wants to share her love of art with you.
The Details:
Cost: $35.00/month, 3 Month subscription $90.00
Coupon: Save 15% on your 1st box with the coupon NEWBOX15
What's in the box? Each month, an art project, a fresh writing journal, and inspiration to help fuel your creativity.
Art & Soul Box shipped in a pretty white box with the logo on the top.  You can store your supplies in this box and customize the box!
The box was packed with supplies.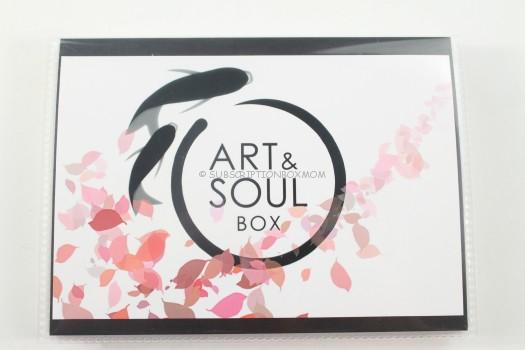 Information & Inspiration Book:  One of my favorite things about this subscription, is this inspiration book.  The book is filled with inspiring quotes and general ideas for how to use this box.  Blank pages were left at the back of the book to add your own thoughts and ideas.

Welcome letter: There was a nice welcome note from the founder of Art & Soul Box.
All the supplies were bundled and labeled separate. I really enjoy boxes with good presentation.
Journals: Every box comes with a journal and I received four.  My husband loves mini journals, so I am going to customize these for him.  These little journals are perfect for a briefcase or purse to joy down inspiration and thought through the day.
Paper:  A plain piece of light blue cardstock was in the box.
Tote:  A plain canvas tote was included.  I can't wait to customize this bag.  I am going to use some leaves and make prints on the bag.
Laser Cut Shapes:  There were several laser cut shapes in the box.  These can be used as stencils, embellishments, a mobile and so much more.
Paint Supplies:  Two paint brushes, a mixing tray and 5 jars of paint were included.  There was a red pot of paint, but somehow it escaped the picture (I have used it, otherwise I would take another picture).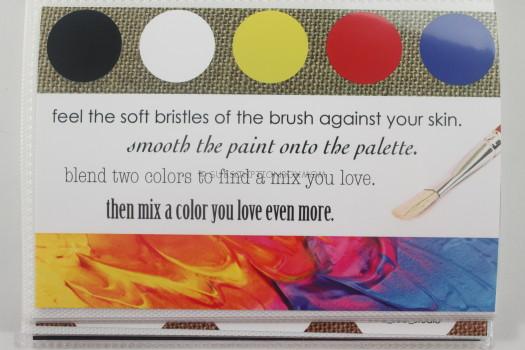 Here is an example of the inspiration in the book.
Mini Canvases There were three plain white canvases and two brown burlap coasters/flat canvas.
Art Tools:  There was a little easel for those mini canvases, wooden sticks (pointy and round), gel ink pens and a sponge.
I really had so much fun creating.  While my finished project looks simple, I really enjoyed mixing the paint in the paint tray.
Final Thought:  I really enjoyed Art & Soul Box.  I couldn't do a full retail price on the box, given the nature of the supplies.  I would have liked to see a bit more paint/color supplies in the box, as I don't think there is enough for all the canvases/bag/journals.  Some crayons would be really nice for this box.  This box is much more than the value of the supplies themselves.  This box is designed to help you brush of the troubles of your day and escape into something creative.  This would also be a good box for kids/teens who love being creative.  I brought this box out on a particularly rough day and it was a very peaceful experience.  If you are looking for a way to relax, be creative and try something new, use the coupon NEWBOX15 to save 15% when you subscribe.