July 10, 2015
07/10/15

By Subscription Box Mom

3 Comments
3
Wantable Accessories July 2015 Review
Disclosure: This post contains affiliate links.
My Wantable Accessories arrived for July and it turned out to be one of my favorite boxes.  Wantable is $40.00 for the first month and $4.00 is applied as credit on your second month.  If you keep everything in your box, you will get a $4.00 credit, so your box is $36.00.  If you get one or more items that you don't like, you can return them for partial credit, or full credit.  If you return items, you will not get the $4.00 credit and will pay $40.00 for your box (before any refunds). You fill out a style quiz when you sign up and let them know all about your preferences.  There is a comment box, so if you want a specific item or have specific requests, you can let Wantable know.
Wantable always ships in the same white and black boxes.  One feature I love about Wantable, is the ability to skip months!
The information guide gives a list of everything in the box.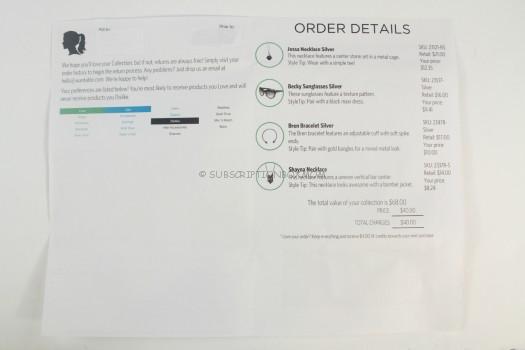 Inside, your profile is on the left and a details list of your box is on the right.  Wantable tells you the retail price, as well as what you will get back if you return an item.
Here are my preferences:
Love: Bracelets, Necklaces, Rings, Silver Tone
Like: Earrings, Multi Tone, Sunglasses, Classic, Glam and Rock n Roll.
Dislike: Gold Tone, Watches, Scarves, Boho, Mix n' Match, Hair Accessories.
Shayna Necklace: Retail $14.00 Your Price: $8.25  This necklace is lightly longer than regular necklaces, but not too long.  The the necklace features a set of vertical bars that remind me a bit of a pan flute (only not straight across).  The horizontal details add a nice touch to the necklace.
This is a close-up of the necklace.
Becky Sunglasses Silver Retail Price: $16.00, Your Price $9.41: I can never have to many sunglasses, so I am always happy to get more.  These frames flatter my face and they have really pretty silver embellishments on the side.
I love the silver details on the side.  There was also a carrying pouch included, which I didn't take a picture of.
Jessa Necklace Silver Retail Price $21.00, Your Price: $12.35 This necklace is longer than the Shayna necklace and has a cool center stone in a metal cage.  This is such a unique piece, I don't have anything like it.
This is a closer look at the pendant.
Bran Bracelet Silver Retail Price $17.00, Your Price $10.00 I love jewelry with an edgy look.  This bracelet complements many of my other pieces, I love the soft spikes on each end.
This is how the bracelet looks on.  It is slightly adjustable, so i can make it fit.
Final Thought: This box had a total value of $68.00. I think this was my favorite Wantable Accessories box.  I love the silver pieces and they were beautiful and a bit edgy, which fits me perfectly!  I love Wantable and you can try it out here.  Remember, you can always return one or more items from your box!
Do you like FREE SUBSCRIPTION BOXES?  Click HERE to see my free subscription box list.
Check out my Full List of Subscription Box Coupons
Do you love Giveaways?  Click HERE to enter all my Giveaways.