July 31, 2015
07/31/15

By Subscription Box Mom

2 Comments
2
The Boodle Box August 2015 Review – Boodle 1 + Boodle 2
Disclosure: This box was received free for review.
The Boodle Box sent me both Boodle Boxes for review, so you can compare both boxes and find the perfect one for you.  The Boodle Box is a box just for girls 6-teens and boxes are filled with skin care, beauty, accessories and other fun surprises.  Boxes are $25.00/month and the boxes are divided up by age: Boodle 1 and Boodle 2.  The Boodle 1 box is for 6-11 year olds and the Boodle 2 box is for 12 years old and up.  
The Details:
Cost: $24.99 a month, $19.99/mo for 3 months, $19.99/mo for 6/mo (free shipping), $19.99 for 12/mo  (free shipping) and you get 1 month free.  Note: You can pay by Paypal!
Shipping.  There is a $5,95 shipping charge for a 1 month or 3 month subscription.  The Boodle Box ships to The United States, Puerto Rico and Guam.
What's in the box? The Boodle Box sends trendy products for teens and tweens from some of the top manufacturers in the beauty and fashion industries.  There is nail polish, beauty products, accessories and more in the box!
Website: https://www.theboodlebox.com
This is the Boodle 1 Box Review
The Boodle Box ships by USPS and comes in a colorful box.
First Look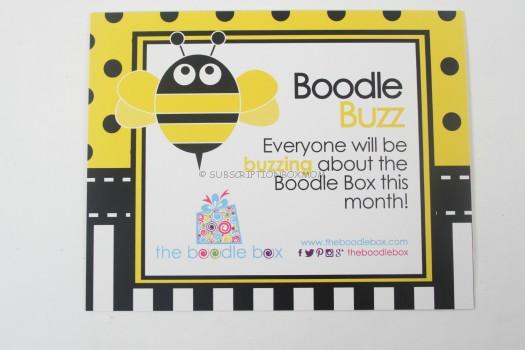 The theme for August is "Boodle Buzz", a bee themed box.
On the back of the card has a list of everything in the box, the retail values and descriptions.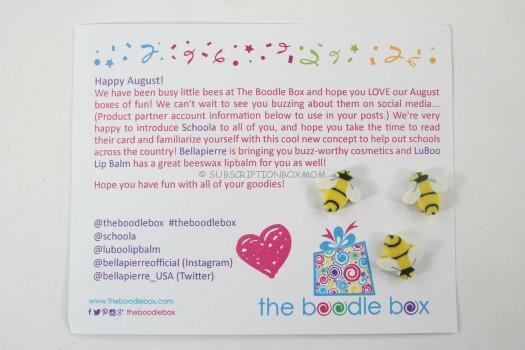 There was a little card introducing some featured brands: Schoola, Bellapierre, and LuBoo Lip Balm.
There were two little treats in the box.  There wasn't any information on the information card, so I wasn't sure if these were sugar or maybe honey, given the theme.  These turned out to be citrus flavored sugar, similar to a pixie stick.
There was jewelry tucked in this cute little box!
Honeycomb Bracelet $14.50  This geometric designed bracelet fits right in with the bee theme.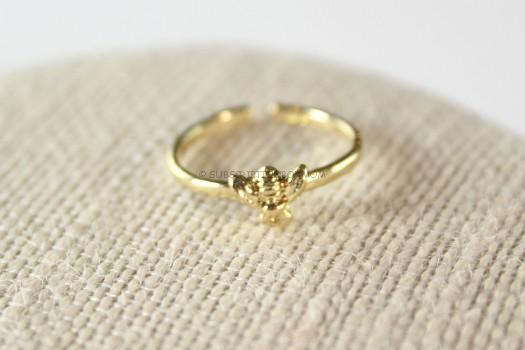 Honeybee Ring $9.99 This little ring features a cute little bee, so adorable.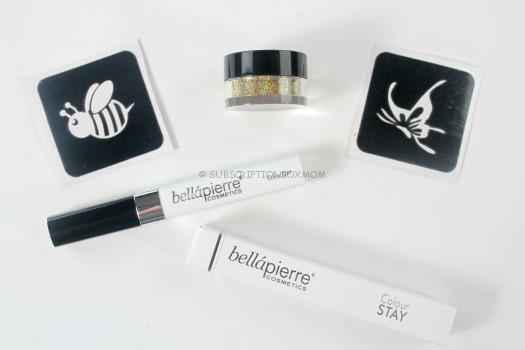 Bling Glitter, Colour Stay & Sticker Stencil $24.98 There was a little pot of body glitter to use on the enclosed stencils. To use, you peel off the black part of the sticker, apply the colour stay and apply the body glitter.
The stencil applies right to your skin, then you apply the colour stay and glitter.
This is the finished look, I made the butterfly.
3D Bee iPod Cover $5.00 The iPod cover is super cute and it's made of a thick rubber to help protect your iPod.  My son has an iPod, so I am not sure if he will think this is too girly or not.  If he doesn't love it, I will use it for my phone.
Bee Folding Sunglasses $6.99  These are sunglasses that fold out!  Could these "bee" any cuter?!  Thankfully, these are sized for smaller heads, otherwise I would probably embarrass myself wearing bee sunglasses.  I wish I had sunglasses that found out, this really helps them from getting broke.
This is what they look like folded out.
LuBoo Lip Balm: $13.00 A lip balm made with natural beeswax, organic shea butter, and organic coconut, peppermint, and olive oils.  This gives your lips a tingle and is free from color, perfect for the under 11 crowd.
Yoga Headbands $6.96  I love that they sent plain head band colors, as these can go with so many outfits.  These are stretchy and even fit my giant head comfortably.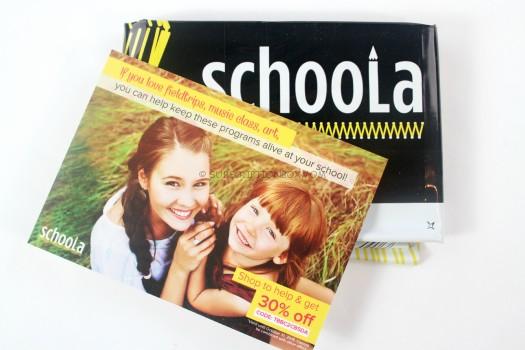 Schoola: A donation bag was included so you can donate your old clothes and your school can get the money.  I think there is a minimum amount you have to donate to get the money to the school, but I love the idea.  If you want to try Schoola, they have some great deals on previously owned clothing, you can sign up with my referral link and get $15.00 in credit!
Boodle 1 Final Thought: This box had a total value of $81.42, an outstanding value.  This box was just filled with cute stuff, like the glasses and iPod cover.  The body glitter kit was really neat and I had a blast trying it out.
This is the Boodle 2 Review (Teens) Review
Both Boodle Boxes ship in the same colorful box.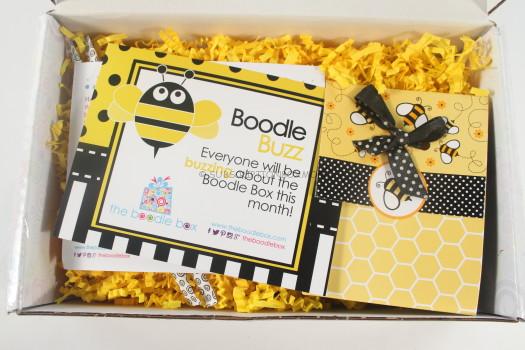 First Look
The information card lists everything in the box.
More bee erasers (so cute) and the featured brands in the Boodle 2 boxes were Schoola, Bellapierre, Ofra, and Nugg.
Boodle 2 Boxes contains the same sugar candy as the Boodle 1 boxes.
Honeycomb Bracelet $14.50 This is the same bracelet as the Boodle 1 Boxes, but it can be for older girls too.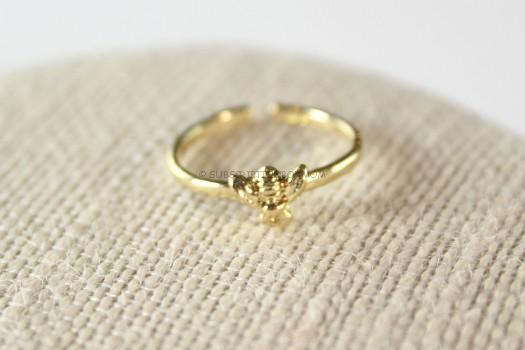 Honeybee Ring $9.99 The little bee ring is adjustable, so you can wear it on any finger, or wear it as a midi ring.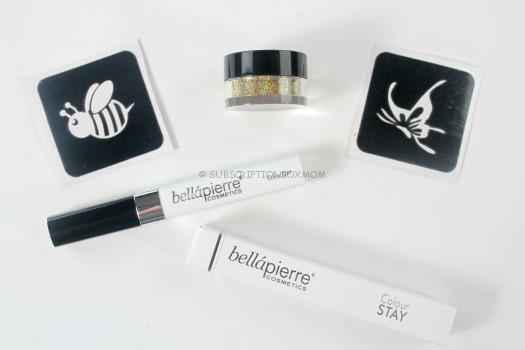 Bling Glitter, Colour Stay & Sticker Stencil $24.98  I am glad box boxes contained this body glitter set.  I could see teens using this to make school mascots/names for games.  This was a fun set to play with, even as a 30 something year old mom.
Chevron Cosmetics Bag $6.99  I love little bags for purses.  This can be used for money, cosmetics, or even "monthly essentials".  I remember getting embarrassed as a teen, when a tampon fell out of my purse in class.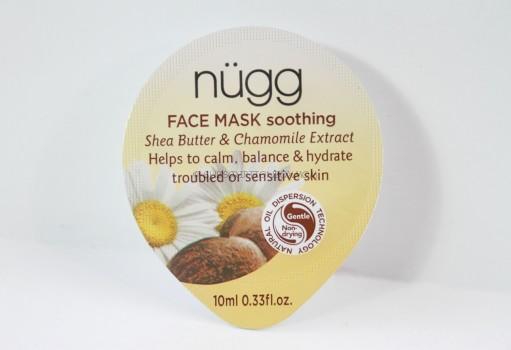 Nugg Face Mask $3.29  This mask helps soothe, balance and hydrate skin.  Made with Chamomile extract and shea butter, his is great for teen skin.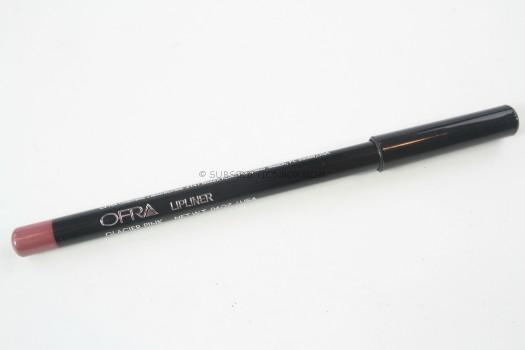 OFRA Cosmetics Lipliner (Glacier Pink) $13.00  Made for sensitive skin, this lip liner is a muted color and created with a beeswax base
Yoga Headbands $6.96  Great for any age, Boodle 2 subscribers received the same yoga headbands.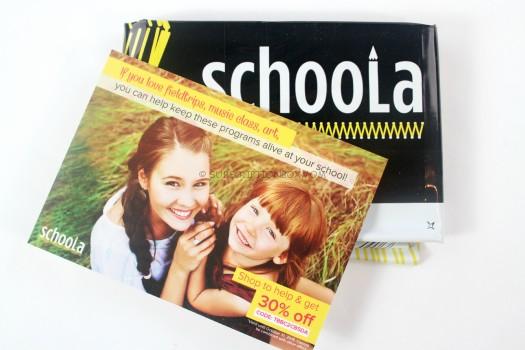 Schoola: Since I only have one Schoola account, I will pass this bag on to a friend, so they can earn money for their school too.  As a reminder, sign up with my referral link and get $15.00 in credit for Schoola.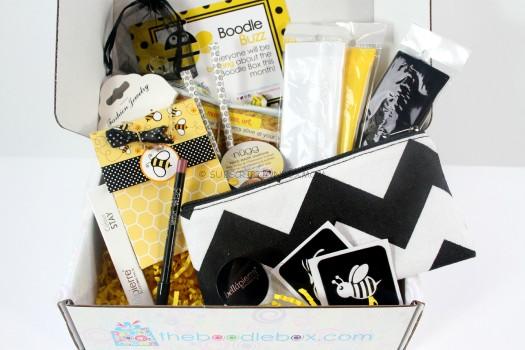 Boodle 2 Final Thought: This box had a total value of $79.71.  This was another fantastic box and perfect for older girls.  The makeup and beauty items were fun but still appropriate (aka parent friendly).
Final Thought:  I always love reviewing The Boodle Box.  I don't have girls but many of the items can be enjoyed by adults too. The bee theme this month was so cute, especially that iPod cover!  The Boodle Box consistently delivers adorable, fun boxes for girls.   If you are interested in subscribing, you can get your own Boodle Box HERE.
Do you like FREE SUBSCRIPTION BOXES?  Click HERE to see my free subscription box list.
You can see my FULL coupon list HERE.
Do you love Giveaways?  Click HERE to enter all my Giveaways