July 1, 2015
07/01/15

By Gigi C

0 Comments
0
RawSpiceBar June 2015 Review + Coupon – Spice Subscription Box
Disclosure: This package was received free for review.  This post contains affiliate links.  
Guest Review Alert- Gigi!  I suppose the May RawSpiceBar review I did was a success – so Erin asked me to do another one for June – and of course I said yes!  I like to cook homemade, fresh dinners at least a few times a week and I was excited to see this month's selection!
RawSpiceBar is a spice subscription box and costs $6.00/month.  They source high-quality, whole spices.  Every month you get 3-4 premium blended spices and coordinating recipes, enough to make 3 separate dishes serving 8-12 people.  Each month spotlights a different region of the world.
The Details:
Cost: $6.00/month
What's in the box? Each month you receive 3-4 spice blends which are enough to create 3 separate dishes serving 8-12 people. Each spice blend weighs between 2-3 ounces.
Shipping: RawSpiceBar ships to the US and Canada.  Free shipping for both countries.
When does the box ship?  Subscriptions ship the first week of the month
RawSpiceBar comes in a little flat envelope and ships via USPS.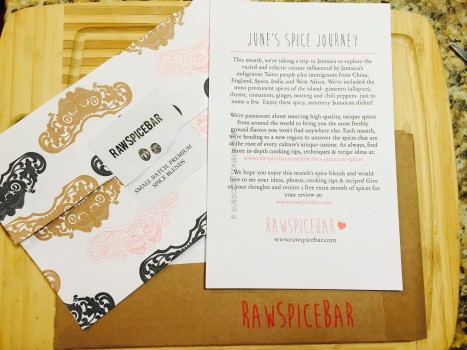 First Look: This month, RawSpiceBar travels to Jamaica to explore the "varied and eclectic cuisine" influenced by Jamaica's indigenous Taino people plus immigrants from all over the world.  Jamaica's most prominent spices – pimento (allspice), thyme, cinnamon, ginger, nutmeg and chili peppers – take center stage in most of the blends this month.  The menu features Jamaican Jerk Fish Tacos, Paprika Ginger Mango Corn Salsa, and Jamaican Banana Fritters.  There's also an enclosed card that gives some background on the spice route: Jamaica, as well as why this menu was chosen.
Jamaican Jerk Fish Tacos:  This recipe called for just a few additional ingredients, most of which you would likely have on hand (onions, ginger, garlic, thyme, limes, canola oil, white vinegar, salt and *optional* dark rum).  You take the spice mix, heat it on the stove with some canola oil for two minutes – then throw that and all the other ingredients into a food processor and blend.  I don't have a food processor, but my Ninja blender did the trick just as well.  Here's what this looked like out of the blender:
One thing about this marinade.. One BIG thing – it was SPICY, and not just a *little* spicy, more like *burn your nose hairs out of your face* spicy…  I took a taste of this and it was just WAAAAY more heat than I was anticipating… So – if you like your food SPICY – you will probably love this.  It called for marinading the fish in the fridge for a couple of hours, then baking at 350F for 15-20 minutes.  I wasn't sure how the husband would take to *fish* tacos (he's not as adventurous as I am), so I did some fish and some chicken, just in case.  And here's what it looked like when it was done:
Paprika Ginger Mango Corn Salsa: This side dish recipe called for 4 ears of corn, 2 fresh mangos, coriander, salt, limes and olive oil (and of course the Mango Salsa spices).  I halved this recipe (since only 2 of us were eating) – so 2 ears of corn and 1 mango.
So – I was excited to try this, because I LOVE corn on the cob, and I've never eaten a fresh mango.  WHAT?!?  I know, crazy.  I mean, I like mango-flavored things – juices, smoothies, etc. and I'm pretty sure I've had mango in some kind of fruit salad, but never a fresh, I cut it myself, mango.  The recipe called for grilling the corn for 15-20 mins. on the grill, then mixing the cooked kernels with chopped mango, coriander, and the spices.  It was DELICIOUS.  The sweetness of the corn, juice of the mango, and kick of the spices was a perfect combination.  And I learned something new – I LOVE mangos!  Where have these been all my life!?  This salsa would be amazing with some tortilla chips (I *highly* recommend the On the Border brand chips – as they are the best *store-bought* chips I've found to date)..  So those, and some of this salsa, YUM!!  Here's what it looked like, freshly made: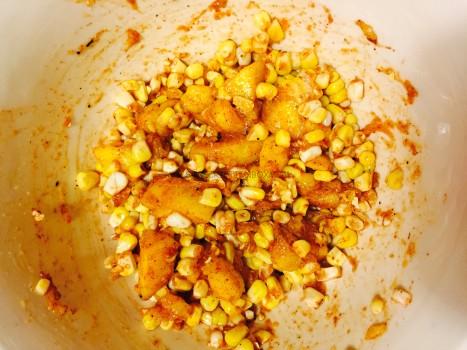 Jamaican Banana Fritters:  The dessert portion of this meal sounds really good.  I haven't had a chance to make this yet – but I will update this post as soon as I do!  It calls for some mashed, ripe bananas, flour, salt, honey, vanilla extract and the Jamaican sweet spices.  I did taste the spices and they are good – sweet with a spicy kick.  I think the spices would be good in a tropical fruit salad, too – just sprinkle over some fresh pineapples, mangos and strawberries, too!
Final Thought: This month's recipes were a bit on the spicy side for my taste – the tacos were REALLY spicy.. I would definitely need to dial this down a notch if I made it again – maybe not use as much of the seasoning?  The salsa was my favorite – and I got to try a "new" food that will now be a part of my regular diet – yay Mangos!
I really like that RawSpiceBar gives you recipes that don't call for a lot of crazy stuff you wouldn't have on hand.  I think the most eccentric item this month was maybe some coriander?? What a fun way to introduce new meals to your menus!  For $6.00/month it's definitely worth trying – you might find a new food you can't live without!  I also love the fact that RawSpiceBar introduces things that I wouldn't normally try (in this case, fish tacos) – but they were great!  If you want to try RawSpiceBar, use this link to try this subscription. Coupon: Get a bonus month when you subscribe for 6 or 12 months.  Just use this link with the code MOM2015.  You will get a total of 7 or 14 months.
I hope you enjoyed my guest review – stay tuned and hopefully Erin will let me review another one soon!

Do you like FREE SUBSCRIPTION BOXES?  Click HERE to see my free subscription box list.
You can see my full coupon list HERE.