July 1, 2015
07/01/15

By Subscription Box Mom

0 Comments
0
M is for Monster July 2015 Review + Coupon
Disclosure: This post contains affiliate links.  I received this box free for review.
 M is for Monster sent us the July 2015 Toddler box to review, and it was packed with activities.  M is for Monster was founded by a mom, that got tired of pinning, prepping and shopping for supplies, so she could do fun and educational activities with her children.  She found it difficult, to complete all the prep work, and still have time to do the projects.  She thought there might be other moms like her out there, and started M is for Monster.  
M is for Monster is a box of weekly educational activities for your child.  One of the things I love about M is for Monster, is the box is designed to last a month.  There are 4 weeks of activities, with different themes for each week.  There are toddler boxes for children 2-3, preschool boxes for ages 4-5, and Kindergarten boxes for children entering or in Kindergarten.
The Details
Cost: $38.95 Month to Month.  $42.95 for a Single Box.
What's in the box? Each month will be different. You will get four weekly themes with 2 to 3 projects for each theme. You will also get the glue, crayons, markers, paint and all the other supplies needed for that month.  (Scissors are not included, as they may be scary for children)
Toddler Boxes:  focuses on uppercase letters, numbers 1-10 and basic shapes. Other skills will be introduced from time to time, but this is a basic layout.
Preschool Boxes: focuses on lowercase, numbers 1-20 and basic shapes. More complex activities for children with longer attention spans are introduced here. Again, other skills will be introduced from time to time as this is only a basic layout.
Kindergarden Boxes: Focuses on sight words, spelling, count by ones and tens, determining more or less when counting, and Identifying shapes,
Discounts: Use the code "50off" to save 50% on your first box.
When does my box ship?  Boxes ship the 20th of the month.
This is the Toddler Box
M is for Monster comes in a white box with a sticker on the corner.  Your child can use stickers, markers and crayons to decorate it too.  This box was even bigger than last months.
First Look
A weekly breakdown of all the activities is included on the information sheet.  The back of the sheet has a list of suggested books, songs and rhymes to look at.
Week 1: Carnival  These activities all have a carnival theme.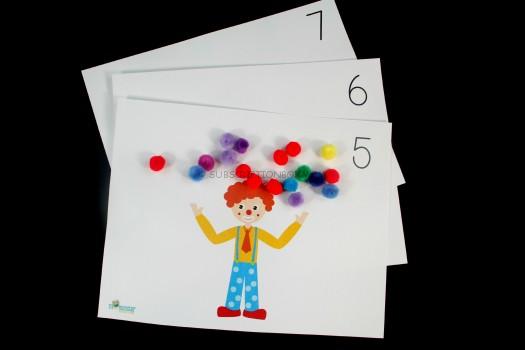 Juggling Clowns (number recognition, counting):  Using the pom poms and glue (also included), your child glues the appropriate number of ball in the clowns hands.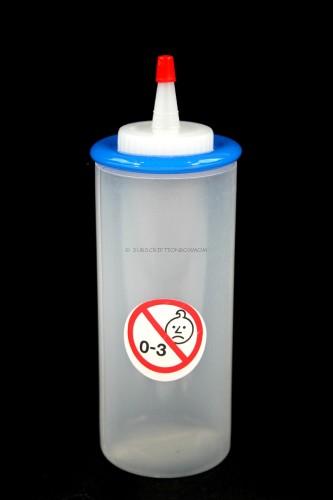 Ring Toss (counting): Using the ring, your child tries to throw it on the bottle.  We filled ours with water, to help keep it standing.
This was a fun game for T, and he played with this for several minutes.
Bubbles (oral motor, fine motor): A full size container of Melissa and Doug bubbles was included for your children to go outside and have fun.  This is a activity to help with speech.  We haven't played with these yet, because we have had a series of storms in our area.
Week 2: Ocean:  These activities have an underwater theme.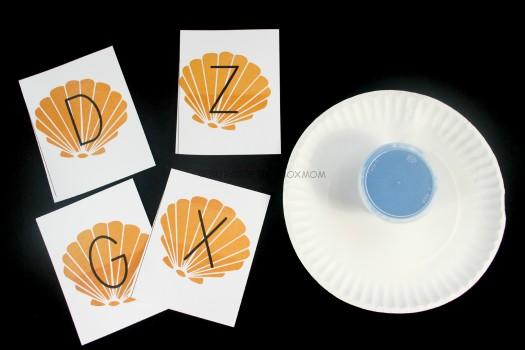 Sea Shells and Sand (fine motor, letter recognition): You place the sand on the plate, then your child traces the letters in the sand.
Tissue Paper Seahorse (fine motor, color recognition): Using the glue and tissue paper squares, your child decorates the seahorse and the surrounding paper.
T loved any of the activities involving glue.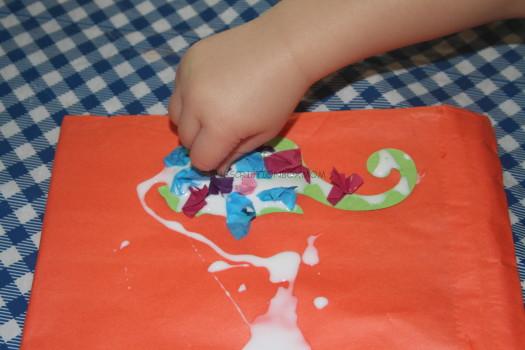 I had T make the sea horse first, then he glued it onto the paper.  There was glue everywhere!
The finished piece, I love it!
Bubble Fish (counting, number recognition): Your child places the correct number of bubbles to match the number on the cards.
Getting the stickers off the paper is always the most difficult for T.
The finished sheets.
Week 3: Horses: This week is all about horses.
Count the Horses (counting, number recognition): Like the fish activity, your child places the right amount of horses on the sheets.
Again with those tricky stickers, but T had a great time and he was able to count all three sheets of horses.
All the horses are now in the pasture.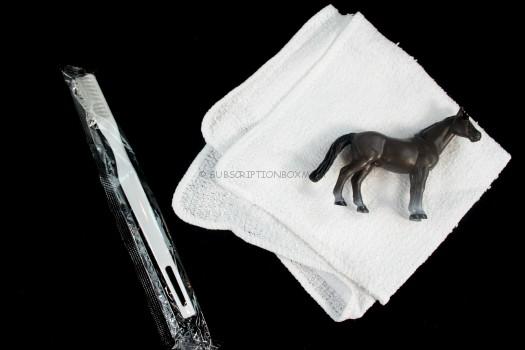 Washing the Horse (fine motor):  Using the toothbrush, your child washes the horse, then used the washcloth to dry it off.  T ended up cleaning several of his animals.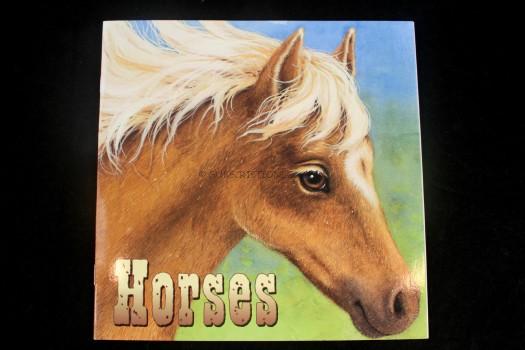 Horses (Early reading skills):  This cute book by Monica Kullings was included.  We read this at nap time.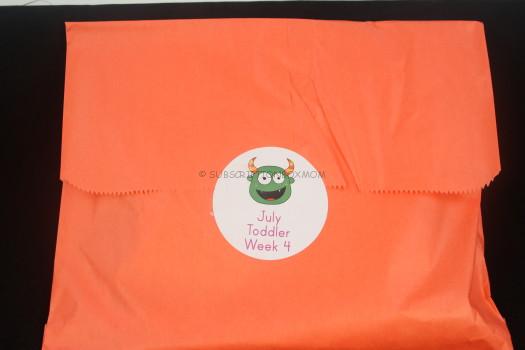 Week 4: Restaurant:  These projects were all restaurant themed.
Apron Design (art):  T loves to color, so this was a really fun project for him.  Just use the markers to decorate the apron.
Art time!
The finished piece!  T loves to help me cook, so he is wearing this in the kitchen with me.
Restaurant Play (imagination, handwriting): Your child can take orders with this real pad and pencil.
Restaurant Game/ (fine motor, letter recognition): Best project ever!  You laminate and cut out the cards, attach them to the ring, and your child has a project to do during dinner.  My 3 year old gets so bored in restaurants, and I try to avoid too much screen time.  This is in my purse for our next meal out.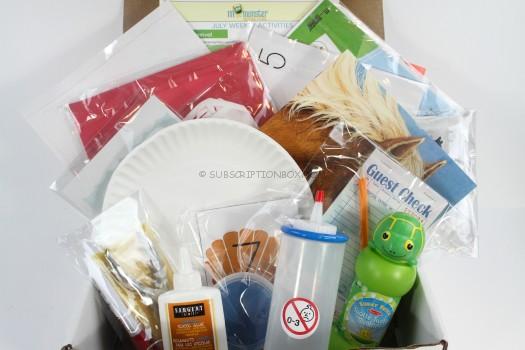 Final Thought: M is for Monster packed another incredible box.  There were 12 activities in all, and I loved all the themes.  This box will last you a month, and several activities can be played with over and over.  The July box is almost sold out, so if you want to pick a box up, do so now!  You can use this link to try M is for Monster and you can use the code 50off to save 50% on your first box.  
Do you like FREE SUBSCRIPTION BOXES?  Click HERE to see my free subscription box list.
You can see my FULL coupon list HERE.
Do you love Giveaways?  Click HERE to enter all my Giveaways.