July 16, 2015
07/16/15

By Subscription Box Mom

1 Comment
1
Love with Food July 2015 Review – Tasting Box "Surfin USA" + Coupon Codes
Disclosure: This post contains affiliate links.
Love with Food's theme for the July 2015 box is  "Surfin' USA".  Love with Food is a snack subscription box that sends snacks that are organic or all-natural, GMO-free, gluten-free or free of artificial junk.
 The Tasting Box is $9.99/month with free shipping and contains eight or more snacks.  The Deluxe version that features 16-20 snacks and is $19.95/month (free shipping).  For those on a gluten-free diet, the gluten-free box contains 8-12 snacks for $24.50/month.  Keep reading to the end of the review for coupons to save on a Love with Food subscription.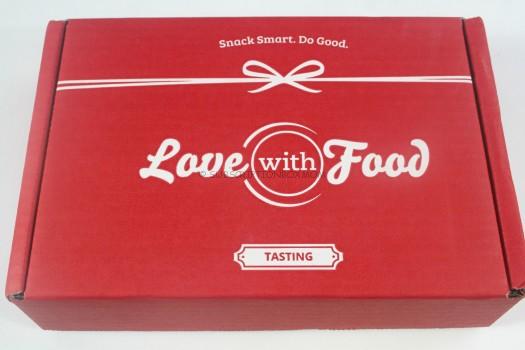 My family gets the tasting box and there is always enough for our family to share.
First Look
Each information guide is filled with all the details about each snack.
Honey Stinger Kid's Organic Sour Citrus Chews: We have received Honey Stingers in past boxes and it's a brand our family loves.  These fruit chews contain no artificial flavors, colors, preservatives or high fructose corn syrup.  My kids loved these and I am ordering more from the Love with Food shop.
Bare Naked Coconut Almond Curry Granola: This is a healthy mix of almonds, cashews, and coconut.  I don't eat coconut, so this will go to my dad.
Bare Snacks Simply Toasted Crunchy Coconut Chips: These toasted coconut chips are gluten free and non-gmo.   They have only 3 ingredients: coconut, cane sugar and sea salt.  Once again, I will be giving these to my dad.  I am rather bummed that there was two coconut snacks in the box.
Glee Gum Gum Pops:  My kids love candy, so I am always trying to find new "healthier" options for my kids.  These suckers are gluten free and non gmo.  There is only one sucker in the box, so I am not sure who will get this, but it looks tasty.
One Potato Two Potato Hawaiian BBQ Chips:   These kettle chips are gluten free and made with non-gmo ingredients.  These chips taste similar to the Lays BBQ chips and they have a nice crunch.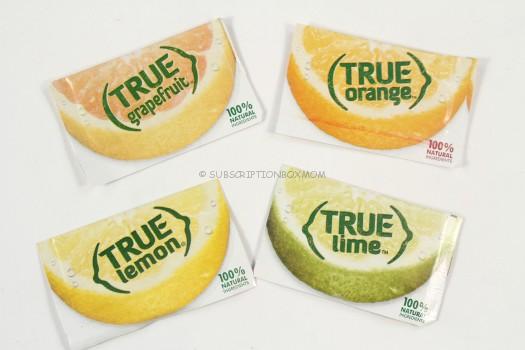 True Lemon, True Lime, True Orange, and True Grapefruit by True CItrus These sugar packets give your water a little kick and they have 25% of your recommended daily allowance for Vitamin C.
Biscotti Di Suzy Lemon Almond Biscotti My husband loves biscotti with his coffee and this mix of vanilla and almonds is going to go great with his morning cup.
Munk Pack Blueberry Acai Flax Oatmeal: This pouch is packed with fiber, whole grains and omega-3's.  I think my 3 year old will love the blueberries and oatmeal, so I am going to give this to him.
There was a variety of coupons and advertisements in the box, including a coupon for a free Lean Cuisine!
Final Thought:  This was a nice box, but not my favorite.  I really wish there weren't two snacks with coconut, but my dad will enjoy getting them.  The chips, fruit snacks and sucker were my favorite things in the box.  I really enjoy Love with Food, even when I get a box I don't love.  Love with Food has a great point system when you review your snacks, and you can subscribe for a year and pay only $7.99/month.  If you want to try the Tasting Box, use this link to get it for $5.99.  You can save $20.00 on a 12 month subscription plan for any subscription, when you use this link with the code SBMOM20.  Finally, you can save 50% on your Gluten Free box,  just click HERE.
Do you like FREE SUBSCRIPTION BOXES?  Click HERE to see my free subscription box list.
Check out my Full List of Subscription Box Coupons