July 5, 2015
07/05/15

By Subscription Box Mom

0 Comments
0
Little Thinker Box June 2015 Review + Coupon – NEW CHANGES + Spoilers
Disclosure: I received this box for review.
Little Thinker Box is a box for children in Head Start, Pre-K, or entering Kindergarten.  After last month's great box, I was happy to see another box for June.  Little Thinker Box has made some big changes.  After listening to customer feedback and listening to teachers and industry experts, they have broken down the box in four sections: Read, Create, Explore and Learn.  Each of these sections are designed to engage and nurture a child's development.
Unless you choose differently, boxes are sent out with the PreK Box (ages 4-5), if you would prefer, you can choose Head Start (ages 3-4) or Kindergarten (ages 4-6).  Boxes are $29.99/month and each box as a themed-based activity box that encourages reading, creating, exploring and learning.
This is the breakdown of each section:
Read This section always includes a book to activate your child's imagination.
Create: Materials and hands on crafts are includes in this section.
Explore: Pretend play props, experiments, or other similar activities are included to help your child explore deeper into the theme.
Learn: This section will include age appropriate learning resources.
The Details:
Cost: $29.99 a month reoccurring subscription. Discounts for longer subscriptions
Kidables: There are also individual themed boxes for more fun.  There are different butterflies and dinosaurs boxes HERE.  The individual boxes are $29.99 with free shipping
Coupon: Use the code SBM2015 to save 20% off all Kidables, all single Little Thinker Boxes, first box of a LittleThinker Box monthly subscription, and/or first bag of a DoodleBug Busy Bag monthly subscription. Good through 6.30.15.
Age Range: 3-5
When does the box ship?  1st week of the month.  Allow 5-10 days for delivery.  The cut off day is the 22nd of the month to receive the next month's box.
When am I charged? Your credit card will be charged within 24 hours prior to shipment of your item(s).
Website: http://www.kidableadventures.com/Little-Thinker-Box-s/1822.htm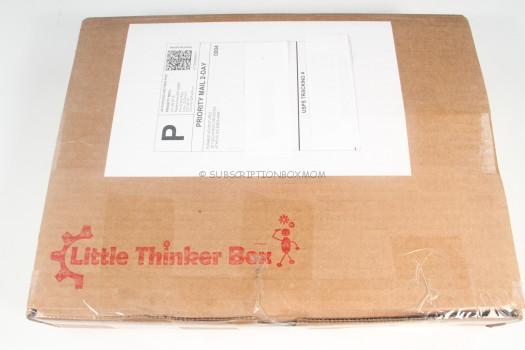 Little Thinker Box comes in a little brown box and ships by USPS.
The theme for June is "Baker".  All the activities in this month's box are themed around baking.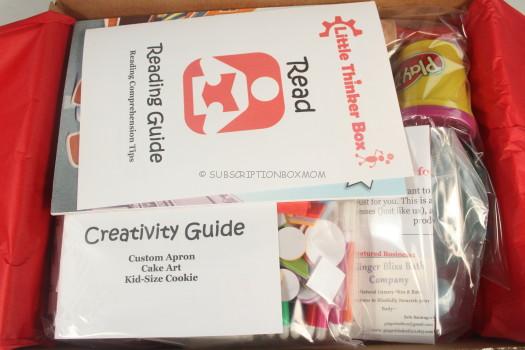 Each section: Read, Create, Explore, and Learn is divided up in to individual bags.   You don't have to play "seek and find" in the box to find what craft materials you need.
There was a two-sided information sheet.  The front had a letter about the changes this month.
The back of the information sheet broke down the box by section and really went into detail about their changes.  I could tell by the literature, that Little Thinker Box is passionate about the new changes.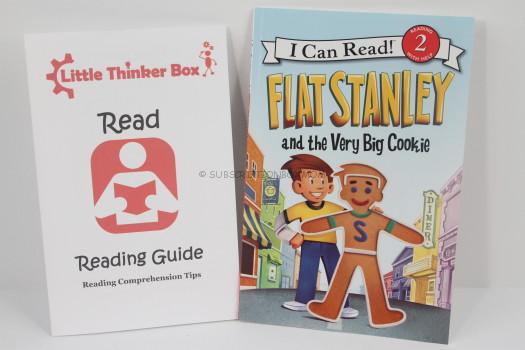 Read: The book Flat Stanley and the Very Big Cookie was the featured book this month.  The reading guide is a tool for parents to help children with reading comprehension. My 3-year-old really loved the story and the colorful pictures.
The information guide gave reading comprehension tips on how to understand the story, developing new vocabulary, answering questions about the story and having your child retell the story.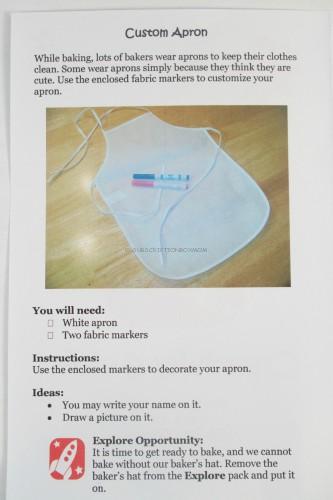 Create: There were three activities to create: custom apron, cake art, and kid-size cookie.
Custom Apron: For the apron, you child colors and customizes the enclosed apron.  The guide broke down each craft and listed the materials needed, instructions and more ideas for play.
An apron and two washable markers were included.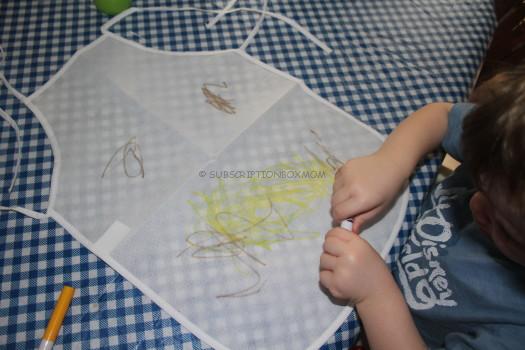 We just did this craft in another box, but T was just as happy to do it again.
The finished apron.
Cake Art: To reinforce shapes and colors, your child uses the stickers to create their own shape cake.
A cardboard cake, shape stickers, two magnets (not shown, but included) and a shape chart were included for this project.  Before beginning, Little Thinker box recommends going over the shape chart with your child.  T knew all his shapes!
The tiny stickers had a piece of paper covering the adhesive, removing it was great practice for his fine motor skills.

T packed as many shapes as he could on the cake.  As he played, we talked about each shape and color.
The magnets were included to put your cake on the refrigerator.  This is the finished product!
Kid-Size Cookie: The last project was to create a kid size cookie of your child.  My husband helped hold T, while I traced.  I have a little wiggle worm, so it was a little tricky tracing him.
There was a huge sheet of paper with a set of markers included.
I didn't take a picture of the process, but this is the finished boy.  It's hard to see the outline on the brown paper, but it turned out super cute.  T helped color the shirt, pants and add facial features (I added the eyes).
Explore: You child can put on their decorated apron and play baker with play dough.  There was a challenge on the back to fill cookie orders.
To be a proper baker, Little Thinker Box included a bakers hat, rolling-pin, play doh, and two cookie cutters.  The hat was really cute!
My Little Baker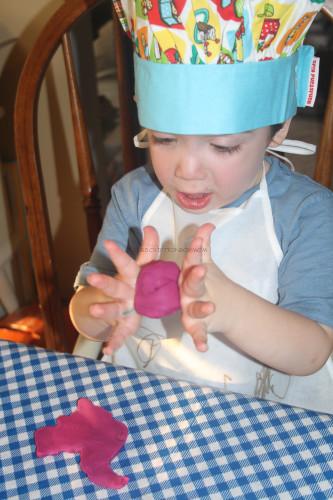 T loves Play Doh like no other child I have met.  He used the squirrel cookie cutter to make a little squirrel.  He used the letter cookie cutter to make little letter shapes.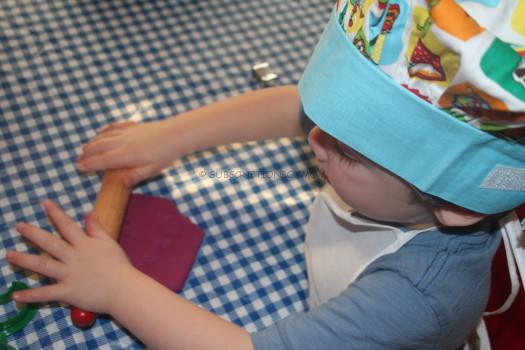 We have a little Play Doh rolling pin, but he really loved this big wooden one.  It was just his size.
He loved playing with the Play Doh squirrel, he had it dancing all around the table.
Learn: The last section was the more "academic" section.  Several different cards were included to work on numbers, letters and colors. The information guide had letters (c'd and d's) to trace, to work on handwriting skills.
For each card, the parent names a color, letter or number, and the child puts a paper clip on that selection.
As a surprise bonus, Little Thinker Box included two samples of bath products from Ginger Bliss Bath Co.
Honey Almond Body Scrubbing Sugar Cube (tan heart)

:  This cube is made with almond, honey and milk,  The scrubbing sugar cube is made with natural exfoliates and it moisturizes your skin.

Garden Spa Body Scrubbing Sugar Cube (blue)

: This has a clean fresh floral smell that I love.  It exfoliates and moisturizes your skin.

Final Thought: I loved the changes Little Thinker Box has done with their subscription.  Each section builds on the one before, so you child can really learn as they play.  T really enjoyed this box and he was happy to have a box just for him.  The mom gift was also a nice touch, I love new bath items.  If you want to try it out, use this link and the code SBM2015 to save 20% off all Kidables, all single Little Thinker Boxes, first box of a LittleThinker Box monthly subscription, and/or first bag of a DoodleBug Busy Bag monthly subscription. Good through 6.30.15.
Here are spoilers for July and August!
DoodleBug Busy Bags will be themed "Under the Sea".
Little Thinker Box theme is "Ice Cream".
Every Little Thinker Box contains a cute ice cream bowl and spoon.
Order by July 22nd and you will get the August Box, which will be themed "Build it.
Do you like FREE SUBSCRIPTION BOXES?  Click HERE to see my free subscription box list.
You can see my FULL Subscription Box Coupon list HERE.
You can check out list of Subscription Boxes for Kids.
Do you love Giveaways?  Click HERE to enter all my Giveaways.