July 22, 2015
07/22/15

By Subscription Box Mom

14 Comments
14
Kiwi Crate July 2015 Review – Coupon + 3 Month Giveaway
Disclosure: This post contains affiliate links.  Kiwi Crate is sponsoring this giveaway.
Kiwi Crate is a fun activity and craft subscription box for kids 4-8.  Crates are $19.95month and filled with Explore magazine, along with two featured crafts.  You can add-on a sibling pack or upgrade and get a featured book each month with your box.  Kiwi Crate is our family's first subscription box and it's one of my favorite subscription boxes for kids.
The Details:
Cost: Month to Month $19.95
3 Months: $59.85
6 Months: $111.00
12 Months: $203.40
Sibling Add On: Get extra materials for a sibling to share the crate. Customers call it the "no fight" crate. (available for $9.95/month with a monthly subscription, $28 extra for a 3-month, $56 extra for a 6-month, and $112 extra for a 12-month subscription). Only one sibling add-on can be added per subscription
Coupon:  Click HERE and use the code SHARE10 to save $10.00 on your first month
What's in the box? Every month you'll receive all the materials and inspiration for projects related to a theme such as music, gardening, dinosaurs or colors. Projects may include arts and crafts, science activities, imaginative play and more. We've hand selected and kid tested projects that are open-ended and encourage curiosity, exploration and creativity!
What ages is Kiwi Crate for?  Ages 3-8 but older children can enjoy it too.
When am I billed? You will be billed for your first crate immediately. After that, you will be billed up to 10 days before your ship date. This would be on or around the 5th of each month.
When does the box ship? The first crate will be shipped within 2 business days and subsequent crates will ship the next month around the middle of the month in the U.S. Crates to Canada will be shipped on or around the 15th of each month
Can I skip? Yes – if you do not want to receive a crate for a period of time, you can pause your subscription for 1, 2 or 3 months. To pause, log into My Account page, click "Manage Subscription" next to the subscription that you'd like to pause and then click Pause. You will not be charged while your subscription is paused. Your subscription will automatically resume after the pause period is complete. Pause by 7:00 PM EST on the 4th of the month to avoid being billed for the next crate.
How do I cancel?  To cancel, please call (866) 639-6502
Website: www,kiwicrate.com
Kiwi Crate ships in a little green box that looks like a crate.
There are two main crafts in each box.  This month's theme is "Lemonade Stand".  The two main crafts in this box is My Shop Sign and My Cash Register.
The back of the information card features Steve the Kiwi bird with a friend.  Your child can cut out the characters and play with them. When you sign up, your child with get a poster to put your monthly stickers on.  A sticker is included in each box to put on your poster.
Explore Magazine is a little publication that is filled with activities, cartoons, games and more.  This month's issue contains a project to make invisible ink, and recipes to make lemonade and lemon bars.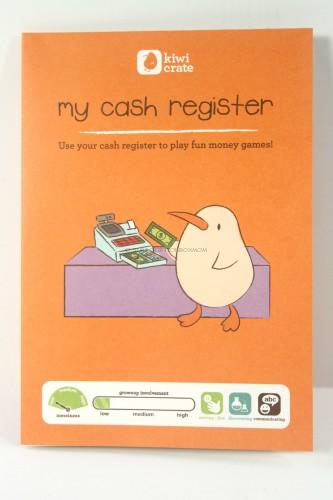 The first activity in the box was "My Cash Register".  This rated low on the messiness scale and low on the parental involvement.  Kids will learn fine motor skills, discovering and communicating skills.
Kiwi Crate always includes full color pictures of everything you need for the project.
The instructions were really easy for my 6 year old to follow.  He was able to do this project with no help from me.
Everything was included in the box for the project.  There was play money, a real working calculator and all the pieces for the register.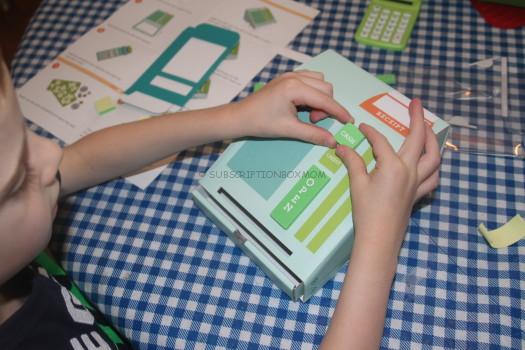 The register is was super cute and really easy to put together.
The calculate makes the register really realistic.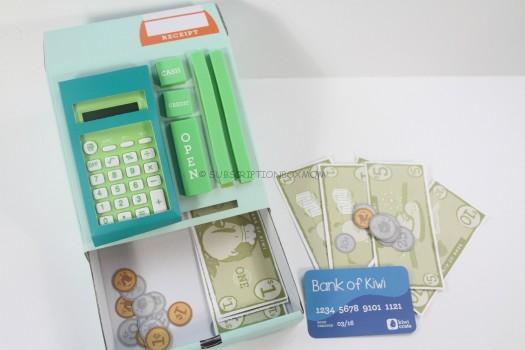 This is the finished register, complete with play money and a credit card.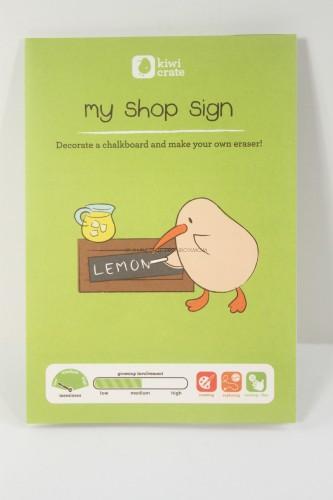 The second featured project was "My Shop Sign".  This project was medium on the messiness scale and low on grownup involvement.  Your child will work on developing creating, exploring, and fine motor skills.
For this project, L made a lemon eraser and used the stencils to draw on the chalkboard.  L really loved the eraser project, he has loved sewing projects since he was really little.
There was a little chalkboard and easel, along with many other supplies.
Sewing the eraser.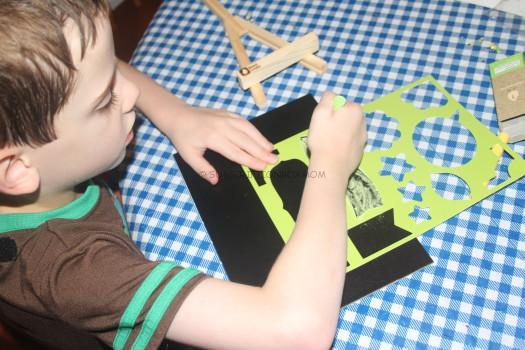 Working on the sign.
This is the finished chalkboard and eraser.  The box also came with a little box of chalk.
Math Games: There was little booklet full of little math games.  Your child can work on sorting, money games and addition games.  You child can use the little food cards to pretend to purchase different items.
My husband and son had a great time playing store.
Final Thought: This was a fantastic month, and one of our favorites.  My son has been asking when we can set up a lemonade stand.  I think I am going to have a yard sale and let L have a little lemonade stand.  Kiwi Crate is one of our family's favorite subscriptions.  If you want to try Kiwi Crate, click HERE and use the code SHARE10 or GOODSHOPGIFT to save $10.00 on your first month.  This will work on Tinker Crate, Koala Crate and Doodle Crate too.  Kiwi Crate has also given me a 3 month subscription to give away.  Just enter below and enter to win a 3 month subscription to Kiwi Crate, Koala Crate, Tinker Crate or Doodle Crate.  The winner will get to choose which box they want to receive!