July 30, 2015
07/30/15

By Subscription Box Mom

0 Comments
0
Horror Block July 2015 Review + 15% Coupon
Disclosure: This post contains affiliate links.
I haven't loved Nerd Block Classic the last couple of months, so I decided to try Horror Block again.  I love horror movies/shows, so I was hoping this would be a better fit.  Horror Block is a monthly mystery package delivered right to your door filled with pop-horror apparel, toys, and collectables! Every Horror Block comes with a custom t-shirt (in your size) and 5-6 epic items for you to tear into!  Use this link with the code Save15 for 15% off your first box.  You will enter this code after enter all your information.
The Details
Cost: $19.95 a month plus $9.50 shipping for the U.S  They do ship to other countries.
What is Nerd Block Horror? Horror Block is filled with toys, collectibles, and a t-shirt from your favorite brands including A Nightmare on Elm Street, Friday the 13th, The Walking Dead, Aliens, Halloween, and many more!
The Shirts:  There are 4 categories of shirts: 1.  Guys and Gals from size S – 4XL, Women's Fitted from S-2XL, Men's Fitted from S-2XL and Youth from XS-XL  There are extra costs for larger sizes: 2XL=$1.50, 3XL=$2.50, 4XL=$3.50
When am I charged? You are charged each month on the day you registered.  So if you ordered on the 10th, you will be charged on the 10th every month.
When does it ship? Boxes ship out around the 15th of the month
How do I cancel? "Just email cancel@nerdblock.com with your name and address, and we'll cancel your account. Please note that all orders must be cancelled 24-hours prior to that month's Block closing date. The closing date for every month can be found at http://www.nerdblock.com under the countdown timer."
Horror Block's boxes are really cool, I love the bloody hand.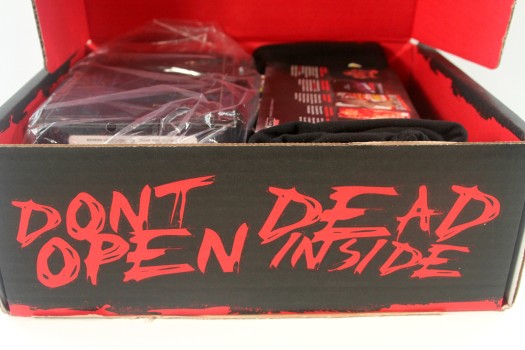 "Don't Open, Dead Inside!"
Buffy the Vampire Slayer Spike Titans Vinyl Figure $12.99 This is an exclusive Titan figure of Spike, complete with a cup of blood.  When I heard Buffy would be in this month's box, I was secretly hoping for an Angel figure, but it's cool to have an exclusive.
American Werewolf Shirt $10.00 Perhaps one of the coolest geek/gamer shirts I have received in a subscription box.  This is a woman's shirt, so it's fitted and the design is awesome.
Bonus T-Shirt: Deadpool $10.00 :  I know very little about Deadpool, so I had to research this shirt.  This is a Deadpool shirt as the Joker card, since he tells jokes often the comic.  This shirt was originally in the November 2013 Nerd Block Classic boxes.
The Walking Dead Decal $6.89 This decal goes on your car to show your support for this popular show.  My husband like The Walking Dead more than me, so I am giving this to him.
Choose Their Kill DVD $10.00 EST This show was on Crypt TV and Horror Block has now released it on DVD.  The only way to get this DVD is through this subscription.  This is is a pretty fun DVD, the graphics take you back to the 80's.
Rue Morgue Magazine $9.95: I am not sure if this is in every Horror Block, but it has been in both boxes I have received from Horror Block. This magazine is jammed packed with interesting articles and cool swag to but.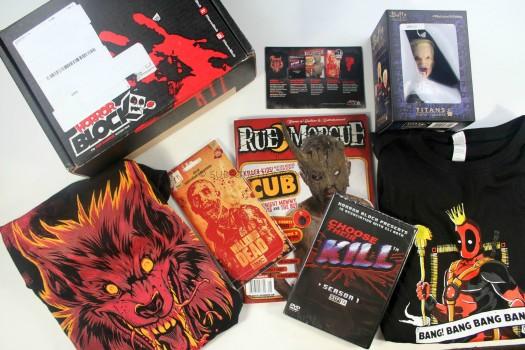 Final Thought: The total value of this box was $59.83.  I really enjoyed Horror Block and I think I am going to keep it for another month.  I loved getting two shirts, even if I know knew only what one of them were.  The DVD, old graphics and all is a pretty fun addition.  If you want to try Horror Block, use this link with the code Save15 to save 15%.  To check out Horror Block spoilers for August 2015, use this link.
Do you like FREE SUBSCRIPTION BOXES?  Click HERE to see my free subscription box list.
You can see my FULL coupon list HERE.
Do you love Giveaways?  Click HERE to enter all my Giveaways