July 9, 2015
07/09/15

By Subscription Box Mom

2 Comments
2
Grace & Stella Foot Mask Review + Coupon
Disclosure: I received this package for review.
Stella & Grace Co makes a food peeling mask designed to effective and safely, give you smooth, silky feet.  The masks are made with 17 types of natural extracts, designed to exfoliate your skin.  The masks can also improve foot odor, athletes food and circulation.   You can get a subscription for $15.95/quarter and each package contains one foot mask.
How do they work?
To Use:
Cut along the dotted line.
Secure the food with tape.
Wait for 1 hour.
Wash the gel away.
My foot masks came in a white envelope and were delivered by USPS.
A general information card was included in the package.
Both masked came in the package.  To use, just tear open the package and use.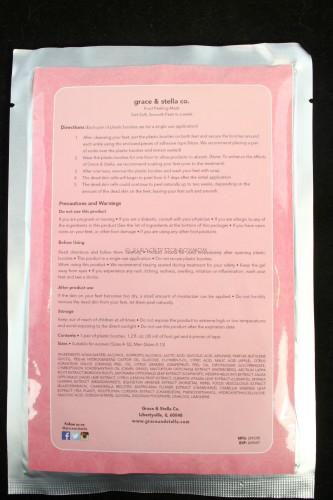 The back of the package has detailed instructions.  Stella & Grace recommends not using any moisturizers on your feet and soaking your feet in warm water for 10 mins/day, which can be done in the shower.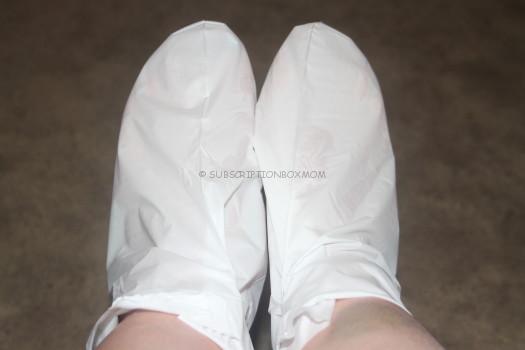 I opened the package, placed the booties on and waited.  It was recommended to place socks over the booties, so I did that.  There is a gel substance in the booties, which felt a bit squishy and weird with the socks.  I waited an hour and washed off the gel, then it was time to wait.
For the first week I didn't notice anything but my feet getting more rough.  Around day 7, my feet began to have some peeling.  I thought there would be a large amount, but it was very gradual.  It was hard to not use moisturizer, because I always do it as part of my nightly routine.  After two weeks, the bottoms of my feet or more smooth and much more pink in color.  I still have some rough spots around my heals, so I think another treatment would be needed.
I really hate pictures of feet (they really freak me out), so I am hiding the picture.  I still have some peeling and rough spots around my heals, so don't say I didn't warn you.
Final Thought: My Grace & Stella Co foot mask did do a great job a softening my feet, especially the bottoms.  I am not sure if there was an extra pre-treatment was needed to get my heals completely smooth and soft.  Overall, I did see an improvement of the softness of my skin.  If you want to try Grace & Stella, use this link to get your first mask for $9.95.  
Do you like FREE SUBSCRIPTION BOXES?  Click HERE to see my free subscription box list.
You can see my FULL Subscription Box Coupon list HERE.
Do you love Giveaways?  Click HERE to enter all my Giveaways.