July 9, 2015
07/09/15

By Subscription Box Mom

0 Comments
0
GlobeIn Artisan Gift Box July 2015 Review + Coupon + Giveaway
Disclosure: This box was received for review purposes.  This post contains affiliate links.  GlobeIn is responsible for winner selection and prize distribution.
GlobeIn theme for July is Wander".  "The "Wander" Artisan Box is a collection of mindful products that will prepare you for the great outdoors, whether it is walking in the park, strolling on the beach, or going camping with the family! Say hello to summer!"
Boxes are $35.00 month to month and filled with handmade items from all over the world.  I love the quality of the items in my GlobeIn boxes.  You also find out about where each items comes from and who made it.
GlobeIn has also just released their Benefit Basket.   The Benefit Basket contains one crafted good from a remarkable, remote artisan, all in a colorful, handwoven basket from their weaving collective in Oaxaca, Mexico.  You will also get story of the artisan, their community, and how you are making an impact on their lives.  The Benefit Basket is $19.95/month or $56.95 for 3 months, but you can get your first month Free with a 3 month subscription with the code BENEFIT.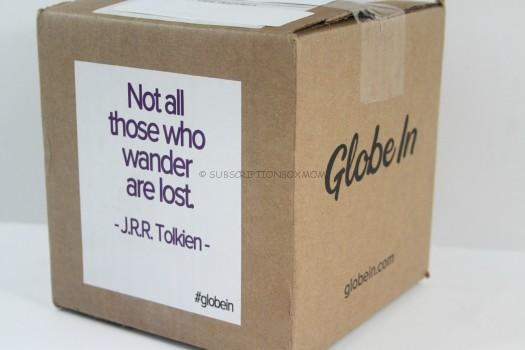 GlobeIn always has a quote on the side of their boxes.  This month, they featured a quote by J.R.R Tolkien "Not all those who wander are lost."
First Look.  There was a card on top with a coupon for $20.00 off a 3 months subscription.  I am including all the coupons at the end of the review.  Each box included a full color information card.  I didn't get my information card in my box (it was emailed), since I received a review box.
Palm Leaf Basket by GlobeIn Artisan Cooperative (Mexico) $12.00 This basket was made by Don Juan Garcia Lopez and his family.  He lives 5 hours from the nearest major city, so much of his time is traveling from city to city selling his baskets and crafts.  I always enjoyed these baskets in my GlobeIn boxes.  I have used these for gifts, toilet paper holders, decorations and so much more.
The basket held all the goodies in this month's box.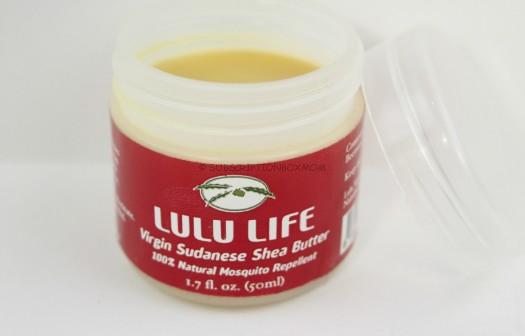 Shea Mosquito Repellent by Lulu Life (South Sudan) $7.95  After spending years in Ugandan refugee camps, Alice Konga now oversee over 25 Shea Cooperatives in her Kuku community.  This mosquito repellent has a nice cologne small and makes you skin feel soft, while keeping away the bugs!
Elephant Travel Journal by Mr. Ellie Pooh (Sri Lanka) $12.99  I can't imagine anything cooler than writing in a journal made from elephant dung.  The journal is made from the fiber in the elephant's dung, since their vegan diet means the waste is mainly raw cellulose.  In Sri Lanka, elephants are being killed in great numbers because they interfere with farming, Mr. Ellie Pooh gives elephants a economic purpose and is thus, saving lives.
You can tell the paper was made by hand, I love the flecks of color and in case you are wondering, it doesn't smell bad at all.
Handloomed Drawstring Backpack by ApiHappi (Sri Lanka) $29.99 Made in the rural areas of Sri Lanka, this backpack is made by hand.  In addition to owning a great bag, subscribers of GlobeIn are helping empower women, by supporting their business.
Moringa Bar by Kuli Kuli (Ghana) $2.50 Moringa has twice the protein of greek yogurt, 4 times the calcium of milk, and 7 times the vitamin c of orange juice.  Kuli Kuli Foods also gives back to the rural communities of Ghana by showing people the economic benefits of growing Moringa trees (they can survive in hard climate), but the nutritional benefits as well.  The bar is made of dates, Moringa, almonds and added nectar.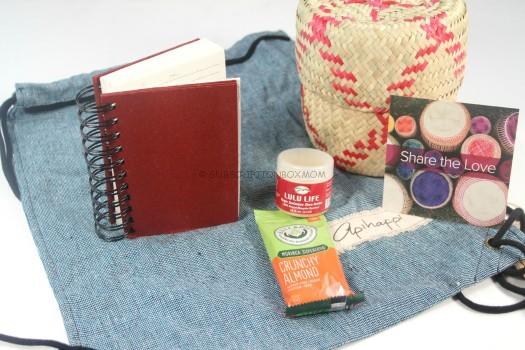 Final Thought: This box had an impressive $65.43 value.  I love each GlobeIn box for it unique curration and I love learning where every item comes from.  Mr. Ellie Pooh's journal was so unique and I love how it helps support Elephants in their habitat.  The mosquito repellent smells great, which is something I have NEVER found with other natural or commercial repellents.  This was a fantastic box once again.  You can save $20.00 on your 3 month subscription with the code BESTFRIENDS.  When that stops working, save 25% on your first box of a three-month subscription, just use the coupon SUBMOM.  To sign up for the Benefit Basket, get your first month Free with a 3 month subscription with the code BENEFIT.
GlobeIn is giving one subscriber a 3 month subscription to the Benefit Basket!  Just click on the picture below to enter!  GlobeIn is sponsoring and running this giveaway. GlobeIn will contact the winner of the giveaway.  Giveaway ends July 19th.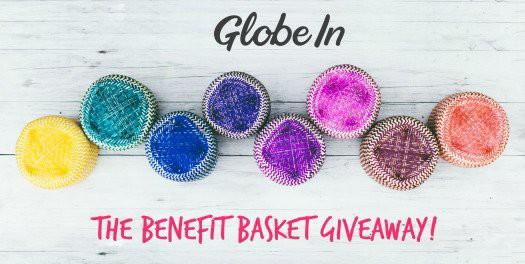 Do you like FREE SUBSCRIPTION BOXES?  Click HERE to see my free subscription box list.
You can see my FULL coupon list HERE.
Do you love Giveaways?  Click HERE to enter all my Giveaways