July 11, 2015
07/11/15

By admin

6 Comments
6
Foxy Boxes Endurance Box July 2015 Review
Disclosure: This box was received for review purposes.
Foxy Boxes is a new subscription box that focuses on the health and fitness of women.  There are four different boxes to choose from, Paleo, Vegan, Endurance and Gym-Junkie.  Each box is $29.99/month and filled with supplements, healthy snacks, accessories, and nutrition products.  I was sent the Endurance Box for review, which is for people with an active lifestyle like running or swimming.  My preferred method of exercise is running, so I looked forward to checking out this box.
The Details:
Cost: $29.99
What's in the box? Each box option is loaded with 8-12 FULL size and sample size products specific to your lifestyle! Typically includes, supplements, protein, hydration, energy boosters, skincare, healthy snacks, super cute accessories and more!!
Here is a description of each box:
Foxy Boxes ​Paleo​ Girl- ​Is a monthly box of ​unique ​Paleo snacks, ​baking mixes, ​supplements, accessories and much more.
F​oxy Boxes Gym-Goer​ ​ I​s loaded with top brand supplements, fat burners, pre/post work drinks, protein powder, nutritional bars, gym accessories, skincare and healthy snacks.
Foxy Boxes
​Endurance Athlete– ​I​s full of products, discounts, and coupons which have been hand-picked to support your active lifestyle. This box includes everything from gels, chews, protein shakes, supplements, nutrition bars, energy boosters, recovery, sun protection, electrolyte enhancers, and other running, hiking, cycling and swim accessories.
​Foxy Boxes Vegan Girl – The fresh way to discover the best cruelty free, healthy, and natural products out there!​ ​Receive a box bursting with vegan goodness – 8-10 assorted snacks, superfoods, beauty, skincare and/or lifestyle products, in a combination of full size, travel size and sample sizes.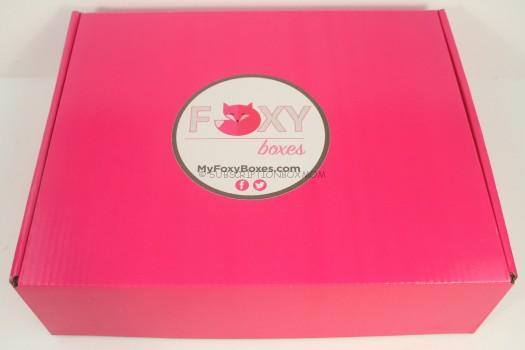 Foxy Boxes comes in a hot pink box, which I love.
First Look: There was a general card about Foxy Boxes included in my box.
This box was packed with supplements, snacks and goodies.
Healthycell Dietary supplement tablets $39.90 This is a pill/tablet is filled with nutrients and minerals to give you energy, mental focus and help you sleep.  There are pills for both morning and evening and this is a 30 day supply.
ips Chips with Protein Cinnamon flavored $1.69 These Gluten free, non gmo, puffed chips are cinnamon flavored and an excellent source of protein.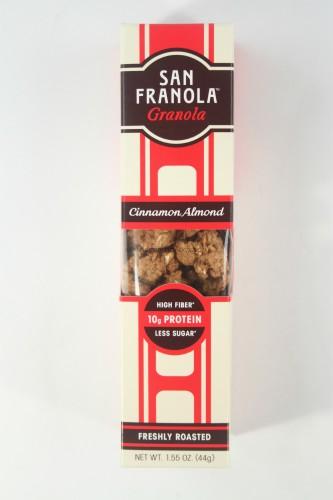 San Franola Cinnamon Almond Granola $5.00 Full of oats, almonds, and sweetened with all natural sugars, this granola is full of protein and tastes great.
Bakery Pomegranate Fig Bar $1.00 This non-GMO project verified bar is great for breakfast or for fueling up before a run.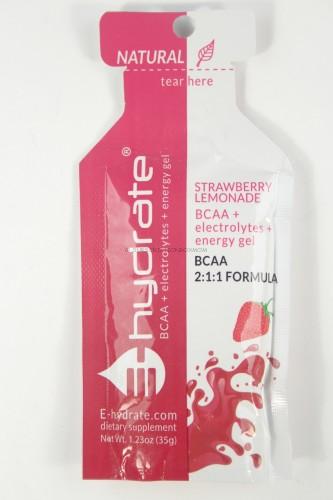 E-hydrate Strawberry Lemonade flavored energy gel and powder This gel can hydrate, recover, and energize you.  These are great to take with you on long runs to help keep you going.  This means I should probably go on a long run and use this.
VitaPerk Hazelnut flavored dietary supplement This is an all natural powder packet you can add to your coffee to enhance the flavor of your coffee and give yourself a boost.
Pure Clean Powder beet juice flavored for Endurance Is a powder form of one beet that can be mixed with water, juice or a smoothie.
Maverick Brands Coco Libre Protein Coconut water Made with Organic Coconut Water, real coffee, and grass fed milk protein that has 20 grams of protein, 23 vitamins and minerals and no added sugar.  I don't care for coconut, so I will pass this on to my dad.
Barney Butter Almond Butter Created as a healthier alternative to peanut butter and it goes great on Graham crackers.
Papa Steve Peanut Butter Protein Bar Gluten free, soy free, wheat free, non- GMO Peanut Butter choco chip protein bar that is handmade with raw foods.  It is packed with 20 grams of protein and it has a sweet chewy taste.  These bars are also have a long shelf life, 45 days.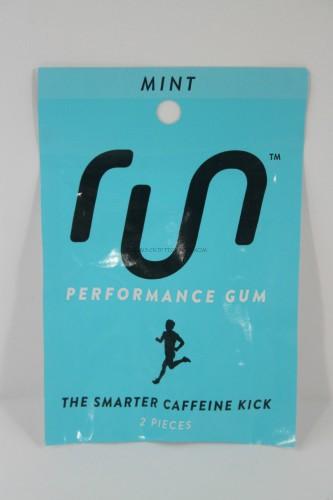 Run Performance Caffeine Gum The pack of gum has two pieces, one before you run, one after you run.  Each piece has 50 grams of protein, 20 mg Taurine and B Vitamins.
ShowerPill the Athletic Body Wipe When you don't have time for a shower after your workout, this wipe can kill 99.9% of germs and contains aloe vera and vitamin E.
Acure Body wash and Acure 3 pack face cleanser, resurfacing, and oil control moisturizer I love when companies give samples of their full skin care routine.  After you shower with the body wash, the cleanser will wash away the impurities, then the radical resurfacing will make your skin look fresh and younger.  Finally, hydrate your skin with the moisturizer.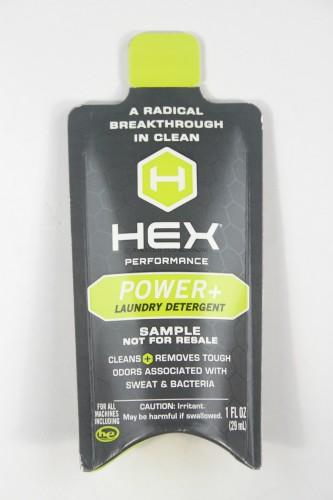 HEX power laundry detergent This is washing detergent that is made to fight the worst dirty clothes that come from being active.
Popband Hair tie Small stretchy 'no dent' hair ties and headbands that hold your hair up tight, but still leave hair fresh and kink-free when you take it down! Plus they won't rip or damage hair like regular hair accessories.
BondiBand hair headband This stretchy head band is perfect for running, because it is stretchy and doesn't hurt your head.
LipGlosserie Lemon Poundcake Lip Balm All Lip Glosserie products are handmade from original, vegan-friendly, and paraben-free formulas.  This lip balm is scented with lemon pound cake.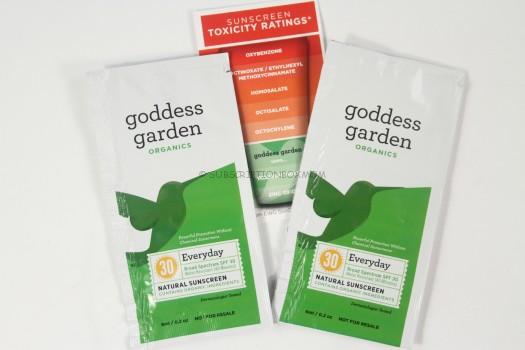 Goddess Garden Natural sunscreen This sunscreen is organic, reef safe and biodegradable.  It goes on non-greesy, so you can wear it every day without looking like I went to the pool.
Hydrate Natural Drink Mix: Drop these in a bottle of water and you can stay hydrated all day, with only 4 calories each.  I was sent lemon lime, orange and red berry flavors.
Enfusia Spa Salt Muscle Soak  When you muscles are tired from working out, these is a great way to relax your tired muscles.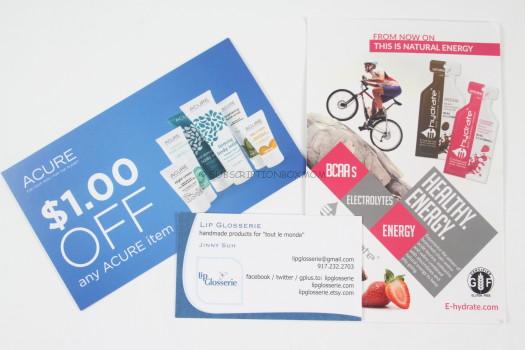 There was a coupon for Acure and several cards from the businesses in the box.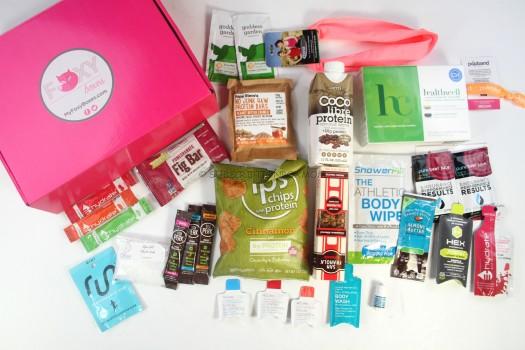 Final Thought: This was a really great box.  I didn't do a full breakdown of everything in the box, but the Healthycell had a bigger value than the cost of the box.  Foxy boxes combines a large array of healthy and fitness items for women.  While there are several health and fitness boxes on the market, I like that Foxy Boxes ensures everything is women.  If you want to try Foxy Boxes, use this link.
Do you like FREE SUBSCRIPTION BOXES?  Click HERE to see my free subscription box list.
You can see my FULL coupon list HERE.
Do you love Giveaways?  Click HERE to enter all my Giveaways.