June 4, 2015
06/04/15

By Gigi C

0 Comments
0
RawSpiceBar May 2015 Review – Spice Subscription Box
Disclosure: This package was received free for review.  This post contains affiliate links.  
Guest Review Alert- Gigi!  I was pretty excited when Erin asked me if I wanted to review one of her boxes.. I've been bugging her for a while to do a "guest review".. Maggie (my Golden Retriever) has been featured in several pet box reviews and I was anxious to do one of my own.  I frequently cook homemade dinners for my family, so this month's RawSpiceBar seemed like a good choice.
RawSpiceBar is a spice subscription box and costs $6.00/month.  They source high-quality, whole spices.  Every month you get 3-4 premium blended spices and coordinating recipes, enough to make 3 separate dishes serving 8-12 people.  Each month spotlights a different region of the world.
The Details:
Cost: $6.00/month
What's in the box? Each month you receive 3-4 spice blends which are enough to create 3 separate dishes serving 8-12 people. Each spice blend weighs between 2-3 ounces.
Shipping: RawSpiceBar ships to the US and Canada.  Free shipping for both countries.
When does the box ship?  Subscriptions ship the first week of the month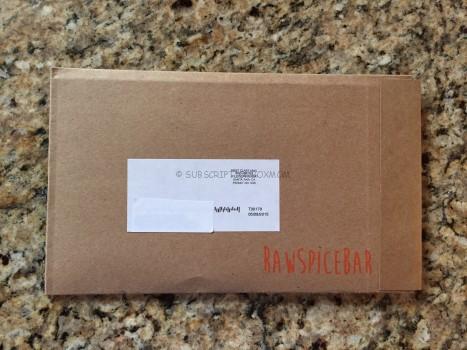 RawSpiceBar comes in a little flat envelope and ships via USPS.
First Look: This month, RawSpiceBar travels to the Andes of Peru for a spicy twist on "La Sierra Cuisine."  The menu features Peruvian Roasted  Chicken, Aji Amarillo Sweet Potatoes and Pink Peppercorn Voladores.  The enclosed card gives a little background on Peru's culinary heritage as well as why the menu was chosen.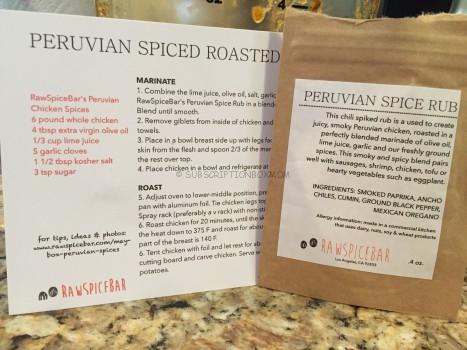 Peruvian Spiced Roasted Chicken:  All you need to make this is a 6 pound whole chicken, some olive oil, garlic, lime juice, sugar, salt and the Peruvian Spice Rub.  Mix it all together to form a marinade, rub it all over your chicken, and let it sit in your fridge for 6 hours.  Let me tell you something – the AROMA of this seasoning was AMAZING.. Smelled SO GOOD.  I almost wanted to lick my hands.. Almost – but you know, raw chicken and all.. Not a good idea.  Here's what the bird looked like before I put it in the fridge:
Later that evening, I put the bird in the oven while I prepped the rest of the meal.  Now – a couple of things ALWAYS happen at our house when we have a chicken in the oven.  #1 – the house smells AMAZING (and this seasoning really helped that flavorful aroma fill the air).  #2 – Roscoe makes his appearance.  See below.  I can cook anything, he doesn't care, but when it's chicken – he's Johnny on the spot.  He is a chicken enthusiast, to say the least..  So – the whole time this was in the oven, Roscoe was in the kitchen, waiting *semi* patiently…
Roasted Aji Amarillo Sweet Potatoes: This side dish recipe called for 4 pounds of sweet potatoes, vegetable oil and kosher salt (and of course the aji amarillo seasoning).
I wanted to try this as the recipe called for (with sweet potatoes) but we're not huge sweet potato fans, so I ALSO got some Yukon gold potatoes, just in case…  Also – I subbed olive oil for the vegetable oil..
Let me tell you a secret.. The sweet potatoes were DELICIOUS.  My husband *cleaned his plate* and this was after giving me that look when I first told him we were having sweet potatoes.  You know the one, the "you think I'm going to eat WHAT?" look.. yeah – CLEANED his plate.  The Yukon potatoes were just as good – and really, the combination of the two (a little sweet, a little salty) made this side even better..
The pairing of the Peruvian spiced chicken and Aji Amarillo potatoes was DELICIOUS.  We gave this meal a solid 9 out of 10, and later that evening, my husband said it was really closer to a 10.  The chicken was super flavorful, the potatoes were delicious.  Overall we thoroughly enjoyed this dish.
Pink Peppercorn and Sea Salt Voladores:  The dessert portion of this meal was interesting, to say the least.  I thought the combination of chocolate, cookies and peppercorns was a bit odd, but I was definitely willing to give it a try.
 The pink peppercorns were beautiful – very colorful, but I was still a little hesitant about the combination of flavors.
The recipe was pretty straight forward, just mixing some flour, egg yolks and salt – then rolling it out and cutting out the cookies.  The cookies were supposed to be 1″ in diameter – so I ended up using the lid to a cocktail shaker to cut out the circles – it was the perfect size.
The chocolate sauce was made by melting together dark chocolate, heavy cream, butter, and a pinch of the peppercorn seasoning.  Once the cookies cooled for a bit, the chocolate sauce was put on half of them, some more peppercorn seasoning drizzled on,  then another cookie was layered on top.  The final "sandwich" was dusted with powdered sugar.
Beautiful, right?  Well, I only *wish* these tasted half as good as they looked.  My initial suspicions were correct.  Chocolate and peppercorns DO NOT go together.  AT ALL.  These were, to put it simply, NOT GOOD.  I thought maybe I had made a mistake in the ingredients, but really the only thing that tasted out of place were the peppercorns.  I feel like the cookies would have been good without them.
The peppercorns were beautiful, and spicy – but just not for cookies.  In another dish, perhaps even the main dish, these probably would have been great.  In a summer salad, with some spinach, fresh tomatoes, mozzarella – perhaps these would go well..  But, not for cookies.  We ended up throwing these out after eating just a few..
Final Thought: This month's MAIN meal (chicken and potatoes) was AMAZING.  What a fun way to introduce new meals to your menus!  The dessert was a a complete miss, but I would definitely be willing to give this another chance, especially for just $6.00/month.  I like how the rest of the ingredients (that you pair with the spices) are pretty simple – things you would likely already have on hand (salt, butter, eggs, etc.).  I also love the fact that RawSpiceBar introduces things that I wouldn't normally try (in this case, the sweet potatoes) and I we ended up loving them!  If you want to try RawSpiceBar, use this link to try this subscription.
I hope you enjoyed my guest review – and in case you're wondering – YES – Roscoe did get some chicken.. And, he was a happy kitty

Do you like FREE SUBSCRIPTION BOXES?  Click HERE to see my free subscription box list.
You can see my FULL coupon list HERE.