June 15, 2015
06/15/15

By Subscription Box Mom

0 Comments
0
M is for Monster June 2015 Review + Coupon
Disclosure: This post contains affiliate links. I received this box free for review.
Summer is here and boredom has hit for my kids, so I was happy when  M is for Monster offered me the toddler box to review.  M is for Monster was founded by a mom, that got tired of pinning, prepping and shopping for supplies, so she could do fun and educational activities with her children.  She found it difficult, to complete all the prep work, and still have time to do the projects.  She thought there might be other moms like her out there, and started M is for Monster.  
M is for Monster is a box of weekly educational activities for your child.  One of the things I love about M is for Monster, is the box is designed to last a month.  There are 4 weeks of activities, with different themes for each week.  There are toddler boxes for children 2-3, preschool boxes for ages 4-5, and Kindergarten boxes for children entering or in Kindergarten.
The Details
Cost: $38.95 Month to Month.  $42.95 for a Single Box.
What's in the box? Each month will be different. You will get four weekly themes with 2 to 3 projects for each theme. You will also get the glue, crayons, markers, paint and all the other supplies needed for that month.  (Scissors are not included, as they may be scary for children)
Toddler Boxes:  focuses on uppercase letters, numbers 1-10 and basic shapes. Other skills will be introduced from time to time, but this is a basic layout.
Preschool Boxes: focuses on lowercase, numbers 1-20 and basic shapes. More complex activities for children with longer attention spans are introduced here. Again, other skills will be introduced from time to time as this is only a basic layout.
Kindergarden Boxes: Focuses on sight words, spelling, count by ones and tens, determining more or less when counting, and Identifying shapes,
Discounts: Use the code "50off" to save 50% on your first box.
When does my box ship?  Boxes ship the 20th of the month.
This is the Toddler Box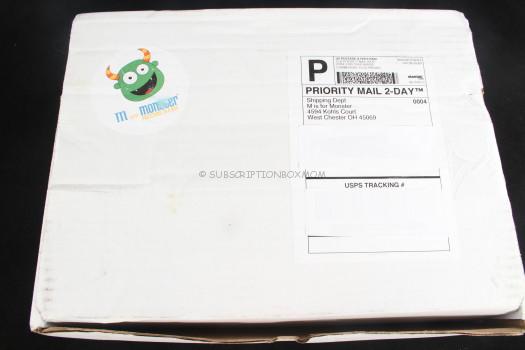 M is for Monster comes in a white box with a sticker on the corner.  Your child can use stickers, markers and crayons to decorate it too.
First Look: This box was filled with supplies and I saw some full size art products in there too.
There was an information sheet included in the box, that broke down each week worth of activities.
The back of the information sheet had list of books, songs and rhymes to extend the learning objectives from this month.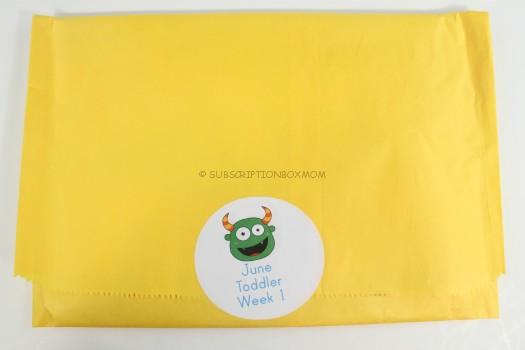 Week 1: Ice Cream Each week of activities is in its own envelope.  Week 1's activities are all about ice cream.
Ice Cream Soup (Early reading skills):  This book is about a little boy who wants to make an ice cream cake, and ends up making ice cream soup.  This is a level 1 book, so this book is great for teaching my 3-year-old site words and my 5-6 year old can read this.
This is a look inside the book.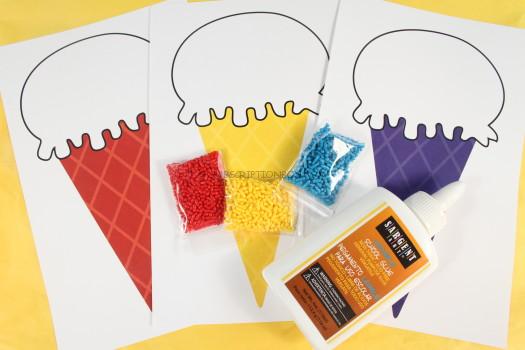 Ice Cream Sprinkles (color recognition): For this activity, your child glues sprinkles on the corresponding ice cream cone.  Preschoolers will need to know that red and blue makes purple.
T hasn't learned what colors make purple, so he just did the yellow and red cards.  T had to apply the glue and sprinkles himself and he did a great job.
These are the finished ice cream cones.  While not intentional, I love how they look like the ice cream is dripping.
Ice Cream Letter Match (letter recognition): You place each set of "cream" stickers on the ice cream circles and the cones.  Your child has to match each set of letters.
T loves ice cream, so he liked this game.  The letters were pretty easy for him, but it was good practice for him.
Week 2: Lemonade
Smelly L (fine motor, letter recognition): Your child spreads glue over the letter "L" and then sprinkles the lemonade on it, your child can even smell it!
The finished Smelly L project.
Ice Cube Counting (number recognition, math skills): Your child recognizes the numbers 6, 7 and 8, then places the right amount of "ice cubes" in the cup,
I had to help T recognize the numbers, but he put the right amount of ice in the cup himself.  I am going to make more number cards, so he can practice other numbers.
Lemonade Stand Pretend Play (imagination, self-help skills): For this activity, your child can pretend to make their own lemonade with the pitcher and spoon.  I didn't take pictures of this activity, because my son and I were having too much fun playing.  I let T pour his own lemonade in the cup.  There was a lid and a reusable straw included in the packet as well, which fit the cup nicely.
Week 3: Popcorn
Count the Popcorn (counting, number recognition): Your child recognizes the numbers in the book and places the right number of stickers inside. The stickers were popcorn and you can scratch and sniff them too!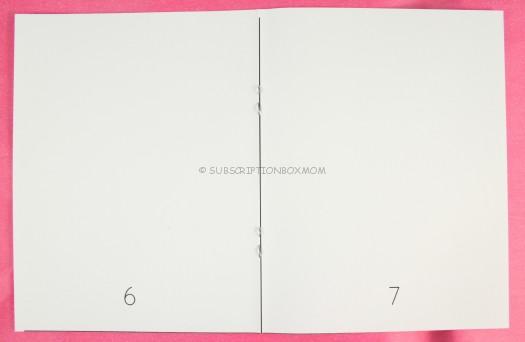 The book featured plenty of space to place the stickers and featured numbers 5-8.
We are still working on number recognition, so I had to help a bit with this, but he really loved the stickers and counting.
 Popcorn Letter Pop (letter recognition, fine motor): You cut out the letters, wad them up and put them in the popcorn container.  Your child can take one letter out at the time and name it.
Week 4: Shapes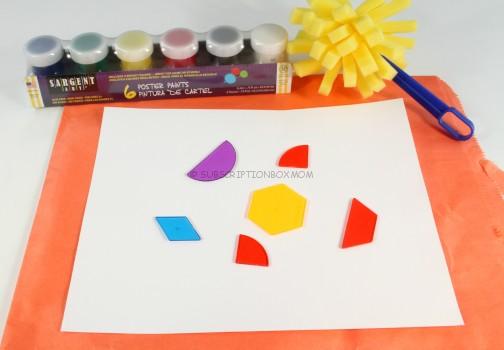 Sponge Paint Shapes (shape recognition): Your child places the shapes on the paper and sponge paints around each shape.
Both of my children hate having paint on their hands, so I taped the shapes to the paper where T wanted.  T loves painting, as long as it's not on him.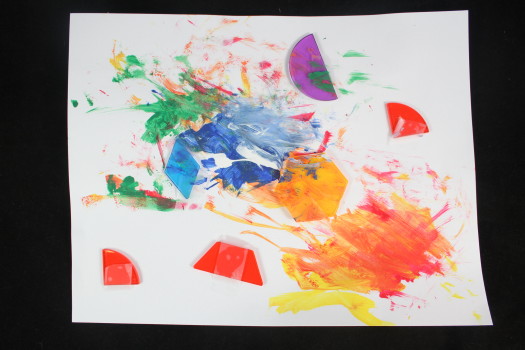 This is the finished picture and I love it!
Shape Game (shape recognition): You place all the shape cards face down.  Your child picks up a card and reads it "I have a triangle, where is square", then your child flips over cards until they find a rectangle in the first section.  This game was a bit tricky for T (he just turned 3), but we worked on shape recognition.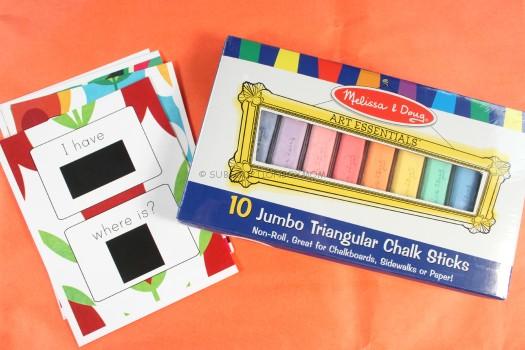 Chalk Shapes (shape recognition, fine motor): M is for Monster included a set of 10 Jumbo chalk sticks.  This activity is fun outdoors!  Your child uses the chalk to draw shapes outside.  The cards can be used to help know what to draw.  We haven't done this activity yet, because it's been about 10,000 degrees outside, but we will do it soon.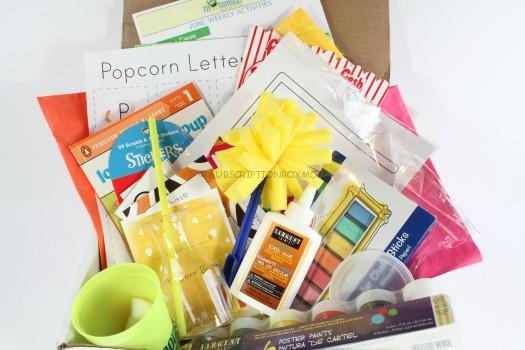 Final Thought: M is for Monster was the perfect box to introduce some fun into our summer.  I like that each packet is separated into weeks, so you have fun for the whole month.  T liked the ice cream letter match, the ice-cube counting and the painting the best.  I liked that there were several reusable supplies in the box: cup, chalk, paint, brush, and glue.  This was a fun box and I like that the activities were young enough for T.  You can use this link to try M is for Monster and you can use the code 50off to save 50% on your first box.  
Do you like FREE SUBSCRIPTION BOXES?  Click HERE to see my free subscription box list.
You can see my FULL coupon list HERE.
Do you love Giveaways?  Click HERE to enter all my Giveaways.