June 2, 2015
06/02/15

By Subscription Box Mom

0 Comments
0
Junior Explorers "Mission Great Barrier Reef" Review + Free Box
Disclosure: This post contains affiliate links.
When my son saw his Junior Explorers arrived, he got so excited, this is seriously his favorite subscription right now.  When you sign up with Junior Explorers, you will receive a Welcome Kit.  Once you have your welcome kit, you will go on various missions.  I have reviewed Mission Arctic, Mission Serengeti, Mission Amazon and Mission Earth Day,
Junior Explorers is a subscription service for children 6-11.  Boxes are $19.00/month (plus $2.00 shipping) and each month, your child gets a new online mission, along with a packet of goodies.  The goal of Junior Explorers, is to teach kids about the environment and animals, all while keeping things fun.  My 5-year-old has been having fun with Junior Explorers and I was excited to check out Mission Amazon.
The Details:
Cost: $19.00, $49.00 for 3 months, $96.00 for 6 months, $185.00 for 12 months
Coupon: You can 50% on your first month with the coupon BOXMOM50
What's in the box?  Once you subscribe, the Welcome Kit is your first delivery. It comes with everything you need to get started as a Junior Explorer! With you Welcome Kit, you will find your first code to get started online too
Each subsequent month, you will receive a Mission Kit that prepares you for your monthly mission! It includes activities, collectibles and cool facts about the ecosystem that you will visit. It also includes the code to unlock your online mission!
Shipping: Shipping in the Continental United States is $2.00.  Shipping to Alaska and Hawaii is $5.00
When am I billed?  You are billed when you sign up and then again on a regular basis.
How do I cancel?  You cancel from your online account.
Website: http://www.juniorexplorers.com/
Junior Explorers shipped in a big padded envelope.
The mission packet has the mission code printed on the front, this is the code your child will use, to access the online portion of the subscription.  I really loved the colorful envelope for this month,
Before your child starts their online mission, there is a checklist of things to do.
Collect: Junior Explorers sent a new wristband, pin and two animals: a clown fish and a whale.
Share: Four postcards were included to send to friends and family or they can be hung in your child's room (our preference).
Decorate: You get a box in your welcome kit to decorate each month with new stickers.  My son's box is pretty covered, and he loves adding each month's stickers.  There was also a sheet of temporary tattoos.
Get Ready: Before going on Mission Great Barrier Reef, your child can learn about the Great Barrier Reef and trading cards with various animals.
Complete:  There is a monthly activity book filled with fun games and puzzles for your child to complete.
Team Up: Kia and Kyle are ready to join your child for Mission Great Barrier Reef.
This month's mission is to find out why the coral in the Great Barrier Reef is loosing its color.  Junior Explorers has revamped its online program, it now has more interactive aspects and is even more fun than before.
I loved learning about coral and so did my son.  I learned something I didn't already know.
During your child's mission, your child has a backpack of supplies.  Your child can select supplies as they are needed.
There were several games this month.  The first game was to fly the bird to catch the fish, but you must also avoid the snakes.
The second game involved filling out the missing letters to solve the clues.
There was a fun puzzle game.  You not only fill out the food chain, but you have to put the puzzle together too.  This was a challenging game for L, but he liked it.
There was also a puzzle game, you must move the plates to get the clown fish to the coral.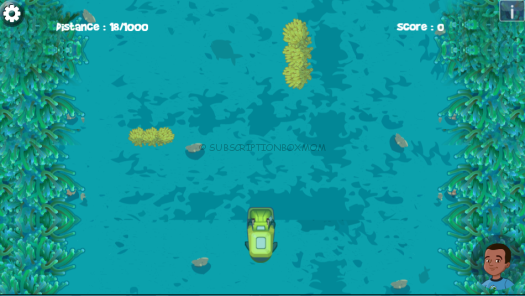 The last game was to drive the scooter.  This was my son's favorite game and we both played it for about a half hour.
There were several games and activities to do, but my son finally completed the mission.
Like in previous missions, your child can choose to give back to select charities.
At the end of the mission, your child gets a certificate.
Next month, Junior Explorers is heading to the swamp.
Final Thought: This was a fantastic month and my son had a great time with the online mission.  Junior Explorers is my son's favorite subscription right now and he can do the online mission with little help from me.  You can try Junior Explorers FREE.  To sign up, use this link with the code FREE1.  You will pay only $2.00 shipping.
Check out my Master Coupon Page 
Do you like FREE SUBSCRIPTION BOXES?  Click HERE to see my free subscription box list.
 Do you love Giveaways?  Click HERE to enter all my Giveaways