June 25, 2015
06/25/15

By Subscription Box Mom

0 Comments
0
Junior Explorers Mission Everglades Review + Half Off Coupon
Disclosure: This post contains affiliate links.  I received this box for review.
When my son saw that his Junior Explorers arrived, he got so excited.  This is seriously his favorite subscription right now. When you sign up with Junior Explorers, you will receive a Welcome Kit.  Once you have your welcome kit, you will go on various missions.  I have reviewed Mission Arctic, Mission Serengeti, Mission Amazon and Mission Earth Day,
Junior Explorers is a subscription service for children 6-11.  Boxes are $19.00/month (plus $2.00 shipping) and each month, your child gets a new online mission, along with a packet of goodies.  The goal of Junior Explorers, is to teach kids about the environment and animals, all while keeping things fun.  My 5-year-old has been having fun with Junior Explorers and was excited to check out Mission Everglades.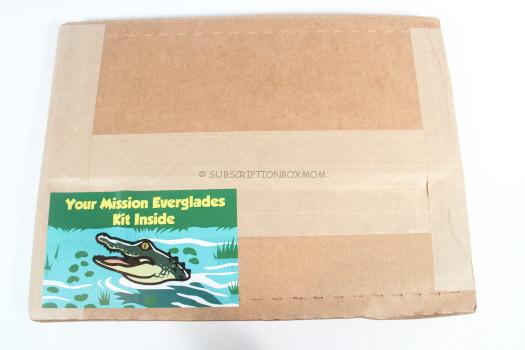 Past months have shipped in a padded envelope, but this month, everything shipped in a little cardboard box.  I love the extra padding in shipping, it keeps everything from getting bent.
Instead of the several sheets, everything is in an activity book
The first page is an introduction to this month's mission.  This month, the Burmese pythons are spreading to the Everglades threatening the wildlife.  The mission is to help Dr Hart find a python, so he can remove it and help protect the wildlife.  The cartoon continues on to the next page, and the code for your mission is at the bottom of the page.
The checklist has also been reformatted, it's a bit more graphically pleasing now.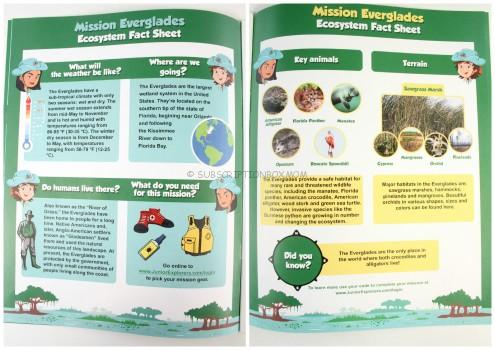 There is a two page spread about the ecosystem in the Everglades.  L (almost 6) and I went over this before we did the online game/mission.
Like in other months, there were 6 animal trading cards.  These are animals your child will learn more about during the mission.  The cards still punch out, but not as easily as before.  This lets your child keep them in the book if they wish.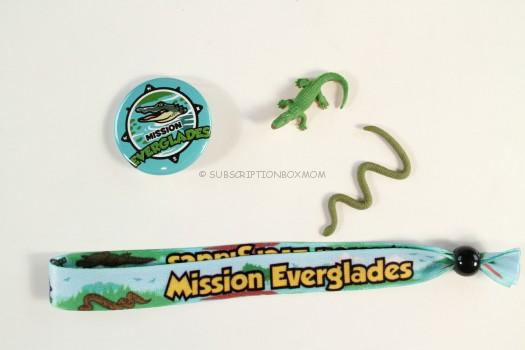 To add to your child's collection, there was a bracelet, button, python, and alligator.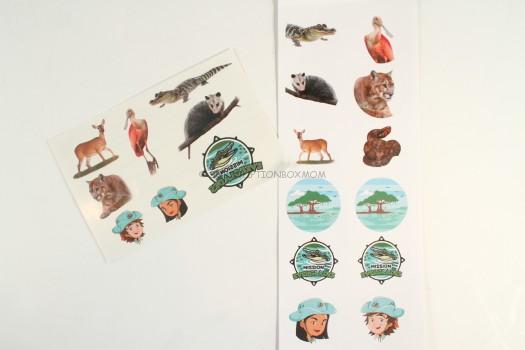 You child can wear the temporary tattoos and add the stickers to their welcome box.
Finally, there were three pages of activities for your child to complete.  Once your child has completed the book, it's time to go on the mission.
Once you log into the online portion, your child picks their avatar, and gathers the supplies for their mission.
Throughout the game, you child will click on various supplies that they need,  The online portion is very interactive, the characters even talk.
This month's mission is to find a python.  Junior Explorers gives an introduction and overview about pythons and their habitat.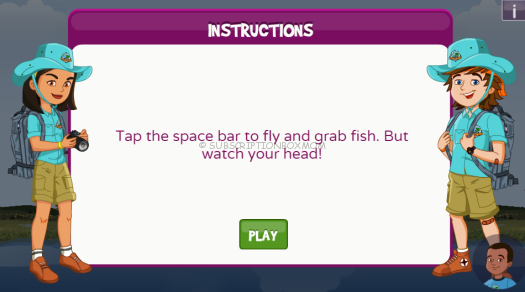 While there are many interactive elements, I will go over the main games.  After the mission is over, you can go back and play the games.
The first game was to navigate the stork to collect the fish.
The second game was to finish the missing letters to solve the clues.  L isn't quite old enough for this game, so I asked the question and let him give me the answer.
After you finish the clues, you compare snacks to see which snack you spotted.  (Spoiler: It wasn't the python).
The next game was to complete each puzzle to show each food chain.
There was a possum away from home and you had to help them get back home, by moving the logs.
There is a break in the case and you had to drive your boat to get there fast!
The snake has been found!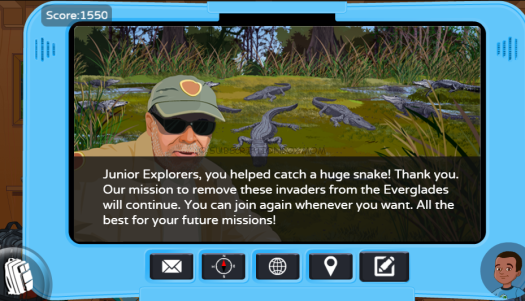 Dr Hart was thankful for our help, the Everglades are a bit safer now.
Your child can give back to two great organizations: The National Wildlife Federation Giveback and The Nature Conservancy Giveback.  L gave half the money to each charity.
You child gets a printable certificate when they are done.
You child can go back and play any of the mission games after they are done.
Next month's sneak peek!  My guess is Hawaii!
Final Thought: My son really enjoyed Mission Everglades, while he enjoys the physical stuff each month, he really loves the online portion.  Every month, Junior Explorers improves some aspect of their subscription.  I really enjoy that Junior Explorers is always trying to improve their subscription.  There is a coupon to save 50% on your first box and at only $19.00/month, you can try Junior Explorers for only $9.50!  Just Use this link with the code VOICE50 to save 50% on your first box.
Do you like FREE SUBSCRIPTION BOXES?  Click HERE to see my free subscription box list.
You can see my FULL coupon list HERE.
Do you love Giveaways?  Click HERE to enter all my Giveaways