June 23, 2015
06/23/15

By Subscription Box Mom

0 Comments
0
Japan Crate June 2015 Review
Disclosure: This box was received free for review.
Japan Crate is a box packed full of authentic Japanese treats and candy.
There are three different boxes: Mini,  Classic, and Premium.  I was sent the Premium box for review, which is $30.00/month and contains 2 lbs of treats, a drink, 2 DIY KITS and 12-18 snacks.
The Details:
Cost: Mini: $12.00/month, Original: $25.00/month, Premium: $30.00/month
What's in the box? There are three different boxes:
Mini: 1/2 lb crate containing 4-6 candies
Classic: 1 lb crate containing 8-10 candies
Premium: 2 lbs crate containing a drink, 2 DIY KITS and 12-18 snacks.
Shipping: Japan Crate ships their boxes free to the USA but there is a $10-$15.00 shipping charge for international customers.
Cancel: When you sign up you are sent an e-mail and link to manage your account.  From there you can stop, pause, or change your membership.
Website: http://japancrate.com/
Japan Crate ships in a huge red box and ships all over the world.  Be sure to read the FAQs, as they have trouble delivering to parts of Mexico, Central America, South Africa and Eastern Europe.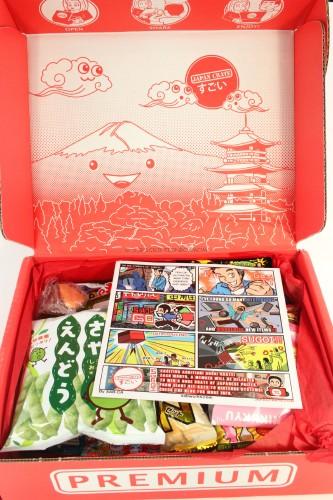 First Look: There was some cute Japanese art on the inside of the lid.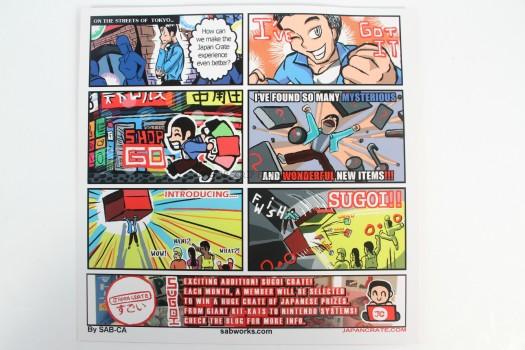 The front of the information card has a cute little comic about Japan Crate.
The back of the information card has a list of everything in the box.  You can see what each box comes with, as each box is divided into columns.  The Premium box gets everything on the card.
Little Gang Grape:  This is gum that starts out like Pop Rocks and turns into grape gum.  it doesn't have quite the crackle that real Pop Rocks has, but it's still fun.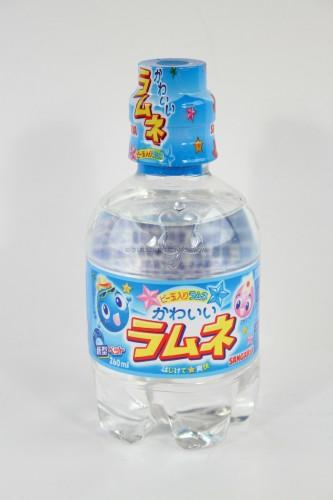 Kawaii Ramune: This drink comes with a marble that you have to pop out before you drink it.  It was a bit tricky to pop out, but it was fun.  Ramune tastes a bit like Sprite or Cream Soda.
White Chocolate Big Bar Z This is a puffy/crunchy wafer that I think has the texture of a puffy Cheeto, Japan Crate compares it to a wafer from a Kit Kat.  The wafer is covered in white chocolate and my husband really enjoys it.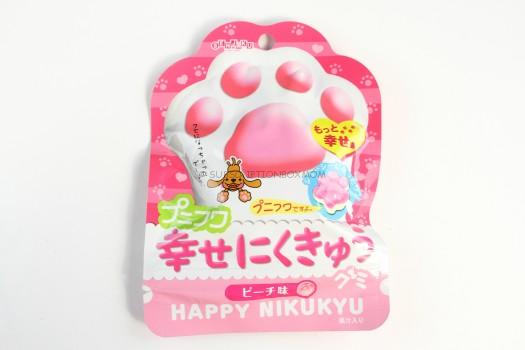 Happy Paws Gummy:  This cute little puffy gummies look like dog paws and taste like peaches.
Talking Puppy Chocolate: This chocolate bar looks and tastes like Nestle Crunch and comes with a heat activated comic.
This is the front of the joke card.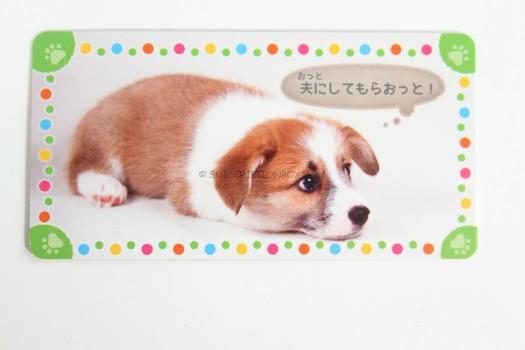 This is the heat activated punch line.  If you read Japanese, please tell me the joke!
Red Potion/Black Potion: This package comes with a red and brown sticks of cola flavored gum.  Depending on what piece of gum you chew, your tongue will turn red or black.  You can use this gum to see where you chew.  I felt the cola  was a bit too strong, but my husband loved it.
Matcha Green Tea Kit Kat:  I have had these several times, I like them, but I prefer classic Kit Kats.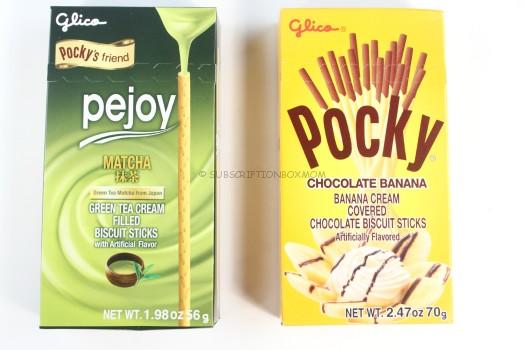 Matcha Green Tea Pejoy: This is similar to Pocky, but the green tea cream is inside the sweet biscuit, instead of on the outside.
Choco Banana Pocky: I have never had this flavor of Pocky before, but I was pleased with the flavor.  It tastes like a softer, yet crunchy banana chip.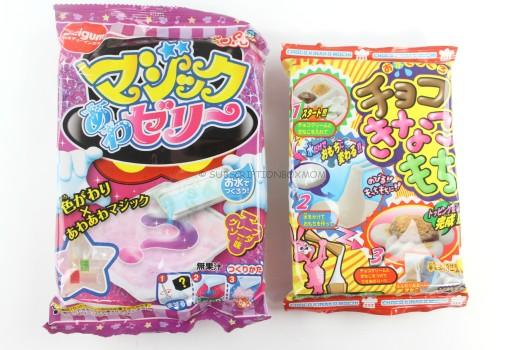 Magic Bubble Jelly DIY:  You add water to the powder to make a fluffy grape jelly.
Choco Kinako Mochi DIY:You can make mini chocolate mochi with this kit.  just fip the white discs into the power and chocolate sauce.
Ramune Marble Gum: Similar to the soda, this is Ramune flavored gum balls.
Kirby Blend-Blend Mix Gum: This gum has 5 base flavors (fruity) and grey gumballs.  When you eat the grey ones, they block your tongue from tasting sweet things, so the gum tastes different!  These were really fun, my sweet apple gum turned sour!
Snow Pea Chips: These are similar to the chips you find in the US, puffy pea shaped chips.
My Neighbor Totoro Bonus Item: Every Classic and Premium box contain a bonus item.  This is Catbus, which my husband totally got, but I didn't.
Final Thought: This box was packed with snacks and goodies.  My husband and I really had a blast unboxing it.  Japanese snacks are so unique and I loved the Japan Crate included such a large assortment of treats.  I loved all the different kinds of gum.  Japan Crate has different size boxes, so you can pick the crate that fits you best.  If you want to try Japan Crate, click HERE.
Do you like FREE SUBSCRIPTION BOXES?  Click HERE to see my free subscription box list.
You can see my FULL coupon list HERE.
Do you love Giveaways?  Click HERE to enter all my Giveaways.