June 22, 2015
06/22/15

By Subscription Box Mom

2 Comments
2
Geek Fuel June 2015 Review + Coupon Code
Disclosure: This post contains affiliate links.  I received this box for review.
My Geek Fuel June 2015 Box arrived at the right time.  I saw spoilers earlier today and I knew I was going to love this box.  Geek Fuel is a geek and gamer box that is always filled with awesome memorabilia and has a great value.  Each box is $17.90 plus shipping, and they ship worldwide.  Geek Fuel always includes a shirt with every box, and I have loved all their boxes.
The Details
Cost: Month to month $17.90, $16.90/month for a 3 month subscription, $15.90/month for a 6 month subscription and $13.90/month for a year subscription
Shipping: Geek Fuel ships to the US ($6.00 shipping fee), Canada, and many more countries!
What's in the box? Every box will pack a t-shirt, toys, collectibles and more in their monthly boxes.
Geek Fuel ships by USPS and comes in a large red box.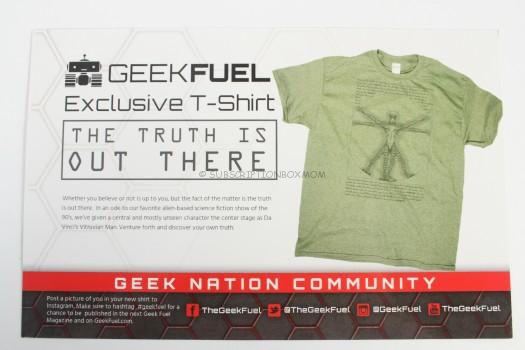 Every box includes a t-shirt and this month, the shirt had an X-Files theme!
The back of the information card had details about the rest of the items in the box.
There was a Geek Fuel Magazine which had articles about top 90's cartoons (I liked Animaniacs), The X-Files, Jurassic World and more.  I truthfully don't read many of the geek/gamer magazines, but I totally am reading this months!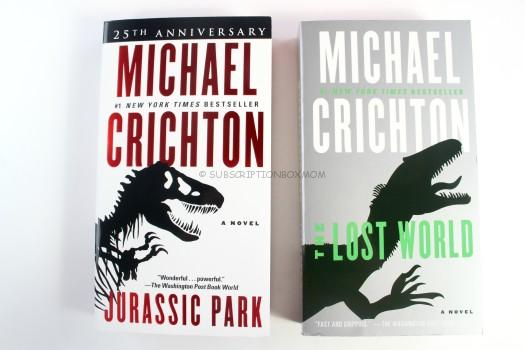 Michael Crichton Jurassic Park and The Lost World $9.99 each:  Apparently Jurassic Park came out 25 years ago, which makes me feel old, because I remember reading it when it was released.  I haven't read The Lost World and I don't have either book, so I was happy to receive both books.  I can't wait to see the Jurassic World, I just need a babysitter.
90S Mutant Hero Ooze:  I am guessing they couldn't get the licensing for this, but this is from Teenage Mutant Ninja Turtles.  While I watch this as a child, this is going to  my husband, as he was a mega fan as a child.
Mighty Morphin Magnets (1 of 5):  This magnet features the blue ranger and the rarity is 3.10.  The yellow ranger is 1/100, so you are lucky if you get that one.  We have an insanely large magnet collection, so this will fit in nicely.  This was another great show from my childhood.
Super Win the Game Downloadable Game Code and Key Chain: $10.00 I am completely unfamiliar with this game. but it looks cute and my 6-year-old is going to love the key chain.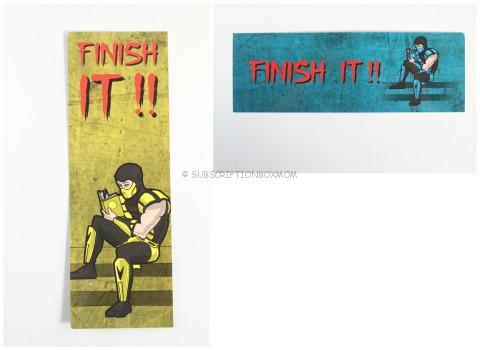 Finish It Book Mark Sub-Zero and Scorpion are here to encourage you to finish your books.  They are from Mortal Combat, if you didn't already know that.
The Truth Is Out There T Shirt:  $15.00 est OMG!  This is the best shirt that I have received in a geek/gamer box.  While I am sure that previous statement is up for debate, I was/is a huge X-File fan.  I was determined to marry Mulder in the 90's, unfortunately, he is a bit too old and weird in real life (nevermind he is a celebrity and all that jazz).  This is a play off of Da Vinci's Vitruvian Man and is awesome.  My only disappointment is it's my husband's size, so I can't take it.
Final Thought:  Wow, this was a nice box from Geek Fuel.  I didn't get a full retail value, but the books, shirt and game have a $44.98 value together.  This was one of my favorite geek/gamer boxes that I have received.  I love the books and the t-shirt, maybe I can trade something to get a shirt in my size!  There is still time to subscribe to this month's Geek Fuel, just use this link and save $3.00 on your first box.
Do you like FREE SUBSCRIPTION BOXES?  Click HERE to see my free subscription box list.
You can see my FULL coupon list HERE.
Do you love Giveaways?  Click HERE to enter all my Giveaways.