June 20, 2015
06/20/15

By Subscription Box Mom

2 Comments
2
Citrus Lane June 2015 Review – 3 Year Old Girl + Coupons
Disclosure: This post contains affiliate links.
I wish both of my Citrus Lane boxes came on the same day.  I received my 5 year old's box a few days ago, and I finally got my 3 year old's box today.  Citrus Lane is a subscription for 0-5 year olds and each month, they send boxes filled with cool toys, books, snacks, personal care items and more.  Both of my boys have subscriptions to Citrus Lane: ages (almost 6 and 3).  This is the 3-year-old box for a girl.  I was supposed to get a boy box, but I received one for a girl.
Citrus Lane ships in the same box every month and ships by USPS.
Your child can color and personalize the beach scene, then you can share it on Facebook.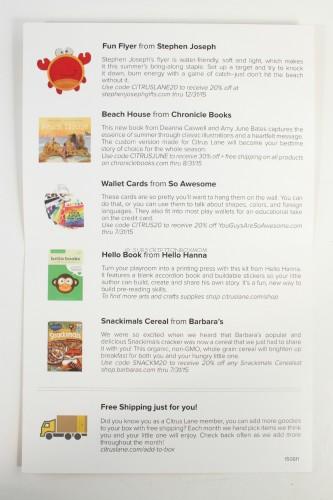 The information card had a list of every item in the box, along with descriptions and coupons.
Stephen Joseph Dolphin Flyer $6.95  This cute little dolphin is made of neoprene and can be thrown in or out of the pool.  Clearly this is for a girl, given the pink flower.  Now, I don't have an issue with my boys playing with dolls or wearing pink, but this wasn't the box I was supposed to get.
Beach House by Deanna Caswell: $8.50 This book has pretty illustrations and is about a family trip to the beach.  I took the hard back price and divided it in half, as I couldn't find the paper back version online.
I didn't notice it when I got my 5 year old's box, but there is a misprint in the book (Thank you online Facebook groups).  My version says "of the road" and according to the preview on Amazon, it should say "End of the road".  This apparently is the case with many subscribers' books, which makes me think Citrus Lane got a deal on the books because they were defective.  I hope it's just an over-sight and not a deliberate slide.
So Awesome Wallet Cards $9.99  I wasn't thrilled with these in my 5 year old's box, but I love them for T.  These cards feature shapes colors, along with the shape/color names in French and Spanish.  T (age 3) is in the process of learning all his shapes and colors, so these are perfect for him,
Barbara's Snackimals Cereal $1.00  We received the chocolate chip version in our other box.  This cereal is tasty, organic, and gmo-free.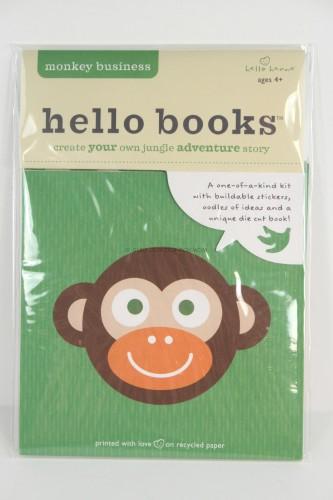 Hello Book from Hello Hanna $9.95  Not to be a downer, but this is another disappointing item.  It's an accordion book with stickers, die cuts and paper to create your own adventure story.  My problem?  This is rated for 4 year olds and up.  While I think this is a cute item, it's not developmentally appropriate for a 3 year old.
Final Thought: This box had a total value of $36.39.  This box was pretty disappointing to me.  The book was the item I liked best in my 5 year old's box, and it turns out it's defective.  Of my 3 year old's box, I liked the shape/color cards the best.  I received the wrong gender item, defective book and an item too old.  I know my son can "grow into" the Hello Books, but having an older brother means half our house is something he can grow into.  He will probably just play with the stickers.  I am hoping July's box is better, because this box was a general let down, given what I pay to subscribe.  If you want to try Citrus Lane, there are two great offers.
1.  Get 40% off your first box for each sibling subscription (you can have multiple children on the same account).  Just use this link with the code SIBLING.
2.  Save 30% on your first box and get a FREE Melissa and Doug Farm Chunky Puzzle, just use this link with the code FARMGIFT.   exp 6/22
Do you like FREE SUBSCRIPTION BOXES?  Click HERE to see my free subscription box list.
You can see my FULL coupon list HERE.
Do you love Giveaways?  Click HERE to enter all my Giveaways.