June 19, 2015
06/19/15

By Subscription Box Mom

4 Comments
4
Bramble Box June 2015 Review – Giveaway + Coupon "World Traveler"
Disclosure: This post contains affiliate links.  Bramble Box is responsible for all prize distribution.  I received this box for review.
Our Bramble Box for June 2015 arrived and we were in for a treat, they really changed things up this month. Bramble Box is a fun, creative subscription for children 3-8 years old.  Each box is $25.00/month and boxes are filled with dramatic play materials.Each box has specific themes, like post office, detective, and scientist.  Bramble Boxes are very unique, and they are nothing like you find in other subscriptions.  Keep reading till the end of the review, because I have a giveaway!
The Details:
Cost: $25.00/Month, $75.00/3 Months, $144.00/6 Months, $276.00/12 Months.
Coupon:   If you want to try Bramble Box, use this link with the code Yesplease40 to save 40% on your 1st box.
What's in the box? Each box will contain props and play materials to fuel your child's imagination.
Website: http://www.brambleboxprops.com/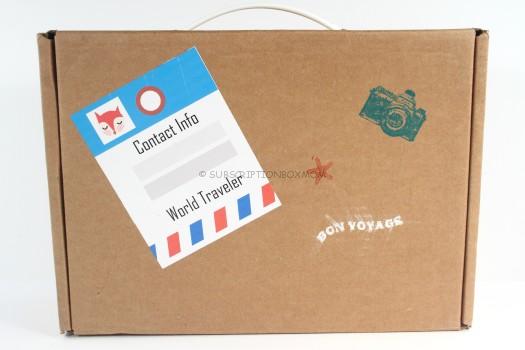 Instead of the normal square box, Bramble Box shipped in a cardboard suitcase this month.  They put the shipping label on the bottom, so the fun stickers wouldn't be destroyed.  You child can keep this box and use it for pretend play.
First Look
There is always a sticker on the inside of the lid of the box, with all the activities and goodies in the box listed.  This month, the theme is "World Traveler".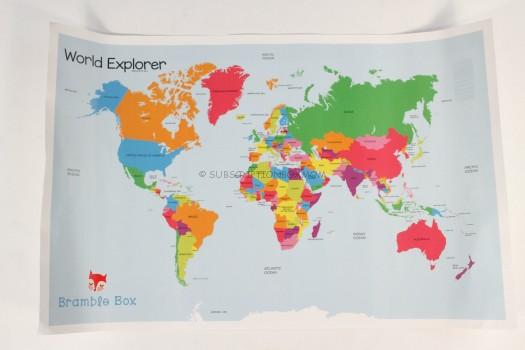 This month, there are several crafts from around the world.  Your child can use the map to see where each craft comes from.
Since Bramble Box loves to encourage pretend play, they included a passport, stickers, and boarding passes so your child can pretend to travel.  Once the crafts are completed, your child can put the appropriate country stickers in the passport.
Doodles United States Coloring Fun  To teach the 50 states, a coloring book was included.  Pages include information about each state, abbreviation, when it was founded, nickname, capital, flower and bird.  My oldest liked learning about each state and my 3-year-old loved coloring.
Here is a look in the book.
There was a full container of glue and pack of 8 Crayola Crayons to use with the projects,
Mexico: Paper Plate Maraca:  There was enough materials to make two maracas.  There was a card with instructions and pictures.
To make this craft, you need plates, streamers, sting, beads, and beans.
Threading the beads, this was great for practicing fine motor skills
Threading was really easy for my almost 6-year-old.  He was able to do this craft with little to no assistance.
You had to glue the plates together.  We added staples to keep it together.
Finished projects: My 6-year-old's is on the left, 3-year-old on the right.  My 6 year old really doesn't like to color, so he tends to rush through that part.
Japan: Koinobori:  In Japanese, Koinobori means "carp streamer".  These streamers are flown on Children's Day in Japan, to honor good fortune and a great future for children.
There was enough materials for two windsocks! and it took many different supplies.
Gluing on the streamers
You also had to cut out and glue fish scales.  You needed around 25 scales, so I cut those out.  The instructions are better online for this craft.  Bramble Box includes the url to see full breakdowns for each craft.  This project took about 45 mins to complete.
These are the finished windsocks. (L age 6 is on the left, T age 3 is on the right).  L put many more scales on his fish than T, although it's hard to tell in this picture.
Germany: Paper Alpine Hat:  This is a traditional alpine hat from Bavaria.
You only needed just a few supplies for this craft.  The edelweiss flower was printed on the back of the instructions.
This only took a few mins (maybe 5) for L to complete.
While L made the hat, T colored in the coloring book.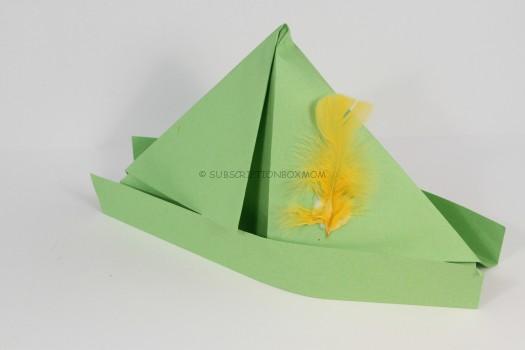 The finished hat.  L wasn't feeling the flower, so he just added a feather.
Bramble Box loaded this box with fun!
Final Thought: This was my favorite Bramble Box to date, and I am pretty sure my kids feel the same way.  There was enough materials for five complete crafts (2 each of 2 crafts and 1 hat), perfect for siblings to share.  The windsocks turned out so cute, I can't wait to hang them outside.  It's currently raining here, so we have to wait for a sunny day.  Bramble Box always includes so much fun in the boxes.  Even after the crafts are completed, there is still a coloring book, passport, map, suitcase and stickers to play with.  If you want to try Bramble Box, use this link with the code SUMMER30 to save 30% on your 1st box.  Bramble Box is also giving one reader the World Traveler Bramble Box, just enter below!
Do you like FREE SUBSCRIPTION BOXES?  Click HERE to see my free subscription box list.
Check out my Full List of Subscription Box Coupons