June 30, 2015
06/30/15

By Subscription Box Mom

0 Comments
0
Arcade Block July 2015 Spoilers + Coupon
Disclosure: This post contains affiliate links.
Arcade Block  includes a t-shirt every month, along with collectible toys and more!  Nerd Block Arcade includes collectibles like Mario and Sonic.  There will be Funko Pop toys, Titan Merchandise, stationary, candies and more. Nerd Block Arcade is $19.99 a month, and you can sign up to get the July box when you use this link with the code Save25 or CONTINUE  for 25% off your first box.  Note, you will put the coupon code in on the screen after your payment information, you will be able to see the reflected savings before you confirm your subscription.
Here are the July Spoilers
"Our July block will be the most jam-packed box yet! With a bonus shirt, a great funko-pop, a classic Nintendo product, and much more!
"You don't want to miss out on the July Arcade Block, It's going to be the most jam-packed block yet! Including a great The Last of Us item!"
You won't want to miss out on this great July block, Subscribe today!"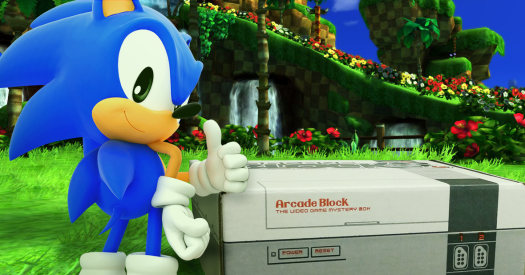 "Everyone's favorite blue hedgehog is speeding his way into July's Arcade Block!
That's right: Sega's iconic mascot, Sonic the Hedgehog, is a huge part of the next Arcade Block thanks to an officially-licensed EXCLUSIVE item! Ya heard? This is one Sonic collectible you will never find anywhere else!
And like Sonic, subscriptions for this month's Arcade Block are going FAST.
It's not surprising: Other than this Sonic the Hedgehog exclusive, July's Arcade Block is the biggest one yet. It also includes a Funko Pop! vinyl figure, a classic Nintendo item, a bonus T-shirt, AND a bunch of other stuff we're not allowed to tell you about yet (but really, really want to!)"
Another Spoiler
"We've stuffed the July Arcade Block with so much sweet stuff that our scales just can't handle it! We've packed in a great Funko POP, a surprise for Sonic The Hedgehog fans and found space for an item from The Last of Us! It wasn't easy getting the lid on this block closed after also adding two awesome t-shirts, but we made it happen, just for you! Subscriptions are available until the 25th at11:59 pm EST."
Spoiler 3″
Only 3 days remain to get Arcade Block!
If you aren't currently subscribed to the July Arcade Block, you might wanna get on that. They're selling out fast!
This is our most jam-packed block yet. We're gonna keep some details a secret till you have a chance to open yours, but here's a list of the cool things you can expect in it:
â–ª A very videogame-y Funko POP! Vinyl figure!
â–ª An EXCLUSIVE T-shirt from ShirtPunch!
â–ª An OFFICIAL EXCLUSIVE Sonic The Hedgehog collectible!
â–ª You like Mega Man? Boom. You got him.
â–ª What about Mega Ran? We've partnered with him and DJ Organic for an EXCLUSIVE album dedicated to arcades!
â–ª Wait? Did you just say you REALLY like shirts? Because we have a BONUS T-shirt in there.
â–ª SOME SECRET STUFF WE AIN'T EVEN GONNA MENTION YET!
Nerd Block Arcade is $19.99 a month, and you can sign up to get the July box HERE and use the code Save25 or CONTINUE to save 25%, If that doesn't work,  you can also use the code WAXON for $4.50 off your first box.  You will enter your code after the green complete order button.
The Details:
Cost: $19.99 plus $9.50 shipping
Coupon: use this link with the code Save25 for 25% off your first box
Shipping: Shipping is $9.50 for United States, $8,75 to Canada, and $12.50 WorldWide
What's in the box: Nerd Block Arcade. is filled with toys, games, and collectibles from your favorite Arcade brands including Nintendo, Atari, Playstation, Capcom and more!
When am I charged? Initially, you will be charged for your first Block at the time you register for your subscription. Then, you will be billed at the beginning of every month for that month's subscription (January block is billed on 1 January). The monthly billing closes on the 8th of the month.
For example, if you subscribe on January 10th, that payment will be applied to February Block (remember, the closing date for January was the 8th). Your next billing will occur on March 1st for the March Block.
If you subscribe prior to the closing date for that month's Block (you subscribe on January 7th or prior) you will be billed immediately for January's Block and your next payment will occur February 1st for February's Block.

The closing date can be found on the homepage (hint: it's the countdown timer).
When does it ship? Nerd Block is sent out approximately the 15th of every month, give or take a day. Once your Nerd Block. is shipped, you'll receive an email notifying you of your tracking information!
How do I cancel? Cancelling a subscription is easy! Just email cancel@nerdblock.com with your name and address, and they will cancel your account. Please note that all orders must be cancelled 24-hours prior to the 1st of every month.
Do you like FREE SUBSCRIPTION BOXES?  Click HERE to see my free subscription box list.
Do you love giveaways?  Click HERE and see all my current giveaways.
Disclosure: This post contains affiliate links