May 6, 2015
05/06/15

By Subscription Box Mom

10 Comments
10
Whistle Work Box May 2015 Review – Coupon + Giveaway
Disclosure: This box was received free for review.  Whistle Work Box is responsible for all prize distribution.
I reviewed Whistle Work Box last month, and I thought it was one of the coolest subscriptions I have reviewed. I am still loving those face coasters from last month.  If you missed that review, you can read it at this link.  Also, if you entered the giveaway and didn't see the winner, Ashley M was the winner.  She has been contacted and accepted her prize.
I was surprised and happy to see another Whistle Work Box on my doorstep.  I was sent the May 2015 Women Whistle Work Box for review.   Whistle Work Box is a subscription box devoted to making your workplace a bit more fun  You can get a box for a man or woman and each box is $19.99/month.  Each box will be filled with fun and useful things for your office like, office supplies, office decor, office lifestyle products, snacks, and more.  Be sure to read through the review, because I have a giveaway for the June box!
The Details:
Cost: $19.99/month for a man or woman box.
Coupon: Save $5.00 on your first box with the code superhero
Shipping: $5.95/month to US only.
What's in the box? "Every month you will receive a new kit including work inspired products to create your work-space. It may include office supplies, office decor, office lifestyle products, snacks, etc…."
When will I get the box? Boxes ship at the end of the month.
Whistle Work Box shipped in a polymailer bag from USPS.  This box ships and arrives really quickly.
The actual box is brown with the Whistle Work Box sticker on top.
First Look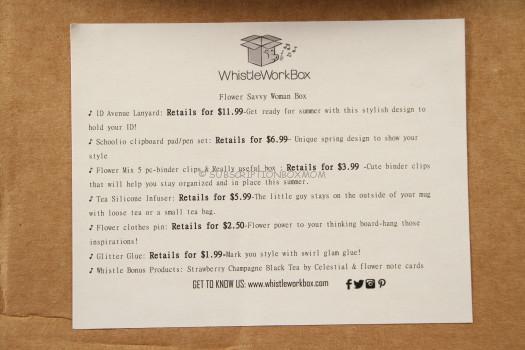 Last month, there was a paper information card included in the box.  This month, they used a sticker to attach the information card to the inside lid.
There was a little personalized thank you note in the box, but I am pretty sure this goes to all subscribers, not just bloggers.
Flower Mix 5 pc-binder clips + Really useful box $6.99:  I love these binder clips, but I could never use them to turn in any documents.  I would never get them back!  I might attach magnets to the back of these and hang them on my magnetic board in my office.  The little box is great to store these binder clips, paper clips or other small do-dads that inevitably get scattered in your office drawer.
Tea Silicone Infuser $5.99:  This little guy was my favorite item in the box, and I don't drink tea.  To use, you rip off this guys' pants, shove loose leave tea in his pants then rest him on the side of a mug.  He sits in your mug, just like you would in a hot tub, all the while, tea infuses from his pants.  This is really fun!
Bonus Product: Strawberry Champagne Black Tea by Celestial : You can't use an infuser without tea, so I am glad Whistle Work Box included this.  This is a sweet black tea, which is something my husband will enjoy.
ID Avenue Lanyard $11.99:  This is the prettiest lanyard, I have ever owned.  I love the floral pattern.  I used to use a lanyard all time, but now that I work from home, I probably won't use this.  I need to find a use for this, because it is so darn pretty!

Schoolio Clipboard Pad/Pen Set $6.99  This is great for office meetings, though I will use it to write notes to myself.  The clipboard is a sturdy plastic and you can replace the pad of paper, when it runs out.  The "pencil" is actually a clicky pen, just press the eraser.
Bonus: Flower Note Cards:  Have you even forgotten a boss' birthday?  These notecards are great to keep in your desk.  I also like to have some Target gift cards handy, for those last-minute gifts.  Just put a gift card in one of these notecards, and you have a quick easy present.
Flower Clothes Pins $2.50:  I like the homemade look to these clothes pins.  As with the clips, I am going to add magnets to the back, to use on my board.  I am trying to decrease desk clutter, and it's an uphill battle.
 Glitter Glue $1.99:  Okay, I don't exactly know what you would use this for in an office.  I used to work with children, so if I still worked outside the home, I would save it for the kids that came to my office.  Since I work from home with a 5 and 3-year-old, these will easily be used for them.
Final Thought: This box had a total value of $59.71!  Once again, I thought Whistle Work Box was really fun.  The tea infuser guy was simply the best!  Whistle Work Box doesn't send boring office supplies, every box is packed with fun unique twists to supplies that you use.  I work from home but I will use most everything in the box.  If you want to try Whistle Work Box, use this link with the code superhero to save $5.00.  Whistle Work Box is also going to give a June box to one of my readers!  Just enter below!