May 29, 2015
05/29/15

By Subscription Box Mom

0 Comments
0
The Boodle Box 1 + The Boodle Box 2 June 2015 Review
Disclosure: I received these boxes for review.  
I was pleased to review both the Boodle 1 and Boodle 2 boxes for June.  The Boodle Box is a box just for girls 6-teens and boxes are filled with skin care, beauty, accessories and other fun surprises.  Boxes are $25.00/month and the boxes are divided up by age: Boodle 1 and Boodle 2.  The Boodle 1 box is for 6-11 year olds and the Boodle 2 box is for 12 years old and up.  
The Details:
Cost: $24.99 a month, $19.99/mo for 3 months, $19.99/mo for 6/mo (free shipping), $19.99 for 12/mo  (free shipping) and you get 1 month free.  Note: You can pay by Paypal!
Shipping.  There is a $5,95 shipping charge for a 1 month or 3 month subscription.  The Boodle Box ships to The United States, Puerto Rico and Guam.
What's in the box? The Boodle Box sends trendy products for teens and tweens from some of the top manufacturers in the beauty and fashion industries.  There is nail polish, beauty products, accessories and more in the box!
Website: https://www.theboodlebox.com
This is the Boodle 1 Box Review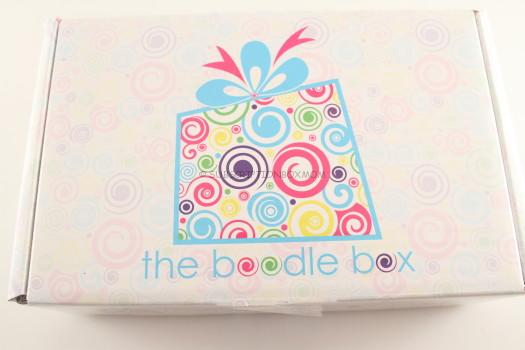 The Boodle Box ships by USPS and comes in a colorful box.
First Look:  The theme for June is "Summer Shimmer", the box is filled with fun items to make you sparkle.
On the back of the card has a list of everything in the box, the retail value and a little description.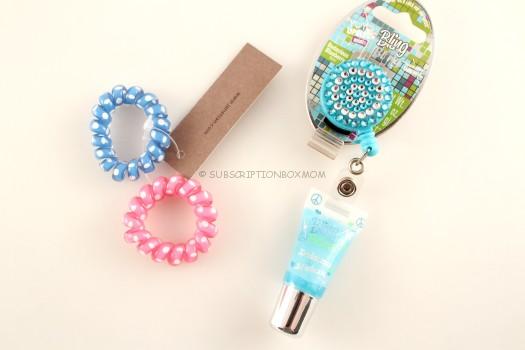 Jane Tran Pony Cords $5.00  I used to have bracelets that look like these when I was a child.  The Boodle Box included two pony cords, a blue polka dot and a pink polka dot, both are really fun and a unique hair accessory.
Bling YOLO Lip Gloss $5.99 This is a blinged out ID bag holder, only with lip gloss. This can be clipped on a backpack or bag and you will always have lip gloss on hand.
Pink Hair Glitter Paste $7.50  This glitter gel add fun pink glitter to your hair, but it will wash right out at the end of the day.  I this is going to be a  birthday present for a friend's 6-year-old, she is going to love it.
Girlfriend! Flowered Hair Turban $15.99  Instead of wrapping your hair in a towel, you can use this hair turban to dry hair and prevent breakage.
Nourishing Hair Mask $2.50 This hair mask helps restore your summer loved hair, to shiny healthy hair.  You can use the hair turban to keep the mask from rubbing off, while you wait.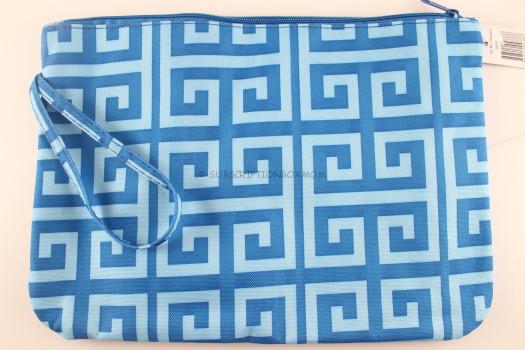 Royal Standards Bikini Bag $9.00 You can put your wet swimsuit in this bag, and not have to worry about water leaking onto the rest of your belongings.  I like this blue geometric pattern, so I can also use this for my son's swim shorts.
This is a look inside the bag.
There was a bonus candy bracelet and a coupon for 10% off your next purchase at Yellowberry.  Yellowberry has one goal, "to empower young women and build a bra that is unique and colorful, made for all girls who love and enjoy their youthful, yellow stages in life.
Boodle 1 Final Thought: The Boodle 1 box had a total value of $44.99.  I really loved all the cute items in this box, especially the wetbag, hair glitter, hair turban and lip gloss.  The Boodle Box always finds new and unique goodies for girls!
This is the Boodle 2 Review (Teens) Review
Once again, The Boodle Box ships in a cute box.  The boxes are so sturdy, you can easily reuse them to story extra beauty or hair products.
First Look: There was a note on the top introducing two new brand partnerships, Prep and Yellowberry.
Girls who get the Boodle 2 box this month will be able to enter to win a Kate Spade purse.
The information card for The Boodle 2 box was extra long this month, this box was packed with stuff.
Eva NYC Surf's Up! Texture Spray $10.00 Texture spray is great for getting those beach waves without having to go to the beach.  This is also a great product for naturally curly-haired girls.
Neon Puffy Paint 4-Pack $7.65  As I teen, I used to make puffy paint and slick paint shirts all the time. You use these paints to make a design, let it set for 6 years and the design then becomes
"puffy".
PPEP Cosmetics Purifying Daily Cleanser $12.50  Whether you wear makeup or not, a daily cleanser is a must have skin care item.  It's never to early to learn about proper skin care.  PREP cosmetics is a new brand for The Boodle Box, they feature skin care items just for girls and they also give back to charities.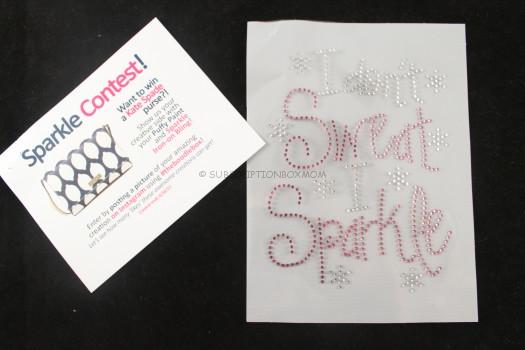 "I Don't Sweat I Sparkle" Bling Iron-On $5.00  I have been wanting a running shirt with this phrase for a long time, now I can make one!  The Boodle Box has a contest this month, make something using this decal and the puffy paint.  The winner will be chosen off Instagram and win a Kate Spade purse!
Secret Destinations Collection – Paris Romantic Rose $3.97  I don't particularly think antiperspirant/deodorant is exciting for a subscription box, but it has a pleasant floral/vanilla scent and is useful.
Royal Standards Bikini Bag $9.00 This wetbag has a pretty blue and white pattern and is perfect for summer pool parties.
The Boodle 2 box also contains a bonus candy bracelet and a coupon for Yellowberry.
Boodle 2 Final Thought: This box had a total value of $48.12.  Perfect for teens, The Boodle 2 Box for June packed all kinds of summer essentials in their box.  The wetbag and iron on bling were my favorite items in the box.
Final Thought: The Boodle Box delivered two outstanding boxes this month.  While designed for young girls and teens, these boxes can be easily enjoyed by adults.  I love that The Boodle Box seeks out new and exciting companies for their boxes.  Too many subscription boxes recycle brands over and over and it's refreshing to see new and exciting brands and products.  If you are interested in subscribing, you can get your own Boodle Box HERE.
Do you like FREE SUBSCRIPTION BOXES?  Click HERE to see my free subscription box list.
You can see my FULL coupon list HERE.
Do you love Giveaways?  Click HERE to enter all my Giveaways