May 21, 2015
05/21/15

By Subscription Box Mom

0 Comments
0
Plated May 2015 Review + Free Plates
Disclosure: This post contains referral links.
Plated is a meal subscription box that sends you all the ingredients and directions to make gourmet meals.  I am not a great cook and I have many horror stories from trying to cook.  I like that Plated makes the directions fairly simple and I can end up making a meal that looks "fancy".  When you sign up for Plated, you can get 2 plates for FREE, however, you do have to purchase a min of four plates.  Plan start at $48.00/wk (plus $6.00 shipping).  You can skip any week, so you are not locked into that price every week.  I actually haven't ordered Plated in a few months, mainly because I have been busy and forget to look at the recipe.  I skip weeks ahead of time, so I am not surprised by a charge.
Each week, you log into your account and choose your plates. Boxes ship by FedEx and they are insulated.  Plated says your food will stay fresh in the box for 24 hours, so it can be delivered at home, while you are at work.
The Details:
Cost:
2 recipes (4 total plates) = $48 per week ($6 shipping)
3 recipes (6 total plates) = $72 per week  (Free shipping!)
4 recipes (8 total plates) = $96 per week (Free shipping!)
Coupon: Get 2 FREE Plates by clicking HERE
What do I get?  Each box contains all of the fresh & delicious ingredients to create the step-by-step recipe included along with your order. Your meats will be at the bottom of your box, with all the rest of your ingredients inside the labeled green bags.
How do I cancel?  If you have a membership, you can cancel from your account.
When will my plates arrive? It depends on your delivery area.  Click HERE to check your area.
Can I skip a week?  Yes, if you are a member, just select to skip from your account
Website: www.plated.com
My Plated shipped in a small box.
All the food was packed in an insulated bag.  There were ice packs in the bottom.  Note: My meat was under the ice packs and I didn't see it when I put my food away (that didn't end well).  I ended up having to use chicken that I had.  This was completely my error, but I wanted to mention it, so you don't make the same place.
Spring Veggie Burgers with Carrot Chips and Lemon Aioli: I am a very picky eater, but these veggie burgers looked tasty! The carrot chips looked great and I was interested in seeing what the aioli tasted like.
The directions were easy to follow, even for me.  I let my 5 year old help me cook and he had a blast.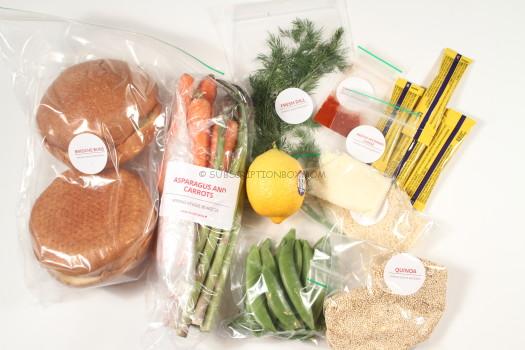 All the ingredients were very fresh and honestly better quality than some of my local supermarkets.
I didn't take a picture of me cooking, because the processes of cooking is hard enough, without adding photos.  The veggie burger was really good and the aioli  added a great flavor to the burger.
Japanese Chicken Tsukume Meatballs with Sesame-Lime Vermicelli Noodles:  My husband couldn't make it to dinner, so my kids and I shared this meal.  My 3 year old helped me make this meal and he had so much fun.
The directions were even easier than the veggie burgers.  My kids love vermicelli noodles, so I really thought this would be a great meal.
I love that Plated includes all the ingredients and each of them are labeled.
This was my favorite of the two meals.  My kids loved the noodles and the meatballs. I am saving this recipe and I am going to make the recipe again.  I have even given this recipe to some family and friends.
Final Thought: I love Plated and I made two great meals.  I love getting Plated and I will be ordering more meals soon.  If you are interested in signing up for Plated, click HERE and you can get 2 plates FREE.
Do you like FREE SUBSCRIPTION BOXES?  Click HERE to see my free subscription box list.
Do you love Giveaways? Check out all my Giveaways HERE
Disclosure: I received this box free for review.  My opinions are my own